We're Getting Mutants in the MCU - The Loop
Play Sound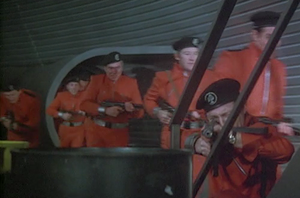 The Liparus Crew are supporting antagonists of the 1977 James Bond film The Spy Who Loved Me. They are crewmembers of a supertanker called the Liparus who are in league with Karl Stromberg of the Stromberg Shipping Line.
History
Being employees of Stromberg Shipping, the Crew were tasked to help their captain in transporting oil and cargo to secure Stromberg's business. It wasn't the case that Stromberg formed up a plan to start a nuclear war between the Americans and Soviets so that he can build a new civilization under the oceans.
To that end, the Captain has the bow of the Liparus to be built as bow doors so that the Crew can capture submarines while Stromberg gets Professor Markovitz and Dr. Bechmann to built a submarine tracking system in the ship's operations room. With that in mind, the Crew used the tracking system to capture two submarines (a British submarine and a Soviet submarine).
The Captain would later capture an American submarine (boarded by James Bond and Anya Amasova) as Stromberg reveals his plot to them by sending several members of the Crew to board the British and Soviet submarines and fire their nuclear torpedoes at New York and Moscow to instigate the war. Seeing that his plan is going well in track, Stromberg orders the Crew to place Bond with the rest of the prisoners while he takes Anya hostage back to his underwater lair.
However, Bond escaped and freed the American, British and Soviet crews from their confinement, forcing an angry Captain to order the Crew to kill them all while sealing the operations room with a strong armor proven to be impenetrable. Thinking quickly, Bond pops out a detonator from a nuclear missile and implants it to a plastic explosive near the armor, destroying it and allowing Bond and his cohorts to break in and shoot down the Captain and the remaining Crew.
Before dying, the Captain taunts Bond that the submarines are already on station and that the missiles will be launched in four minutes. However, Bond finds the submarine tracking system and uses it to trick the submarines into destroying themselves, thus foiling Stromberg's plan and leaving the Captain and the Crew's deaths in vain. Their bodies would later be buried at sea when the Liparus sinks down to the ocean floor.

Villains