Doctor Strange in The Multiverse o Madness - The Loop
Play Sound
The Living Monolith (real name: Ahmet Abdol) is a Marvel comics supervillain associated with the X-Men, a mutant by nature he is capable of growing to phenomenal size via absorbing cosmic energy - at the peak of his power the Living Monolith grew to the size of a planet but was unable to move as a result: however this is an extreme example of his ability.
The Living Monolith found that mutants such as Cyclops and Havoc could provide him with easy access to cosmic energy and fed off them a bit like an energy-vampire, however unlike a vampire the Living Monolith didn't need to do this to survive - he was simply extremely power hungry and sought to become a god: a fact that had been established before he became the Living Monolith when he created a cult under the name of the "Living Pharaoh", where he claimed to be a messiah-figure to his followers despite his obvious goal of world-domination.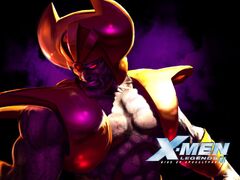 The Living Monolith also appeared as a boss in X-Men Legends II: Rise Of Apocalypse (likely due to him sharing similiar Egyptian-themes to Apocalypse, although Apocalypse far exceeds the Living Monolith in age and power).

Villains
Comics
0101 | Abomination | Absorbing Man | Absalom | Acolytes | Adversary | Ahab | A.I.M. | Akhenaten | Alan Lewis | Amanda Sefton | Ani-Mator | Annihilus | Apocalypse | Arcade | Archangel | Arclight | Arnim Zola | Avalanche | Awesome Android | Azazel | Badoon | Barbarus | Bastion | Baron Karza | Baron Wolfgang von Strucker | Batroc | Beef | Beetle | Black Tom Cassidy | Belasco | Beyonder | Black Box | Blastaar | Blockbuster | Blood Brothers | Bolivar Trask | Blob | Bogeyman | Boomerang | Brood | Brotherhood of Evil Mutants | Brainchild | Bulldozer | Bullseye | Burner | Cameron Hodge | Carnage | Cassandra Nova | Children of the Vault | Chimera | Clan Akkaba | Coach | Computo | Constrictor | Count Nefaria | Crossbones | Dark Avengers | Dark Beast | Dark Phoenix | Dark X-Men | Deadpool | Demon Bear | Doctor Doom | Doctor Rice | Dracula | Egghead | Emma Frost | Erik Killmonger | Exodus | Fenris | Freedom Force | Friends of Humanity | Frightful Four | Frost Giants | Galactus | Gamesmaster | Graydon Creed | Hand | Hela | Hellfire Club | Henry Peter Gyrich | High Evolutionary | Hobgoblin | Holocaust | Horsemen of Apocalypse | HYDRA | Impossible Man | Jackal | Juggernaut | Kang | Kid Omega | Kingpin | Klaw | Knull | Krakoa | Kraven | Lord Deathstrike | Lady Deathstrike | Legion | Leper Queen | Lilith | Living Monolith | Lizard | Loki | Mad Thinker | Madame Viper | Madelyne Pryor | Magneto | Magus | Malekith the Accursed | Mandarin | Marrow | Masters of Evil | Master Mold | Medusa | Maximus | Mesmero | Mikhail Rasputin | Mister Jip | Mister Negative | Mister Sinister | M.O.D.O.K. | Mojo | Mole Man | Morlocks | Moses Magnum | Mutant Response Division | Mystique | Mysterio | N'Astirh | Namor | Nanny | Nekra | Neo | Nightmare | Nimrod | Nitro | Norman Osborn | Obnoxio the Clown | Omega Gang | Omega Red | Onslaught | Orphan-Maker | Ozymandias | Pandemonia | Phalanx | Piledriver | Pilgrimm | Predator X | Proteus | Psycho-Man | Punisher (Earth-95216) | Purifiers | Pyro | Quicksilver | Reavers | Red Ghost | Red Skull | Reverend Craig | Rhino | Right | Rogue | Ronan | Sabretooth | Sandman | Sat-Yr-9 | Sauron | Savage Land Mutates | Scarlet Witch | Scorpion | Sebastian Shaw | Selene Gallio | Sentinels | Serpent Society | Shadow King | Shadow Xavier | Shocker | Silver Sable | Silver Samurai | Simon Trask | Skrulls | Spiral | Stranger | Stinger | Stryfe | Stephen Lang | Sublime | Sugarman | Super-Adaptoid | Super-Apes | Supreme Intelligence | Thanos | Thunderball | Thunderbolt Ross | Tiger Shark | Tinkerer | Toad | Trevor Fitzroy | Typhoid Mary | Tyrannus | Unus | Venom | Vulcan | Vulture | Wendigo | Whiplash | Whirlwind | White Rabbit | William Stryker | Wizard | Wrecker | Xemnu | Xorn | Ymir | Zaladane
Movies
X-Men: Brotherhood of Mutants (Magneto, Mystique, Sabretooth & Toad) | Pyro
X2: William Stryker Jr. | Lady Deathstrike | Jason Stryker | Brotherhood of Mutants (Magneto, Mystique & Pyro)
X-Men: The Last Stand: Brotherhood of Mutants (Magneto, Dark Phoenix, Pyro, Juggernaut, Multiple Man & Mystique) | Omega Gang (Callisto, Psylocke, Quill, Arclight, Avalanche, Spike, Glob Herman & Phat) | Archangel
X-Men: First Class: Hellfire Club (Sebastian Shaw, Emma Frost, Azazel, Angel Salvadore & Riptide) | William Stryker Sr. | Magneto | Mystique
X-Men: Days of Future Past: Trask Industries (Bolivar Trask, William Stryker Jr. & Sentinels) | Magneto | Mystique | Toad | Horsemen of Apocalypse (Apocalypse)
X-Men: Apocalypse: Ashir En Sabah Nur/Horsemen of Apocalypse (Apocalypse, Magneto, Psylocke & Archangel) | Dark Phoenix | Mystique | William Stryker Jr. | Blob
X-Men: Dark Phoenix: Dark Phoenix | D'Bari (Vuk & Jones) | Brotherhood of Mutants (Magneto & Selene Gallio) | Mystique
The New Mutants: Essex Corp (Cecilia Reyes) | Demon Bear | Reverend Craig | Smiley Men
Television
X-Men (1992): Magneto | Sentinels | Sabretooth | Juggernaut | Apocalypse | Mesmero | Horsemen of Apocalypse | Mister Sinister | Omega Red | Brotherhood of Mutants (Mystique, Avalanche, Blob & Pyro) | Dark Phoenix | Master Mold | Bolivar Trask | Silver Samurai | Hellfire Club (Sebastian Shaw, Harry Leland, Jason Wyngarde, Donald Pierce & Emma Frost) | Reavers (Bonebreaker & Lady Deathstrike) | Supreme Intelligence | D'Ken | Deathbird | Graydon Creed | Red Skull | Toad | Sauron | High Evolutionary | Phalanx | Brood | Skrulls | Super-Adaptoid | Awesome Android | Mojo
X-Men: Evolution: Magneto | Brotherhood of Mutants (Mystique, Avalanche, Toad, Blob, Quicksilver & Scarlet Witch) | Pyro | Mastermind | HYDRA (Madame Viper & Omega Red) | David Haller | Juggernaut | Bolivar Trask | Sentinels | Apocalypse | Horsemen of Apocalypse | Mesmero | Sabretooth | Destiny | Arcade
Wolverine and the X-Men: Brotherhood of Mutants (Magneto, Mystique, Scarlet Witch, Juggernaut, Quicksilver, Avalanche, Blob, Pyro & Toad) | Dark Phoenix | Bolivar Trask | Sentinels | Sabretooth | Mutant Response Division (Colonel Moss) | Shadow King | Hellfire Club (Sebastian Shaw, Donald Pierce, Harry Leland, Selene Gallio, Emma Frost & Stepford Cuckoos) | Master Mold | Silver Samurai | Nitro | Mojo | Mister Sinister | Apocalypse
Marvel Anime: X-Men: Hellfire Club (Emma Frost, Martermind) | U-Men (Sublime)
Legion: Legion | Shadow King | Oliver Bird | Time Eaters
The Gifted: Sentinel Services (Jace Turner, Ed Weeks) | Trask Industries (Roderick Champell) | Ted Wilson | Hellfire Club (Fenris, Reeva Paype, Frost Sisters) | Benedict Ryan

Video Games
The Uncanny X-Men: Magneto | White Queen | Juggernaut | Sabretooth | Boomerang
X-Men: Madness in Murderworld: Arcade | Magneto | Juggernaut | Blob | White Queen | Mystique | Pyro | Wendigo | Silver Samurai
X-Men II: The Fall of the Mutants: Mystique | Avalanche | Blob | Pyro | Spiral
Spider-Man & X-men: Arcade's Revenge: Arcade | Carnage | Rhino | Apocalypse | Juggernaut | Selene Gallio | Sentinels | Master Mold
X-Men (1992): Brotherhood of Mutant Terrorists (Magneto, Mystique, White Queen, Juggernaut, Blob, Pyro, Wendigo & Living Monolith) | Sentinels
X-Men (1993): Magneto | Apocalypse | Sabretooth | Juggernaut | Sentinels | Ahab | Mojo
X-Men 2: Clone Wars: Apocalypse | Phalanx | The Brood | Magneto
X-Men: Children of the Atom: Magneto | Juggernaut | Omega Red | Silver Samurai | Sentinel | Spiral | Mojo
X-Men (1994): Magneto | Sebastian Shaw | Callisto | Sauron | Brood Queen | Omega Red
X-Men 2: Game Master's Legacy: Gamesmaster | Apocalypse | Mister Sinster | Exodus
X-Men: Mutant Apocalypse: Apocalypse | Juggernaut | Omega Red | Brood Queen | Sentinels | Acolytes | Exodus | Magneto
X-Men vs. Street Fighter: Apocalypse | Acolytes | Magneto | Juggernaut | Sabretooth | Rogue | Angel
X-Men 3: Mojo World: Mojo | Magneto | Master Mold | Trevor Fitzroy | Spiral
X-Men: The Ravages of Apocalypse: Apocalypse | Mister Sinister | Magneto
X-Men: Mutant Academy: Magneto | Mystique | Sabretooth | Toad
X-Men: Mutant Wars: Magneto | Mystique | Sabretooth | Apocalypse
X-Men: Wolverine's Rage: Lady Deathstrike | Sabretooth | Deadpool
X-Men: Mutant Academy 2: Magneto | Mystique | Sabretooth | Juggernaut | Toad
X-Men: Reign of Apocalypse: Apocalypse | Archangel | Magneto | Dark Phoenix | Juggernaut | Sabretooth | Silver Samurai | Sauron | Blob | Pyro
X-Men: Next Dimension: Brotherhood of Evil Mutants (Magneto, Sabretooth, Toad, Mystique, Juggernaut, Blob, Lady Deathstrike & Pyro) | Bastion | Sentinels
X2: Wolverine's Revenge: Magneto | Sabretooth | Wendigo | Lady Deathstrike | Juggernaut | Omega Red | Apocalypse | Mr. Sinister
X-Men Legends: Brotherhood of Evil Mutants/Acolytes (Magneto, Mystique, Blob, Pyro, Avalanche, Sabretooth & Toad) | Marrow | Juggernaut | Shadow King | Apocalypse | Master Mold
X-Men Legends II: Rise of Apocalypse: Apocalypse | The Brood | Lady Deathstrike | Sauron | Omega Red | Stepford Cuckoos | Deadpool | Mister Sinister | Dark Beast | Living Monolith | Mystique | Destiny | Blob | Emma Frost | Sebastian Shaw | Archangel | Selene Gallio | Quicksilver
X-Men The Official Game: Brotherhood of Mutants (Magneto, Sabretooth & Pyro) HYDRA (Silver Samurai & Deathstike) | Multiple Man | Jason Stryker | Master Mold | Mystique | Toad
See Also
Alpha Flight Villains | Deadpool Villains | Excalibur Villains | New Mutants Villains | Wolverine Villains | X-Factor Villains | X-Force Villains | X-Men Movie Villains
Villains
Comics
Abomination | Absorbing Man | Air-Walker | Alioth | All-Black | Amatsu-Mikaboshi | Angela | Annihilus | Apocalypse | Arcade | Ares | Arnim Zola | Asteroth | Baron Mordo | Beyonder | Bi-Beast | Blackheart | Blackout | Blastaar | Blockbuster | Bolivar Trask | Bulldozer | Celestials | Collector | Crimson Dynamo | Crusader | Dark Gods | Darkoth | Desak | Destroyer | Diablo | Dormammu | Dracula | Dweller-In-Darkness | Ego the Living Planet | Enchanters Three | Enchantress | Executioner | Fafnir | Fenris Wolf | Fin Fang Foom | Frost Giants | Galactus | Godzilla | Gorr the God Butcher | Grandmaster | Graviton | Grey Gargoyle | Gog | Grog | Growing Man | Hela | Hera | High Evolutionary | Impossible Man | Immortus | Jormungandr | Juggernaut | Justin Hammer | Kang | Karnilla | King Cobra | Kingpin | Knorda | Knull | Korath | Korvac | Kurse | Leader | Living Monolith | Loki Laufeyson | Lorelei | Maestro | Magneto | Mangog | Malekith the Accursed | Man-Beast | Masters of Evil | Megatak | Mephisto | Mercurio the 4-D Man | Mister Hyde | M.O.D.O.K. | Mongoose | Moonstone | Morgan le Fay | Moses Magnum | Namor | Nebula | Norman Osborn | Onslaught | Perrikus | Piledriver | Pluto | Punisher | Punisher (Earth-95126) | Purple Man | Quicksand | Quicksilver | Radioactive Man | Ragnarok | Rhino | Ringmaster | Rock Trolls | Roxxon | Sandu | Scarlet Witch | Set | Seth | Skaar | Skrulls | Space Phantom | The Stranger (Marvel) | Super-Adaptoid | Super-Skrull | Surtur | Terminus | Terrax | Thanos | Thunderball | Thunderbolt Ross | Thunderbolts | Titania | Titanium Man | Valkyrie | Venom | Worthy | Wrecker | Ulik | Ultimus | Ultron | Umar | Ymir | Zarrko
Movies
Hulk Vs. Thor: Loki Laufeyson | Hela | Enchantress | Skurge | Surtur | Malekith the Accursed | Valkyrie
Thor: Tales of Asgard: Algrim | Frost Giants | Loki Laufeyson | Fenris Wolf | Amora the Enchantress | Surtur
Thor: Loki Laufeyson | Frost Giants (Laufey, Grundroth, Hailstrum, Raze & Jotunheim Beast) | The Destroyer | Jasper Sitwell
Thor: The Dark World: Dark Elves (Malekith the Accursed & Kurse the Strong) | Loki Laufeyson | Marauders (Duhg & Kronan Marauder) | Jotunheim Beast | The Collector
Thor: Ragnarok: Berserker Army (Hela Odinsdottir, Skurge & Fenris Wolf) | Sakaaran Guards (The Grandmaster & Topaz) | Loki Laufeyson | Fire Demons (Surtur & Fire Dragon) | Thanos

TV Series
The Mighty Thor: Loki | Amora the Enchantress | Skurge the Executioner | Absorbing Man | Grey Gargoyle | Thunderbolt Ross | Zarrko | Pluto | Sandu | Surtur | Mr. Hyde
Loki: Loki Laufeyson's Variants (Loki Laufeyson (Variant L1130), Sylvie Laufeydottir, Boastful Loki & President Loki) | Time Variance Authority (He Who Remains, Miss Minutes, Ravonna Renslayer, Hunter D-90) | Alioth | Kang the Conqueror
What If: Infinity Ultron | Yellowjacket | Loki Laufeyson | The Destroyer | Brock Rumlow | Jack Rollins | Thunderbolt Ross | Skrulls | Nebula | Grandmaster | Skurge | Yondu Udonta | Ego | Arim Zola | Prince Killmonger | Strange Supreme | Surtur | Frost Giants

Video Games
Thor: God of Thunder: Loki Laufeyson | Frost Giants (Ymir) | Rock Trolls (Ulik) | Fire Demons (Surtur) | Hela
Thor: The Dark World: Loki Laufeyson | Dark Elves (Malekith the Accursed, Kurse the Strong) | Ymir | Mangog | Marauders | Frost Giants

See Also
Hercules (Marvel) Villains