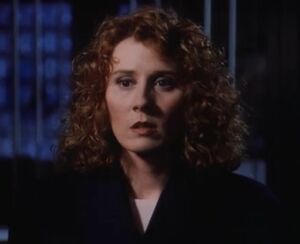 | | | |
| --- | --- | --- |
| " | Sweet, isn't it? He didn't just throw me over to the side, oh no, he sent me all the way to the bottom. Well, when he turned up alive, I couldn't of anything except making sure he'd die and stay dead. | " |
| | ~ Liz White, voicing her anger over Max Franklin ending their relationship | |
Liz White is the main villainess from "Twice Dead," episode 11.15 of Murder, She Wrote.
She was played by Annie Corley, who later appeared on CSI as villainous nurse Joanne McKay.
Biography
Liz White is a research colleague for Dr. Max Franklin, who was working on a drug that could cure cancer. She was also in a relationship with Franklin for four years, but after receiving a letter from him ending their relationship, Liz became enraged. It had been reported that Max was killed in a plane crash, but he had actually faked his death to continue his research in secret. Once Liz found out that her former beau was alive, she attempted to kill him with a bomb, but that failed. Liz later lured Max in to meeting her about his research, and it was there that the villainess took the opportunity to kill him, doing so by bludgeoning him with an ashtray.
Later in the episode, Liz is shown conversing with Jessica Fletcher, who received a phone call from David Randall stating that he found a way to recover Max's files--which was part of Jessica's plan to catch Max's killer. Later that evening, Liz appeared as a heel at the lab and approached David while he was on Max's computer. Knowing that Max's letter was part of his files, the evil Liz stated to David that she needed to use the computer, only for Jessica to appear and reveal Liz's true plan to erase the file, which was evidence of Liz's motive for killing Max. After being caught, Liz confessed everything: the failed plot to kill Max and the actual murder, while stating that she sacrificed everything for him and she wanted commitment from Max. Liz was later arrested.
Gallery
Community content is available under
CC-BY-SA
unless otherwise noted.