Line 1:
Line 1:
−

[[File:LizardKing.jpg|thumb|250px]]{{Stub}}

+

[[File:.jpg|thumb|]]{{Stub}}

 
 
 

The '''Lizard King''' is a minor antagonist in the classic Don Bluth arcade game ''Dragon's Lair''.

 

The '''Lizard King''' is a minor antagonist in the classic Don Bluth arcade game ''Dragon's Lair''.

Line 5:
Line 5:
 

While Dirk the Daring goes on a quest to rescue Princess Daphne, The Lizard King spots Dirk and chases him through a series of hallways, trying to whack Dirk with his golden club. Dirk then fights The Lizard King and kills him with his sword, allowing him to collect some gold.

 

While Dirk the Daring goes on a quest to rescue Princess Daphne, The Lizard King spots Dirk and chases him through a series of hallways, trying to whack Dirk with his golden club. Dirk then fights The Lizard King and kills him with his sword, allowing him to collect some gold.

 
 
−

==Trivia==

+

====

 
+

<gallery widths="300" bordercolor="Gold" captiontextcolor="Green" position="Center">

−

*He is similar to Sorcerer Plakula.

 
 
+

LizardKing.jpg|The Lizard King

 
+

The Lizard King's Castle.jpg|Singe's Castle (also known as the Lizard King's Castle).

 
+

</gallery>

 

[[Category:Monarchs]]

 

[[Category:Monarchs]]

 

[[Category:Anthropomorphic Characters]]

 

[[Category:Anthropomorphic Characters]]
---
Revision as of 19:30, 27 August 2017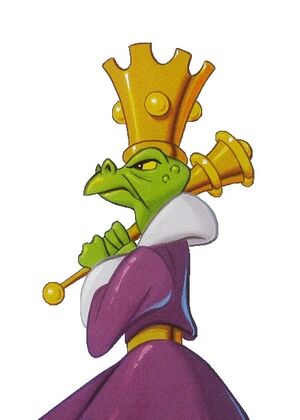 Jafar says: Read my lips and come to grips with the reality!


This article is a stub and is in need of expansion. You can help Villains Wiki by expanding it.                       

The Lizard King is a minor antagonist in the classic Don Bluth arcade game Dragon's Lair.
While Dirk the Daring goes on a quest to rescue Princess Daphne, The Lizard King spots Dirk and chases him through a series of hallways, trying to whack Dirk with his golden club. Dirk then fights The Lizard King and kills him with his sword, allowing him to collect some gold.
Gallery
Community content is available under
CC-BY-SA
unless otherwise noted.