Jurassic World: Dominion Dominates Fandom Wikis - The Loop
Play Sound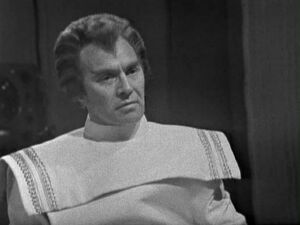 Lobos is the main antagonist of the Doctor Who story "The Space Museum".
He was portrayed by the late Richard Shaw.
Biography
Lobos was the Morok governor of the planet Xeros. His people had conquered the planet and executed the adult population, establishing a museum to the rise of their empire there. Lobos was unhappy with his posting to the backwater corner of the empire and also had to deal with the fact that the young Xerons were now young adults and looking to rebel.
When the Doctor and his companions arrived on the planet, Lobos sent his guards after them. The Doctor was captured and brought to him. Lobos used a mind scanner to try and find where the Doctor's companions were, but the location in the Doctor's mind was one they had moved on from. The Doctor fooled the scanner, making it look as though he lived among sea creatures and went there by bicycle. Enraged, Lobos ordered him frozen as an exhibit in the museum, which would have killed him. He also ordered the museum flooded with paralysing zaphra gas to try and flood Barbara and Vicki out.
Ian managed to hold Lobos at gunpoint and forced him to reverse the process on the Doctor, but was soon taken prisoner by Lobos' men. Lobos planned to process all four of the travellers, but by now Vicki had armed the Xeron rebels using weapons from the armoury and they began to attack the Moroks. Lobos made plans to kill the time travellers and then escape in a ship but was killed by the Xerons before he could do so.