The Locust Undead is an Undead and an antagonist in Kamen Rider Blade.
History
The Locust Undead destroyed BOARD's headquarters and killed many of its members until Kazuma Kenzaki showed up and transformed into Kamen Rider Bladeto fight him. After believing that Garren betrayed BOARD, Blade loses it and seals the Undead.
The Locust Undead was later unsealed by Leangle but was eventually resealed by Blade.
Powers and Abilities
The Locust Undead is capable of jumping great heights and can separate his body into a swarm of locusts.
Video Game appearances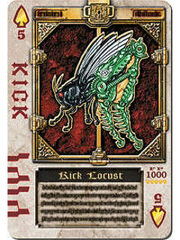 Kamen Rider Blade (video game)
The Locust Undead is one of many Undead who appear in the Kamen Rider Blade video game.

Villains
Community content is available under
CC-BY-SA
unless otherwise noted.