| | | |
| --- | --- | --- |
| " | Welcome to the game of the lottery, and made the shot, no one enters. Starts the game. | " |
| | ~ Senior Lopéz receiving Leo's team to the game | |
Lottery Foes are cards of different figures of Mexican folklore invoked by Senior Lopez on a giant lottery board, attacking Leo and his gang who participated in a force themselves to attract them to their empty stall.
History
Before exploring the various zones of the fair, posters appear with the drawings of the cards outside in the attraction.
Received by The Senior Lopéz (uncle of Teodora) inside a mysterious tent, the timbers of the tables fall down and form a board of 9 empty spaces; in which the adventurers must fill in by having each figure appearing in a thrown card fall inside, so that the ground is covered and it is safe to cross the narrow stretches.
The first card with which tart is that of a "Rooster", fluttering in not being captured. Done the above, is thrown by Teodora and an image with his name covers the ground, understanding of how the rules of the game work. The next ones were some unruly "Watermelons" accompanied by an "Apache" with arrows, who want to kill them so they do not end the departure. In the middle of the commotion, a clueless drunk, walked in search of alcohol, on the other side a bottle was the solution to use as bait, making it fall in an effort to pick it up, and said object, had the facility to introduce it inside (hitting unintentionally Nando's head).
One of the watermelons bites the Apache's head, making him angry and pulling her to trample her. Rupertino on stage saves his life, entering into gratitude with him. From under, rise an "Devil" and the "Grim Reaper" who cornered them with a titan appointed "The World", throwing them a colossal globe, scattering the heroes who were about to be crushed. Nando, on the brink of death, stands in the corner of a stall, specifically in that of "The Brave", transformed instantly into a strong and virile man who gives battle to the devil, knocking him down in one fell swoop to his respective place. He did the same with The Grim Reaper and Apache, being only The World, how much damage caused the watermelons, leaving it out of combat. The last card that was missing was the Watermelon, sacrificing nobly so that Leo and his friends can now finish.
Types
Jafar says: Read my lips and come to grips with the reality!


This article is a stub and is in need of expansion. You can help Villains Wiki by expanding it.                       
The Rooster

Watermelon Critters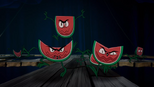 Apache Archer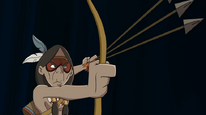 Devil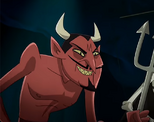 Grim Reaper

Globe Titan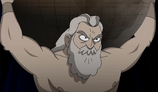 Non-hostile cards
Liquor Bottle

Drunk
The Brave

Gallery
Community content is available under
CC-BY-SA
unless otherwise noted.