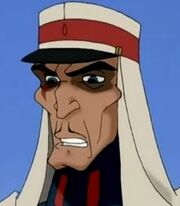 Lt. Colonel Staquait is a recurring antagonist from Disney's The Legend of Tarzan.
Role
He is a vicious, scar-faced Colonel in the French Foreign Legion. He sees himself on the right side of the law, but his draconian means do not justify his actions, putting him at odds with Tarzan. He acts as judge and executioner, and has made it his goal to hunt down Hugo and Hooft, after they refused his order to burn down a village full of women and children.
Tarzan helped fake their demise, but eventually he learned the truth and imprisoned them. Tarzan ended up imprisoned in Fort Doom as well, then after allowing Hugo and Hoof to escape, was sentenced to hang. But Tarzan was released after Renard impersonated a French general, which Staquait realized as the heroes safely returned to Africa by steamship.
Community content is available under
CC-BY-SA
unless otherwise noted.