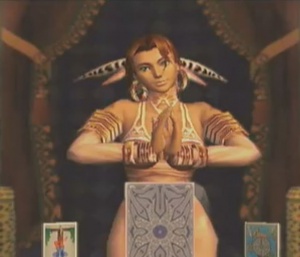 Lucia is the main antagonist of The Three Citrons (also known as The Love of Three Oranges), an Italian fairy tale appearing in Giambattista Basile's Pentamerone.
Description
Lucia is a black Moorish slave. Her method of speaking in the story is somewhat unintelligent, though she is clever enough to deceive the prince by taking the place of his fairy bride.
Biography
The prince who is the story's protagonist falls in love with a fairy who he found in a citron. He goes to his palace to get her a dress. While he is gone, Lucia comes to the well with her mistress and sees the fairy's reflection, thinking it is her own. She decides that she will no longer serve her mistress, and breaks the pitcher that she was given.
Lucia sees the fairy and becomes jealous of her beauty. She offers to comb the fairy's hair. The fairy agrees. While Lucia is combing the fairy's hair, she sticks a pin in the fairy's head, changing her to a dove. The prince returns, and Lucia convinces him that she was really his bride under a spell. They go home, and the prince is crowned king.
The dove tries to warn the cook that Lucia had tricked the prince, but then Lucia orders the dove to be cooked. The fairy departs from the dove's body and becomes a citron tree. The prince proceeds to cut the citrons again and finds his fairy bride.
The prince finds out that Lucia had tricked him, and asks her what punishment is appropriate for the bride. Lucia says that she should be burned alive and have her ashes thrown from the roof. On the prince's order, this is exactly what happens to Lucia, resulting in her death. The prince then takes the fairy as his wife.
Trivia
Another Moorish slave named Lucia, similar to the one in the Three Citrons, appears in the framing story of the Pentamerone. The narrator, Zoza (who tells the stories in the collection to the prince) chooses the name as to expose the other Lucia's betrayal. This Lucia ends up buried up to her neck and left to die.
Lucia appears in Sergei Prokofiev's opera adaptation of the tale, The Love for Three Oranges. Here she is called Smeraldina and is in the service of a witch named Fata Morgana. 
External Links
Community content is available under
CC-BY-SA
unless otherwise noted.