She-Hulk Trailer Dropped - The Loop
Play Sound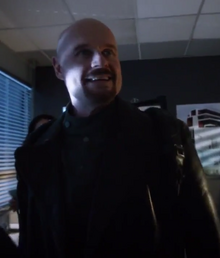 Lucious Coolidge, known as Heat Monger, is a minor villain in the third season of The Flash.
Biography
Past
Heat Monger was the worst arsonist Central City saw since Mick Rory. He was eventually taken down by the Flash, with Barry Allen also being the CSI responsible for identifying Coolidge as the killer.
Present
When Coolidge's hearing is supposed to take place earlier than expected, Barry is expected to testify against Coolidge. However, due to Barry having recently manipulated his memory in order to stop his future personna Savitar, he cannot remember anything. This is problematic for the SCPD, as Coolidge will walk free if Barry does not testify.
When the court date cannot be postphoned, Barry testifies by help of Julian Albert who provides him with glasses through which Albert can write Barry what to say. However, the glasses break mid-trial and as Barry's testimony is not convincing enough, Coolidge walks free. After being freed, Coolidge gets back his old attire and visits an office building. After arriving on the highest level, where some workers are still present, Coolidge wishes them all a happy Friday before using his flamethrower to burn the entire floor. The fire eventually threatens the entire building. Although Barry has meanwhile figured out that he is the Flash, he still hasn't got his memory back and is thus unable and not experienced enough to stop the fire or Coolidge.
The team eventually manages to get Barry back his memories and thus his experience. Together with Kid Flash, Barry extinguishes the fire and they take down Coolidge and deliver him to the police.
Gallery

Villains