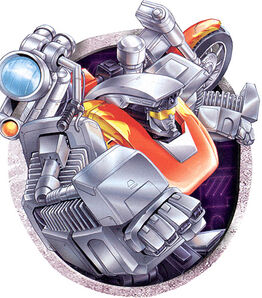 Lugnutz is a Decepticon who worked for Starscream in Transformers: Cybertron.
Biography
When Lugnutz worked for Starscream with Thunderblast and the Ancient Decepticons, he fought for Starscream. When Optimus Prime, Override and Evac attacked the Starscream volcano hideout, he and Thunderblast were up against them. He fought both the Autobots and the minions of Megatron at first, but later he no longer wanted to fight. Later, when Megatron became Galvatron and he stole the Omega Lock using it to unleash the black hole, he and the ancient Decepticons joined Optimus Prime and his friends and helped them defeat Galvatron and save the universe. For he followed the roads, and he, too, left Starscream when his former friend, Thunderblast. In the battle, he fought the minions of Galvatron, the battle was fierce but eventually the Autobots managed to defeat Galvatron, and they got the Omegal Lock and Cyber ​​Planet Keys back, and then they destroyed the black hole and saved the universe. And when Galvatron was also destroyed, he joined the Space Bridge Construction Group, and helped all the Transformers in the group build the Space Bridge.
Gallery
Community content is available under
CC-BY-SA
unless otherwise noted.