Jurassic World: Dominion Dominates Fandom Wikis - The Loop
Play Sound
Jafar says: Read my lips and come to grips with the reality!


This article is a stub and is in need of expansion. You can help Villains Wiki by expanding it.                       
Lumis and Umbra are two Rare Hunters who work for Marik Ishtar and antagonists in in Yu-Gi-Oh!.
Lumis was voiced by Yu Mizushima in Japanese and by Brian Zimmerman and James Carter Cathcart in the anime and Wolfe Scott in Yu-Gi-Oh! Duel Links in English. Umbra was voiced by Kōji Ishi in Japanese and by Chuck Powers and Andrew Paull in English.
Personality
Lumis and Umbra each had the same personality seeing as they typically corporate in order to be successful.
Their personality could be best described as: Cruel, highly sadistic, thoroughly creepy, ruthless, callous, sly, cunning, completely loyal, blasphemous, fiendish, brutal, arrogant and short-tempered.
Biography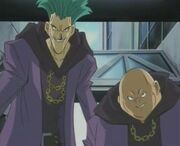 Lumis is a short bald man and Umbra is tall with spiky green hair. They dueled Yugi and Seto Kaiba in Battle City, but were easily defeated when Kaiba summoned Obelisk the Tormentor. They later challenged them to a rematch, with decks specifically designed to take out the Egyptian God Cards. This time, they wore robes, Lumis wore half a light mask and Umbra wore half a dark mask. They dueled Yugi and Kaiba in a duel in which, when a player's life points reached zero, the bomb would shatter the glass on the roof, plummeting Yugi and Kaiba to their deaths (send them to the Shadow Realm in the dub).
The duel took four episodes, but in the end, Kaiba summoned Obelisk the Tormentor and attacked Umbra's life points directly, defeating him and sending him falling to his own death but he used a parachute to catch onto a pole to save himself. Yugi gave Lumis the chance to surrender, when Marik took over his body and knocked him out.
In the Falsebound Kingdom, they appear in Kaiba's mode on Level 15. They're working for Scott and what happens to them after defeat is unknown, but knowing Scott, they were likely erased. They also appear if the player fails Level 12.
Relationships
Allies
Marik Ishtar (formerly)
Odion (formerly)
Rare Hunters (formerly)
Seeker (formerly)
Arkana (formerly)
Strings (formerly)
Enemies
Seto Kaiba
Yugi Muto
Mokuba Kaiba
Yami Yugi
Battle City contestants
Gallery