House of the Dragon Trailer - The Loop
Play Sound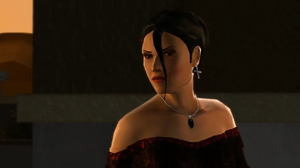 Luz Avalos is a member of the Los Carnales crime syndicate.
Luz is the materialistic girlfriend of Angelo Lopez, the younger brother of the Carnales leader Hector Lopez. She has an overdeveloped obsession towards shoes, but both The Protagonist and Tanya Winters have remarked on her being behind the times in choice of footwear.
Hector Lopez once remarked that he "always thought she was a bitch". On the other hand, Manuel Orejuela noted "That's a lotta woman [Angelo has] there".
Angelo becomes jealous and distrusting of her due to her flirting and spending time with Manuel Orejuela, the liaison for the Colombian drug cartel, which is exacerbated when Hector is killed and Angelo becomes the Carnales' leader.
The stress on Angelo, combined with the breakdown of his father Alejandro's empire and the death of Hector and Victor Rodriguez, leads him to attempt to flee Stilwater without her when she is late returning from shoe shopping. However, The Protagonist and Dex arrive at Wardill Airport and kill him, leaving Luz with nothing but a bag of shoes; had she arrived on time, she would have been on-board the plane and died when they destroyed it. Orejuela soon picks her up at a bar, and would later return to Colombia with her. 
Licensing