She-Hulk Trailer Dropped - The Loop
Play Sound
| | | |
| --- | --- | --- |
| " | Mm... My research isn't complete yet, but there's no mistaking the power the Sacred Stones contain. And the Stone of Grado seems especially responsive to my dark magic. I suppose it's because it contains both sacred and demonic properties. Regardless, if I can just press my studies a little harder... Well, I think I might be able to use it to heal my father's illness. If that works, there's no telling how many other people I can help as well. | " |
| | ~ Lyon | |
Lyon is the secondary antagonist of Fire Emblem: The Sacred Stones. He is the childhood friend of Eirika and Ephraim, and the Prince of Grado.
He is voiced by Yuichi Nakamura in Japanese version, and by Mark P. Whitten in English version.
Personality
Lyon is a gentle person who prefers to keep to himself, similarly to his late father, Emperor Vigarde. He tends to be shy and used to lack any friends around his age until he got to meet the twins Eirika and Ephraim, Renais' princess and prince respectively, in their late childhood. His main ambition was to become a strong, compassionate and dependant ruler like his father used to be. However, he was consistently wracked with intensive self-doubts, which later included his one-sided feelings for Eirika, as well as his hidden jealousy and admiration of Ephraim. His poor health, frailty, and lack of an imposing, noble presence only added to his inner turmoil. Since he is incapable of properly training with, and learning the practice of physical weaponry, where he's always outmatched by both Ephraim as well as Eirika, he focuses on magic instead, which he excels at by far.
Through being manipulated and possessed by Fomortiis, he portrays vastly differing sides, based on each of the two available in-game routes.
| | | |
| --- | --- | --- |
| " | Listen, Ephraim. I've always loved you. I've always hated you. I've always looked up to you. I wanted to be just like you. Then one day I realized... Someone like me could never become someone like you. You and Eirika are... overpowering. You blinded me with your radiance. How could I live in your shadows and not seethe with jealousy? | " |
| | ~ Lyon | |
In Eirika's route, he is initially hesitant and, in a seemingly reluctant manner, vaguely tells her of how he was too weak to stop the ongoing war. As of then, he isn't denying the rumors of the now resurrected Vigarde having gone mad, although he does not confirm them either. He remains gentle and remorseful while trying to hear her out despite his elusive and vague behavior. He expresses his longing to see both her and Ephraim again and promises her to tell her everything someday, before disappearing.
Throughout Ephraim's route, the stark contrast to his behavior from Eirika's route is clearly evident. Immediately upon encountering Ephraim in his respective route, Lyon taunts him and claims to have solely befriended him and Eirika to gain sufficient knowledge in order to invade and topple Renais and subsequently murder their own late father. He believes the twins merely feigned compassion for him and devalues himself, yet openly mocks Ephraim with the aforementioned regicide he committed. His hidden jealousy and spite come to the forefront within their exchange. Later on he claims that not even Ephraim could stop him by that point, and yearns to best him just once despite deeply cherishing their friendship.
Whenever he ends up being fully possessed by Fomortiis instead of being subtly urged and manipulated, every remaining trace of kindness and courtesy disappears and is replaced with constant, heinous mockery, dark, violent fantasies, and a streak of outright sadism.
Biography
Fire Emblem: The Sacred Stones
Lyon is a childhood friend of Eirika and Ephraim, often getting to spend time with them through diplomacy meetings between Renais and Grado. He developed romantic feelings for Eirika, while harboring increasing jealousy of Ephraim for his strength, fortitude and confidence.
He worked tirelessly and desperately to save his ill father's life, while simultaneously beginning to tap into the Fire Emblem, Grado's own Sacred Stone. Through experiments he conducted on it alongside Grado's royal court mages, a vision presenting an imminent earthquake which was destined to ravage Grado's southern lands, devastated them. Again and again, they were shown that same vision.
Despairing as his father was already on his death bed, Lyon was entrusted with taking over Grado as he was panicking and already breaking down under the given burden he deemed himself unprepared and lost for. He couldn't bear being left alone, yet tried to find an answer to helping Grado's people to no avail.
It was when his father passed away at last that Lyon decided to engage a tremendous risk by ordering the closest of his royal mages, Knoll, to undo the Fire Emblem's seal to have it split in twain. One of those halves was the Dark Stone, which held the soul of Fomortiis. Knoll tried to stop him but Lyon, still believing he was too weak, went ahead to consider himself a sacrifice and tried to harness Fomortiis' power as he believed he could stop Grado's impending doom that way. That, however, had him fall under Fomortiis' influence and he deteriorated further and further as the Demon King took increased control of him and so, Lyon began to wage a war against the continent of Magvel, starting with the invasion of Renais.
He managed to revive his father as an empty puppet and shell of his former self. Later on, he had Knoll thrown into a cell to have him be executed, for trying to dissuade Lyon from his chosen path and being a potential threat due to his knowledge. Through these actions, he began associating himself with a heretic and cultist who acted as a priest of Fomortiis, Riev, who gladly and gleefully spun further threads in the name of the Demon King while being fully aware of Lyon's possession.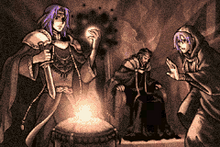 As the story progresses, depending on the route taken, he is either completely possessed by the Demon King, who imitates Lyon's soft and gentle self to lull Eirika into a sense of trusting him, or fakes possession (so as not to reveal the truth to his friends) and takes the Sacred Stone from Ephraim by force before revealing himself. However, he chooses to not kill either Eirika or Ephraim (depending on the route), as he either begs Ephraim to stop him later in Darkling Woods instead, or Fomortiis' sadism shines through as he takes over Lyon completely and desires to see both him and Eirika suffer even further first.
He is slain in the final chapter, dying in the arms of Eirika and Ephraim, and shares his last heartfelt sentiments, but unfortunately ends up serving as the final sacrifice Fomortiis needed to be revived into his own body of old. However, after the end, the earthquake Lyon and his mages foresaw and tried their hardest to prevent occurs regardless, which many people see as divine punishments for his actions.
Other Media
Super Smash Bros.
In Super Smash Bros. Ultimate, Lyon appears as a primary advanced grab-type spirit with the ability to increase the fighter's magic-based attacks. His spirit battle is against Robin on the Unova Pokémon League. After defeating him, a giant Ridley representing Fomortiis appears.
Trivia
It is possible that the Lyon in Ephraim's route is the true Lyon overall, and just does not reveal himself in Eirika's route. It is unknown why the changes occur depending on who the player follows.
His main theme is simply named after him, "Lyon".
In the Creature Campaign, he can be unlocked as a non-canonical bonus character.
When possessed/pretending to be the Demon King, he is given a unique speech bubble.

Villains
Subspace Army
Ancient Minister | Bowser | Bullet Bills | Duon | False Bowser | False Diddy Kong | False Peach | False Samus | False Zelda | Galleom | Ganondorf | Goombas | Hammer Bros. | King Statue | Koopa Troopas | Master Hand | Petey Piranha | Primids | Rayquaza | Ridley | Porky Minch | Shadow Bugs | Tabuu | Wario
World of Light
Crazy Hand | Dharkon | Dracula | Galeem | Galleom | Ganon | Giga Bowser | Master Hand | Marx
Playable Characters
Bowser | Bowser Jr. | Dark Pit | Dark Samus | Donkey Kong | Enderman | Ganondorf | Incineroar | Kazuya Mishima | King Dedede | King K. Rool | Koopalings (Larry, Roy, Wendy, Iggy, Morton, Lemmy, Ludwig) | Mario | Meta Knight | Mewtwo | Piranha Plant | Ridley | ROB | Sephiroth | Wario | Wolf O'Donnell | Zombie
Bosses
Crazy Hand | Dark Emperor | Dharkon | Dracula | Duon | Galeem | Galleom | Ganon | Giga Bowser | Marx | Master Hand | Master Core | Metal Face | Petey Piranha | Porky Minch | Rayquaza | Ridley | Tabuu | Yellow Devil
Assists Trophies/Poké Ball Pokémon
Andross | Arceus | Black Knight | Burrowing Snagret | Chain Chomps | Chef Kawasaki | Darkrai | Deoxys | Devil | Dr. Wily | Entei | Elec Man | Ghirahim | Giratina | Ghosts | Gray Fox | Hammer Bros. | Klaptrap | Knuckle Joes | Kyurem | Lakitu | Lord Nightmare | Metroid | Meowth | Mimikyu | Mother Brain | Palkia | Phosphora | Shadow the Hedgehog | Skull Kid | Spinies | Starman | Unown | Waluigi
Trophies/Spirits/Stickers
Acro | Affinity | Air Man | Akuma | Alraune | Albert Wesker | Amalthus | Andrew Oikonny | Antasma | Aparoids | Aparoid Queen | Arlon | Ashnard | Axel | Baba | Baby Bowser | Babylon Rogues (Jet the Hawk, Wave the Swallow, Storm the Albatross) | Balrog | Banzai Bills | Bass | Big Boss | Bio Rex | Birdo | Black Shadow | Blood Falcon | Bokoblins | Blippers | Bloopers | Bombers | Bomb Man | Bonkers | Boos | Boom Boom | Boom Stompers | Box Boxer | Boxy | Broom Hatters | Bugzzy | Bumpety Bombs | Bulborbs | Burt the Bashful | Buzzy Beetles Byrne | Cackletta | Calamity Ganon | Camus | Cappys | Captain Syrup | Carmilla | Chandelure | Chaos | Chaos Kin | Chargin' Chucks | Claus | Clubberskulls | Colonel Pluck | Condor | Cragalanche | Crash Man | Creepers | Count Bleck | Count Cannoli | Cranky Kong/Donkey Kong (arcade) | Cut Man | Daphnes | Dark Man 4 | Dark Matter | Dark Mind | Darknuts | Daroach | Deadly Six (Zavok, Master Zik, Zeena, Zomom, Zazz, Zor) | Death | Deathborn | Devil Jin | Demise | Demon King Arzodius | Diggernaut | Dimentio | Dive Man | DJ Octavio | Don Bongo | Donkey Kong Jr. | Dragaux | Dr. Ivo "Eggman" Robotnik | Drill Man | Dry Bones | Eagle | E-123 Omega | Edelgard von Hresvelg | Eggplant Wizard | EggRobos | Emerl | E.M.M.I. | Ender Dragon | Erazor Djinn | Evil Ryu | Father Balder | Fawful | Fiery Blowhog | Fire Man | Flages | Flash Man | Fortitudo | FU | Fynalle | Gangrel | Galacta Knight | Galactic Fiend Kraken | Galaxy Man | Guardians | Garon | Gengar | General Guy | Geese Howard | Gharnef | Ghasts | Ghosts | Gleeok | Goda | Gold Bone | Golems (Kirby) | Golems (Dragon Quest) | Gomorrah | Gooper Blooper | Gordos | Goro Akechi | Gravity Man | Great Reaper | Grief | Gruntilda | Guts Man | Hades | Hard Man | Hawke | Heihachi Mishima | Helmaroc King | Hewdraw | Hooktail | Hoopa Unbound | Hot Heads | Ice Man | Igor | Infinite | Ing | Inspired | Iori Yagami | Iridescent Glint Beetle | Iron Golems | Jade Face | Jeanne | Jin | Jin Kazama | Julius | Juri Han | Kalypso | Kamek | Kammy Koopa | Kanden | Karate Kong | Kass | King Bob-omb | King Boo | King Dice | King Dodongo | King Hippo | King Knight | King Olly | Kip | Kludge | Knight Man | Kracko | Kraid | Kritters | Kuma II | Kyle Merkulov | Leon Powalski | Lethiniums | Liquid Snake | Loptr | Lord Fredrik | Lurchthorns | Lyon | MB | M. Bison | Magnamalo | Magolor | Mahvas | Majora | Malladus | Malos | Master Belch | Master Kohga | Mecha Ridley | Medeus | Medusa | Megontas | Meta-Knights (Axe Knight, Javelin Knight, Mace Knight, Trident Knight, Blade Knight) | Metal Man | Metal Sonic | Metroid Prime | Mimicuties | Moblins | Mockiwis | Moley | Monoeyes | Mouser | Mr. Frosty | Mr. L | Mr. Shine and Mr. Bright | Mugly | Nabbit | Napalm Man | Natah | Necrozma | Nihilego | Nightmare | Nina Williams | Ninja Kong | Nipper Plants | Noxus | Nruffs | Nutskis | O'Chunks | Octoman | Octoroks | Olaf | Ornes | Pandora | Panther Caroso | Paper Bowser | Parasite Queen | Paz Ortega Andrade | Peckish Aristocrabs | Phantom Ganon | Pico | Pidgits Piglins | Pigma Dengar | Pigmasks | Plague Knight | Plasma Wisps | Plasm Wraith | Pom Pom | Pompy | Poppy Bros Jrs. | Princess Shroob | Quaggled Mireclops | Queen Metroid | Queen Sectonia | Quick Man | Rabbid Kong | Rabbids | Raphael the Raven | Reapers | Redd | Rhea | Revolver Ocelot | Riku | Risky Boots | Rockys | Rodin, the Infinite One | Roger the Potted Ghost | Rouge the Bat | Roxas | Rufus Shinra | Ryuichi and Ryuji | Sagat | Scarfies | Scurvy Crew | Shadow Beasts | Shadow Man | Shadow Queen | Shaft | Shake King | Sheegoth | Shield Knight | Shotzos | Shroobs | Shy Guys | Sidesteppers | Sigma | Sir Kibbles | Skeletons | Skull Man | Skuttlers | Slash Man | Slimes (Dragon Quest) | Slimes (Minecraft) | Smoky Prog | Snake Man | Snowmads | Solidus Snake | Space Pirates (Kid Icarus) | Space Pirates (Metroid) | Spark Man | Specknoses | Specter Knight | Spire | Squeakers | Starmans | Stu | Sword Man | Swooping Snitchbug | Sylux | Tacs | Tatanga | Thanatos | The Devil | The Skull | Therion | The Three Mage-Sisters (Francisca, Flamberge, Zan Partizanne) | Tiki Tak Tribe (Kalimba | Gong-Oh | Maraca Gang | Wacky Pipes | Cordian | Banjo Bottom | Xylobone) | Tiki Tong | Top Man | Trace | Travis Touchdown | Turks (Elena, Reno, Rude, Tseng) | Turret Tusk | Twinbellows | Twinrova | Ultimate Chimera | Vaati | Validar | Vega | Viridi | Viruses | Vivian | Vorash | Waddle Dees | Waddle Doos | Walhart | Walkys | Wart | Weavel | Wheelies | Whispy Woods | Whomps | Wigglers | Wind Man | Wollywog | Wood Man | Xord | X-Parasites | Yaldabaoth | Yuga | Yveltal | Zangief | Zant | Zero | Zingers | Zoda | Zurees
Others
Ansem | Billy Kane | Chang Koehan | Choi Bounge | Dr. Coyle | Dragonborn | Master Xehanort | Ryuji Yamazaki | Saïx | Solon | Spiders | Springtron | Team Rocket Grunts | Vanitas | Xemnas | Yiga Foot Soldiers