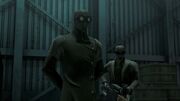 M.E.C.H. Surgeon is a member of M.E.C.H. Organization whose mission is unload the Transformer to get up to the limit in Transformers: Prime.
Role
When M.E.C.H. kidnapped the Breakdown 1 M.E.C.H Surgeon make it unload him to get up to the limit then they be about to Arcee when Airachnid persuaded the Silas and M.E.C.H. with a vengeance the Arcee and Jack Darby. Transformer-parts they make it build the own Transformer, Nemesis Prime. But when Nemesis Prime destroyed Silas was its under but and not conventional medicine could the help Silas but M.E.C.H. is more than conventional. in the end M.E.C.H. make it the save Silas by combining his vital signs the Breakdown's residue Silas take a new name Cylas (CYbernetic Life Augmented by Symbiosis) kill the members of M.E.C.H. and tried be joined the Decepticons.
Community content is available under
CC-BY-SA
unless otherwise noted.