Jurassic World: Dominion Dominates Fandom Wikis - The Loop
Play Sound

✓
This Villain was proposed and approved by Villains Wiki's Pure Evil Proposals Thread. Any act of removing this villain from the category without a Removal Proposal shall be considered vandalism (or a futile "heroic" attempt of redemption) and the user will have high chances of being terminated blocked. You cannot make said Removal Proposal without permission from an admin first.
Additional Notice: This template is meant for admin maintenance only. Users who misuse the template will be blocked for a week minimum.

| | | |
| --- | --- | --- |
| " | I'm coming for you, J'onn J'onzz. | " |
| | ~ Ma'alefa'ak in Supergirl. | |
| | | |
| --- | --- | --- |
| " | Mars can live again. It will. | " |
| | ~ Ma'alefa'ak | |
Ma'alefa'ak is the evil younger twin brother and archenemy of Martian Manhunter, and an enemy of the Justice League, in the DC franchise.
Biography
When Ma'alefa'ak mind-raped J'onn J'onzz's wife, M'yri'ah, Ma'alefa'ak was stripped of his telepathic powers and his weakness to fire and his memories of this were erased. Ma'alefa'ak thought that he was the only Martian born without telepathy or a weakness to fire. Because of this, he felt ostracized. Because of this, he created a plague called "H'ronmeer's Curse". Every time a Martian used their telepathic powers, they would succumb to the plague and burn to death. When this happened, J'onn J'onzz was teleported away against his will to survive. Ma'alefa'ak learned only years later that his brother went to Earth, so he followed him. He's been plotting to defeat his brother and the Justice League since. Ma'alefa'ak encountered his brother more than once.
But, in one of the times Ma'alefa'ak faced off Martian Manhuter, The Manhunter was able to finally silence Ma'alefa'ak by undoing the telepathic block that stripped Ma'alefa'ak of his telepathy. Unfortunately, this also restored his weakness to fire. Because of him not knowing how to activate telepathic barriers to protect him from fire. Ma'alefa'ak was consumed by the sun when Martian Manhunter threw him into a vessel too close to the sun.
New 52
Ma'alefa'ak was brought back when the DC Universe was rebooted with the New 52. In the rebooted universe, Ma'alefa'ak and other Earth-born Martians survive the near extinction of their race, and build a giant weapon so they can infiltrate and enslave the Earth.
Other Media
Television
Ma'alefa'ak appears in the third season of Young Justice. This version of the character is M'Comm M'orzz, the younger brother of M'gann and thus a White Martian.
Malefic J'onzz appears in the season four finale of Supergirl. Monitor frees him from an unknown place and sets him loose on Earth-38 to seek vengeance on his brother J'onn J'onzz. However, unlike his comic version, Malefic J'onzz is a tragic figure, as his villainy came from being bullied by the other Martians and the lack of support from his own family. His family went far when they locked him in a room for the rest of his life and J'onn (in desperation to save his father from death) erased both of their memories of him. As such, J'onn actively tries to redeem him, which ultimately results in Malefic and J'onn reconciling and embracing.
Film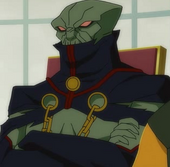 Malefic appears as one of the lead villains in Justice League: Doom. He is a member of Vandal Savage's new Legion of Doom and is tasked with killing J'onn. He was voiced by Carl Lumbly, who also voiced Martian Manhunter. He ultimately appears to be killed in the film's climax, as he battles his brother he is in the path of the exhaust of Vandal Savage's recently launched rocket.
Powers and Abilities
Ma'alefa'ak has super-strength, speed, endurance, and durability. He also can heal quickly and has the ability to shape-shift. He can live for hundreds of years like his twin brother. Ma'alef'ak can also fly and levitate even has the ability to turn invisible. Unlike other Martians he is not weakened by fire, nor does he have telepathic powers as they where stripped by the Council of Mars because he tortured M'yri'ah.
Gallery
External links

Villains
Comics
Abra Kadabra | Amanda Waller | Amos Fortune | Amazo | Anarky | Angle Man | Anti-Justice League | Anti-Monitor | Appellaxians | Aquarius | Asmodel | Atomic Skull | Axis America | Bane | Barbatos | The Batman Who Laughs | Black Adam | Black Hand | Black Lantern Corps | Black Manta | Black Mask | Black Spider | Blockbuster | Blue Beetle (Dark Multiverse) | Brainiac | Bronze Tiger | Brother Eye | Brotherhood of Evil | Cadre | Calculator | Calendar Man | Captain Boomerang | Captain Cold | Castle Bat | Catalyst | Catman | Catwoman | Cheetah | Chemo | Cheshire | Circe | Clayface | Clock King | Cluemaster | Copperhead | Construct | Cosmic King | Crazy Quilt | Crime Syndicate of America | Crucifer | Cyborgirl | Darkseid | Dark Supergirl | Deadline | Deadshot | Deathstroke | Demolition Team | Demons Three | Despero | Doctor Alchemy | Doctor Destiny | Doctor Double X | Doctor Impossible | Doctor Light | Doctor Manhattan | Doctor Phosphorus | Doctor Polaris | Doctor Poison | Doctor Psycho | Doctor Regulus | Doctor Sivana | Dominators | Doomsday | Dragon King | Dumas | Earthworm | Eclipso | Electrocutioner | Elite | Empty Hand | Enchantress | Epoch the Lord of Time | Eradicator | Evil Star | Fatal Five | Felix Faust | Fiddler | Floronic Man | Funky Flashman | Gamemnae | General Eiling | Genocide | Gentleman Ghost | Golden Gilder | Goldface | Gorilla Grodd | Great Darkness | Gunhawk | Harley Quinn | Hector Hammond | Hellgrammite | Human Flame | Hyena | Ibac | Icicle | Imperiex | Intergang | I.Q. | Johnny Sorrow | Joker | Key | Killer Croc | Killer Frost | Killer Moth | Kite Man | Kobra | Kobra Cult | Krona | League Buster | League of Assassins | Legion of Doom | Lex Luthor | Libra | Lobo | Mad Hatter | Mageddon | Magpie | Manchester Black | Manhunters | Matter Master | Maxwell Lord | Mekanique | Merlyn | Mirror Master | Mister Atom | Mister Mind | Mister Nebula | Mr. Freeze | Mongul | Mordru | Morgaine Le Fey | Multiplex | Nekron | Nekron (Pre-Crisis) | Neron | Neutron | Nightshade | Obsidan | Ocean Master | Overman | Pariah | Parademons | Parasite | Penguin | Perpetua | Pied Piper | Plastique | Poison Ivy | Professor Ivo | Professor Zoom | Prometheus | Psycho-Pirate | Queen Bee | Queen of Fables | Ra's al Ghul | Rainbow Raider | Rama Khan | Red Death | Red King | Red Panzer | Red Volcano | Riddler | Roulette | Royal Flush Gang | Satanus | Scarecrow | Science Squad | Secret Society of Super Villains | Shadow-Thief | Shaggy Man | Shark | Simon Stagg | Sinestro | Solomon Grundy | Star Sapphire | Starbreaker | Starro | Steppenwolf | Suicide Squad | Superboy-Prime | Tattooed Man | Terra-Man | T.O. Morrow | Two-Face | Upside Down Man | Ultra-Humanite | Vandal Savage | Volcana | Warp | Weather Wizard | White Martians | Wizard
Theatrical Movies
Justice League: Steppenwolf | Parademons (Parademon Scout) | Darkseid | Black Clad (Black Clad Alpha) | Lex Luthor | Deathstroke | Ares
Zack Snyder's Justice League: Darkseid's Elite (Darkseid, Steppenwolf, DeSaad, Granny Goodness, & Parademons) | Lex Luthor | Deathstroke | Black Clad (Black Clad Alpha) | Ares | Joker
Direct-to-video Movies
Justice League: The New Frontier: The Centre | Captain Cold
Justice League: Crisis on Two Earths: Crime Syndicate of America (Owlman, Ultraman, Superwoman, Johnny Quick, Power Ring, J'edd J'arkus, & Black Power) | Lex Luthor | White Martians | President Slade Wilson | Rose Wilson
Justice League: Doom: Legion of Doom (Vandal Savage, Bane, Cheetah, Ma'alefa'ak, Metallo, Mirror Master, & Star Sapphire) | Royal Flush Gang (King, Queen, Jack, Ace, & Ten)
Justice League: The Flashpoint Paradox: Professor Zoom | Wonder Woman | Aquaman | Ocean Master | Black Manta | Deathstroke | Lex Luthor | Clayface | Rogues (Captain Cold, Captain Boomerang, Top, Heat Wave, & Mirror Master) | Joker | Yo-Yo
Justice League: War: Darkseid | Desaad | Parademons | Ocean Master
Justice League: Throne of Atlantis: Ocean Master | Black Manta | The Trench | Lex Luthor
Justice League League: Gods and Monsters: Will Magnus
Justice League vs. Teen Titans: Trigon | Legion of Doom (Lex Luthor, Cheetah, Solomon Grundy, Toymaster, & Weather Wizard) | Atomic Skull | Ra's al Ghul
Justice League vs. the Fatal Five: Fatal Five (Emerald Empress, Mano, Persuader, Tharok, & Validus) | Bloodsport | Two-Face | Harley Quinn | Poison Ivy

Video Games
Injustice: Gods Among Us: One Earth Regime (Superman, Wonder Woman, Yellow Lantern, The Flash, Aquaman, Cyborg, Shazam, Nightwing, Raven, Hawkgirl, Sinestro, Black Adam, Killer Frost, Solomon Grundy, Catwoman, Bane, & Doomsday) | Joker | Lex Luthor | Deathstroke | Ares
Injustice 2: Brainiac | Gorilla Grodd | Captain Cold | Reverse Flash | Cheetah | Deadshot | Poison Ivy | Bane | Scarecrow | One Earth Regime (Superman, Wonder Woman, Aquaman, Cyborg, Nightwing & Black Adam) | Dr. Fate | The Lords of Order | Grid | Atrocitus | Joker | Darkseid
See Also
Justice League Dark Villains | Justice League International Villains | Justice Society Villains | Young Justice Villains

Villains
Comics
Alphina | Anti-Monitor | Appex | Atomic Skull | Atrocitus | Barry Metznerr | Belinda Zee | Bizarro | Bizarro-Girl | Black Banshee | Black Flame | Blackstarr Blithe | Brainiac | Buzz | Carnivore | The Council | Chemo | Cyborg Superman | Dark Angel | Darkseid | Dark Supergirl | Decay | Delacore | Despero | Diasporans | Dollmaker | Dominators | Doomsday | Emerald Empress | Eradicator | Female Furies | Felix Faust | The Gang | Granny Goodness | Graviton Man | H'el | Hecate | Insect Queen | Indigo | Intergang | Kryptonite Man | Lady Styx | Lena Luthor | Lesla-Lar | Lex Luthor | Livewire | Lobo | Metallo | Mongul | Mxyzptlk | Nasthalthia Luthor | Nightflame | Parasite | Positive Man | Powerboy | Princess Zala Jor-El | Psi | Reactron | Reign | Rogol Zaar | Roho | Satan Girl | Selena | Shrapnel | Silver Banshee | Simon Tycho | Splyce | Superboy-Prime | Superman Revenge Squad | Superwoman | Toyman | Twilight | Ultra-Humanite | Worldkiller-1 | Xenon | Zod
Television
Season 1: Astra and Non's Army (Non, Astra, Indigo, Vartox, Hellgrammite & Maxima) | Maxwell Lord | Reactron | Livewire | Ethan Knox | Red Tornado | T.O. Morrow | Jemm | Dirk Armstrong | Bizarro | Toyman | Miranda Crane | Master Jailer | Silver Banshee | Project Cadmus (Colonel James Harper)
Season 2: Queen Rhea | Project Cadmus (Lillian Luthor, Cyborg Superman & John Corben) | Scorcher | Roulette | Parasite | Dominators | Phillip Karnowsky | Livewire | Mister Mxyzptlk | Music Meister | Beth Breen | Rick Malverne | Lex Luthor | Zod
Season 3: Worldkillers (Selena, Reign, Purity, Pestilence & Thomas Coville) | Morgan Edge | Bloodsport | Psi | Dominators | New Reich (Dark Arrow, Overgirl & Promethus) | Eobard Thawne | Red Tornado | Livewire | Lillian Luthor | Red Daughter
Season 4: Lex Luthor | Children of Liberty (Agent Liberty, Mercy Graves, Raymond Jensen & Natalie Hawkings) | Otis Graves | The Elite (Manchester Black, Pamela Ferrer, The Hat & Morae) | Hellgrammite | Monitor | John Deegan | A.M.A.Z.O. | Psycho-Pirate | Leviathan (Eve Teschmacher & Margot Morrison) | Red Daughter | Phil Baker | Lillian Luthor | Malefic J'onzz
Season 5: Leviathan (Gamemnae, Rama Khan, Tezumak, Sela, Andrea Rojas, Margot Morrison, & Eve Teschmacher) | Lex Luthor | Malefic J'onzz | Lena Luthor | Lillian Luthor | Anti-Monitor | Midnight | Shadow Demons | Toyman | Mister Mxyzptlk | Worldkillers (Selena, Reign, & Thomas Coville) | Children of Liberty (Agent Liberty & Otis Graves) | Dominators
Season 6: Nyxlygsptlnz | Lex Luthor | Lillian Luthor | Otis Graves | Zulian Maletarians | Eve Teschmacher | Mister Mxyzptlk | Leviathan (Gamemnae)
Video Games
Injustice: Superman | Brainiac | Wonder Woman | Black Adam | Nightwing | Cheetah