Wiki Targeted (Entertainment)
Play Sound
Machine Empire Black Magma are a rogue state of machine cultists and the main antagonists of Taiyou Sentai Sun Vulcan. Based at the North Pole where they worship the Black Sun God, Black Magma intends to have its mecha-humans rule the world by using its technology to cause natural disasters and cause global incidents. In pursuit of its goals, Black Magma targets Japan in order to obtain the cache of geothermal energy there needed to power their arsenal. Black Magma would also recruit two members of the defeated Vader Clan to serve their needs despite their attempted treachery.
History
Established at an unknown point in time, from their base at the North Pole Black Magma used their advanced technology to cause natural disasters all throughout the world. Eventually, the Guardians of World Peace took notice of suspicious activity going on at the North Pole and sent a submarine to investigate, only for the submarine to be sunk by a bolt of energy from Iron Claw Castle.
Not long after, an apparition of Black Magma's leader Führer Hell Saturn appeared at a United Nations meeting to reveal Black Magma's existence and proclaim their goals of world domination. In response to the threat of Black Magma, the United Nations approved a special task force to be formed called "Sun Vulcan" to combat Black Magma's attacks.
Later history
Los Dark
Several Machinemen were part of an army of past enemy grunts that were fought by the Gokaigers in Los Dark's ghost dimension which housed the 1500 spirits of the villains defeated by the Super Sentai. After losing some of their number in an initial skirmish, the remaining members from each grunt group merged to form the Combined Combatant. Though the stronger opponent, the Combined Combatant proved to be unstable due to internal conflicting among the grunts composing him over who got to finish the pirates off. Taking advantage, the Gokaigers used the Battle Fever J Ranger Keys to destroy the Combined Combatant with the Penta Force cannon.
Personnel
Machinemen
Main article: Machinemen
The Machinemen are the primary combatants of Black Magma. They are android soldiers clad in black fullbody jumpsuits with red markings on them. They are typically used to support the Monger Army of Black Magma or to carry out direct assaults, while Black Magma's Dark Q robots handle missions that require infiltration. They are equipped with a variety of weapons, including knives, pistols, rifles, submachine guns and bazookas. There also exists a class of Machinemen who wear white labcoats and work as scientists instead of fighters.
Dark Q
Main article: Dark Q
The Dark Q are Black Magma's spy robots, whose purpose is to infiltrate and gather data on Black Magma's enemies. They are capable of altering their physical appearance to seem human, enabling them to go undercover by disguising themselves as others. Compared to the Machinemen, only a limited number of Dark Q models were produced and they typically work alone as opposed to with others.
A total of 96 test models were produced of Dark Q before the design was finalized. One of the first saw action by disguising itself as assistant to Daizaburou Arashiyama in order to get close enough to sabotage Sun Vulcan's robo, but it was later uncovered and destroyed.
The Dark Q were phased out shortly after Amazon Killer arrived, with Amazon Killer and the Zero Girls handling missions that required stealth and infiltration from then onwards.
Arsenal
Iron Claw Castle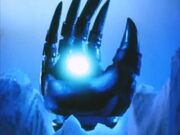 Iron Claw Castle is the home base of Black Magma, established in the North Pole. It resembles a large right hand with pointed fingertips and is capable of lowering itself into the ice in order to remain unseen. It is also armed with several defense systems as a means of fending off intruders, including the ability to fire powerful energy blasts from its palm.
Hell Fighters
Hell Fighters comprise the aerial force of Black Magma. They are small, agile aerial vehicles that typically fly in formations of three. Their main weapons are laser guns mounted on their underside.
Members
Monger Army
Mechahuman creations made by Black Magma, combining animal genes and specialized machinery while infusing the Monger with Black Magma energy. They have an Expansion Program built into them that not only repairs them, but enlarges them into Kyodai Mongers.
Jimushi Monger

Coela Monger

Naumann Monger

Tori Monger

Majin Monger

Kikai Monger

Yakyu Monger

Mugen Monger

Sasori Monger

Kumo Monger

Shita Monger

Daiya Monger

Iron Monger

Armadillo Monger

Time Monger

Tobibako Monger

Gas Monger

Camera Monger

Gama Monger

Wrestler Monger

Isogin Monger

Horseshoe Monger

Octopus Monger

Water Bug Monger

Fireworks Monger

Sea Snake Monger

Hungry Monger

Alien Monger

Rose Monger

Buffalo Monger

Thunder Monger

Pettan Monger

Crab Monger

Curse Monger

Cockroach Monger

Saturn Monger

Totem Pole Monger

Centipede Monger

Bat Monger

Teakettle Monger

Dragon Monger

Mechanic Monger

Flying Squirrel Monger

Boxer Monger

Shinowana Monger

Fighter Monger

Mummy Monger

King Magmar
Gallery

Villains
Machine Empire Black Magma
Führer Hell Saturn | Zero Girls | Queen Hedrian | Amazon Killer | Inazuma Ginga | Omnipotent God | Dark Q | Machinemen | Teacher Oomura
Monger Army: Jimushi Monger | Coela Monger | Naumann Monger | Tori Monger | Majin Monger |Kikai Monger | Yakyu Monger | Mugen Monger | Sasori Monger | Kumo Monger | Shita Monger | Daiya Monger | Iron Monger | Armadillo Monger | Time Monger | Tobibako Monger | Gas Monger | Camera Monger | Gama Monger | Wrestler Monger | Isogin Monger | Horseshoe Monger | Octopus Monger | Water Bug Monger | Fireworks Monger | Sea Snake Monger | Hungry Monger | Alien Monger | Crystal Monger | Rose Monger | Buffalo Monger | Thunder Monger | Pettan Monger | Crab Monger | Curse Monger | Cockroach Monger | Saturn Monger | Totem Pole Monger | Centipede Monger | Bat Monger | Teakettle Monger | Dragon Monger | Mechanic Monger | Flying Squirrel Monger | Boxer Monger | Shinowana Monger | Fighter Monger | Mummy Monger | Lightning Monger | King Magmar