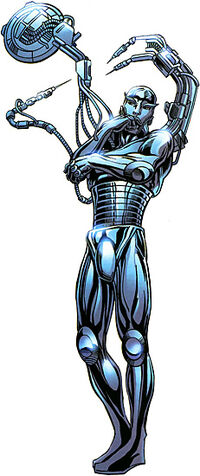 | | | |
| --- | --- | --- |
| " | Even after I had developed a more human-looking body, I knew I was living the most outragoues lie imaginable. Living...Ha! I was just existing! | " |
| | ~ Machinesmith | |
Machinesmith, also known as Samuel "Starr" Saxson, is a villain in Marvel Comics. He is an enemy towards Captain America, Thunderbolts, and possibly Doctor Doom.
History
Samuel "Starr" Saxon was a master robot-maker whose ability even rivaled that of Doctor Doom. He once tried to fight Daredevil as Mister Fear but fell of the flying platform he used. His robot servants found him and loaded his mind into a computer. Saxson, able to move by creating robots which are possessed by his mind, decided to use his genius intellect for his own personal gain. He did this by offering his robots' services to any of his underworld clients. However he got sick of his "life" and tried to kill himself by using the robots, but failed. He then revived Dragon Man to lure Captain America to his base and tricked him into destroying the computer. While dying, Machinesmith apologized for his trick and told Captain America not to worry that he killed somebody.

Villains
Comics
Absorbing Man | Adolf Hitler | A.I.M. | Aleksander Lukin | Anaconda | Arcade | Arnim Zola | Awesome Android | Baron Blood | Baron Wolfgang von Strucker | Baron Zemo | Baron Zemo II | Batroc the Leaper | Black Talon | Black Mamba | Black Widow | Blitzkrieg | Blizzard | Boomerang | Boomslang | Bullseye | Cache | Constrictor | Cottonmouth | Count Nefaria | Cowled Commander | Crimson Dynamo | Crossbones | Dark Avengers | Death Adder | Doctor Faustus | Eel | Electro | Famine | Fer-De-Lance | Firebrand | Fixer | Flag-Smasher | Ghost | Grand Director | Grant Ward | Griffin | Grim Reaper | Grizzly | Heinz Kruger | Herr Kleiser | HYDRA | Hydro-Man | Jack O' Lantern | Killer Shrike | King Cobra | Kingpin | Klaw | Korath the Pursuer | Korvac | Kraven the Hunter | Lady Deathstrike | Living Laser | Lizard | Lucia Von Bardas | Machinesmith | Madame Viper | Madcap | Magneto | Man-Ape | Mandarin | Master Man | Mentallo | Mesmero | Mister Hyde | M.O.D.A.M. | M.O.D.O.K. | Mole Man | Moonstone | Nightmare | Nightshade | Obadiah Stane | Princess Python | Puff Adder | Punisher | Punisher (Earth-95126) | Quicksand | Rattler | Red Skull | Rhino | Ringmaster | Rock Python | Ronan | Roxxon | Säurespritze | Scarecrow | Scorpion | Secret Empire | Selene Gallio | Serpent Society | Shocker | Shockwave | Sidewinder | Silver Sable | Sin | Skeleton Crew | Slither | Slug | Super-Adaptoid | Superia | Super Patriot | Supreme Intelligence | Tarantula | Taskmaster | Terminus | Thanos | Titania | Titanium Man | Trapster | Typhoid Mary | Unicorn | Ultron | Vermin | Vulture | Whiplash | Whirlwind | Winter Soldier | Worthy | Wrecker | Yellow Claw | Zahnmörder | Zodiac
Movies
Captain America (1990): Red Skull | Valentina de Santis
Captain America: The First Avenger: HYDRA (Red Skull, Arnim Zola, Heinz Kruger, HYDRA Lieutenant, & Velt) | Adolf Hitler | Roeder | Hutter | Schneider
Heroes United: Iron Man and Captain America: HYDRA (Red Skull & Taskmaster)
Captain America: The Winter Soldier: HYDRA/STRIKE (Alexander Pierce, Winter Soldier, Crossbones, Jack Rollins, Jasper Sitwell, Russo, Senator Stern, Arnim Zola, Wolfgang von Strucker, List, Scarlet Witch, & Quicksilver) | Georges Batroc | Ferdinand Lopez | Gerald Durand
Captain America: Civil War: Helmut Zemo | Thunderbolt Ross | Winter Soldier | Scarlet Witch | HYDRA (Vasily Karpov, Josef, & Winter Soldiers) | Hero Mercs (Crossbones)
TV Series
The Falcon and The Winter Soldier: Winter Soldier | Flag Smashers (Flag-Smasher, Dovich, Gigi, DeeDee, Lennox, Nico, Matias, & Diego) | Sharon Carter | Baron Zemo | LAF (Georges Batroc & Louie) | Senator Atwood