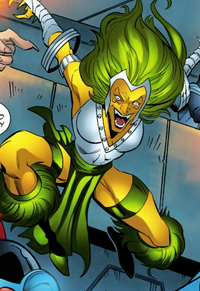 Mad Harriet is one of the Servants of Darkseid and Member of the Female Furies, an elite assassin group trained by Granny Goodness. Unlike the rest of the Furies, she does not have a signature weapon, and instead just uses her claws as a bersekar. 
Television History
Smallville
In the final season of Smallville, an orphanage that Granny Goodnes runs, Harriet was an orphan and trained by Granny to serve in Darkseid's army. Harriet's claws were fused with Kryptonite. In 2010 Harriet and other girls captured Clark Kent when he was trying to learn what was going on with the orphanage. She left Clark to Granny Goodnes, while she went to confront Tess Mercer and beat her. During the fight Tess got the upper hand and knocked her unconsciuos. After the fight and the orphanage was shut down, Harriet was possibly arrested by the police.
Gallery
Community content is available under
CC-BY-SA
unless otherwise noted.