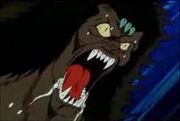 Madara is a minor antagonist in Fist of the North Star. He is a werewolf and one of the children of warlord Kiba Daioh is also the strongest in the Fang Clan.
Biography
In episode 27, Madara kills young villagers, but Gojiba calms him down. But when he smells like Kenshiro, Mamiya and Rei, it makes him angry, Kiba Daioh says to calm down, but Madara tells his father that he wants to avenge his brothers, one of Kiba's children sees Kenshiro, Rei and Mamiya, he'll start killing them, Mamiya sees Madara horribly, Kenshiro sees Kiba Daioh is the leader of the Fang Clan, he sends Madara to kill Kenshiro, Madara hijacks Kenshiro, and Kenshiro paralyzes his jaw to prevent him from biting , Madara unites Kenshiro with the claw, Marada prepares to give the coup de grace, but Kenshiro uses Goshi Retsu Dan on Madara, Kenshiro smashes Madara's tooth towards Kiba Daioh and Kenshiro gave Madara the Hokuto Hagan Ken on left eye defeating him, Kiba Daioh told Madara to retreat, but Kenshiro warned Kiba Daioh that Madara is dead, Kiba Daioh thinks Madara is alive, but in reality, he is dead.
Trivia
Madara is the only member of the Fang Clan to be a werewolf.
Community content is available under
CC-BY-SA
unless otherwise noted.