Jurassic World: Dominion Dominates Fandom Wikis - The Loop
Play Sound
"
Madelyn: Ah, the woods of France. I'd know them anywhere.
Isobel: We're in Kansas, Madelyn.
"
~ Madelyn after being resurrected and mistakes Kansas for France.
Madelyn Hibbins is one of the secondary antagonists in the Season Four episode "Spell", appearing on the WB television series Smallville. She was a skilled 17th century witch and a comrade of Countess Margaret Isobel Thoreaux.
She was resurrected in the 21st century along with her coven when their spirits possessed the bodies of three Smallville women, with Madelyn possessing the body of Chloe Sullivan.
Her original form was portrayed by Lara Gilchrist, who also played Karla Foreman in Supernatural and while possessing Chloe Sullivan by Allison Mack, who also played Brainiac in the same series.
History
Past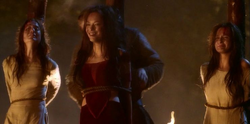 Madelyn Hibbins was born in the late 16th century and lived in the in the French village of Castelnau-de-Montmiral and practiced witchcraft with her fellow comrades Margaret Isobel Thoreaux and Brianna Withridge.
In 1604, Isobel vied to find the Stones of Power, with Madelyn and Brianna aided her in her quest. Isobel stole a map from Duchess Gertrude (the ancestor of Genevieve and Jason Teague) that would lead to one of the Stones.
Enraged at the betrayal, the Duchess had Isobel and her companions arrested, captured and turned over to the Magistrate Wilkins. Madelyn, along with Isobel and Brianna, lost their magic when the townspeople took their spell book.
She tried to escape the paddy wagon fearing death but Isobel promised them that if they fell that night they would rise again.
Upon reaching the fields, she and the others were dragged through the angry mob and begged for mercy as she was bound and tied but Wilkins sentenced the three witches to burn at the stake for practicing witchcraft. Madelyn and Brianna screamed while Isobel cackled when the flames consumed them.
Spell
Centuries later Isobel's descendant, Lana Lang, went to France and visited her tomb. Once she touched a symbol on the tomb she was branded with a Mark of Transference that would allow the Countess to return. Lana later purchased Isobel's spell book online and upon touching the bloodied symbol page, Isobel took possession of Lana's body through the tattoo.
Isobel then needed her sisters again and decided to use Lois Lane and Chloe Sullivan as vessels for them. Isobel concocted a potion through magic with many herbs and animal parts mixed with a vintage wine and met with Lois and Chloe in the woods where she convinces them to drink the potion as a toast before Chloe's surprise birthday party.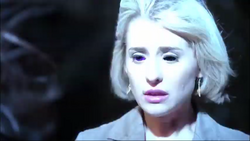 After drinking the potion, their eyes glow purple when lightning/thunder flashes and they are possessed by Isobel's fellow witches with Madelyn's spirit possessing the body of Chloe who thought she was in France but Isobel corrected her saying they were in Kansas.
Madelyn asked how they came back and Isobel explained her blood entwined with the symbol in the book that called to her heir and brought them back.
Madelyn excitingly asked if Isobel had the spell book and the Countess turned to it in the basket saying it was theirs again and with it they have their magics again. Isobel wanted to continue their quest for the Stones of Power but Madelyn and Brianna convinced her to attend Chloe's party first at Clark Kent's barn.
By possessing Chloe's body, Madelyn had access to her memories that she used to navigate this world. Madelyn and Isobel exchanged satisfied grins at the prospect of power.
Isobel, Brianna and Madelyn arrived at the party dressed as goth girls and Madelyn went straight to the banquet table eating the party favors noting the food in this century was delicious. The witches then decided to liven the party up and cast a spell on the party goers including Clark causing all of them to dance with their clothes off in their undergarments.
Magically hijacking the party, they turned Clark's barn - and everyone in it - into enthusiastic party animals. Isobel and Madelyn danced with Clark on the stairs when the Princeton representative shows up and Clark made a "great" first impression.
Clark later discovered "Lana" attacking her boyfriend Jason with magic and went to confront her at his barn where "Lois" and "Chloe" also waited realizing they were not themselves.
Thinking Clark to be a mortal, Brianna attacked him by throwing a wheel at him but to their surprise Clark was more than fast due to his invulnerability.
Using her own magical telekinesis, Madelyn recited a Latin spell and tossed several farm tools in an organized fashion, one at a time at Clark, but he destroyed them with his heat vision. The witches then become disgruntled; now seeing Clark as a threat to their plans (though they see him as a sorcerer rather than an alien).
Isobel lifted Clark off the ground with a spell then pinned him down with Madelyn and Brianna holding him down. Madelyn sensed Clark was not what he seems.
Clark then tried to reach Chloe inside asking her for help and Madelyn pretended it worked but then cackled with the other witches in a tauntingly way. To ensure that he stays out of their way, the witches remove Clark's shirt and Isobel drains his abilities with a spell.
The three then chained Clark to a post in the barn shirtless and bloodied. Clark asked them what they did to him and Madelyn answered they made sure he was no longer a threat and she called him a sorcerer which Clark denied he was much to Madelyn's surprise.
When Isobel mentioned the Stones of Power to Clark, he pretended to have no knowledge of them and Madelyn realized he had done more then hear them; he has touched them.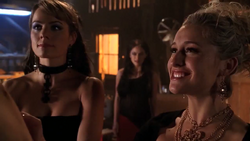 Madelyn then begged Clark to tell them where the Stone was that he hid but Clark refused.
Madelyn then began to scratch his chest clawing it and making blood spill saying she would cut the answer out of him but Isobel commanded her to stop. Madelyn then licked the blood from her fingers as she backed away from Clark.
Isobel then magically seduced Clark for the location of the Stone and once she had, herself Madelyn and Brianna left Clark chained up and depart for the Kawatche Caves.
In the caves, Isobel explained the reason for being resurrected in Smallville instead of France and approached a blocked wall feeling the power of the Element inside. Isobel explained with it their magic will increase ten-fold.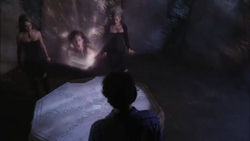 With the spell book, Isobel, Madelyn and Brianna began chanting a spell that unlocked the secret passage behind the cave wall that contained the Element. Madelyn entered the chamber with the other witches and stared in amazement at the altar that held the Crystal of Fire.
Madelyn told Isobel to take the Crystal and lead them to glory. However Clark arrived to stop the witches and Madelyn called him a silly boy.
Isobel then tried to remove the Crystal by touching it but it glowed and burned her hand dropping it. Before it could hit the ground, Clark caught it and with it restored his powers. Madelyn stood puzzled questioning as how his powers could be restored.
Before they could take away his powers again, Clark destroyed the spell book with his heat vision and Madeline's spirit left Chloe's body with her having no memory of the possession.
Powers and Abilities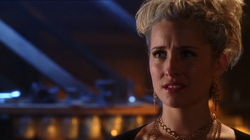 As a witch, Madelyn's powers were not as powerful as Isobel's but could still muster a handful of spells, like mild illusions and energy.
Madelyn appeared to be more adept at telekinetic spells, such as when she threw various farm tools at Clark, which he was able to either brush off or deflect with his heat vision, respectively. Like the other witches, Madelyn's magic was violet when she cast spells like Isobel and Brianna.
Madelyn had semi super strength as she was able to claw Clark's chest with ease. Madelyn had a heightened sense of detecting abnormal beings as she felt Clark was not an ordinary human. She didn't have the ability to defy death, requiring Isobel to resurrect her; it was also her who drained Clark's Kryptonian powers from him, using herself as a conduit to siphon away all of them.
Quotes
"
Isobel: It is ours once again. And with it, our magics. Now we may continue our quest for the stones...
Madelyn: Oh. Uh...is that the same quest that got us burned at the stake?
Brianna: That was not pleasant.
"
~ Isobel to Madelyn and Brianna when she states they will resume their quest.
"
Isobel: We don't have time for this.
Madelyn: Time is the only thing we do have. Isn't that what you said right before the angry mob set us on fire?
Isobel: You're really not gonna let that go, are you?
"
~ Isobel to Madelyn when they arrived at Chloe's birthday party.

Villains
Protagonists