We're Getting Mutants in the MCU - The Loop
Play Sound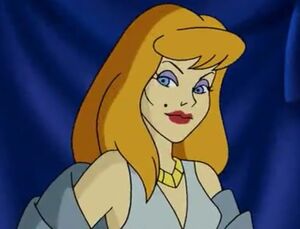 Mademoiselle Chantal is a villainess from "Mummy Knows Best", episode 2.02 of What's New, Scooby-Doo?
She is the wife of Prince Qasl Al-Famir, as well as a businesswoman in the Egyptian town of Zalquara.
Role
As revealed, later on, Chantal conspired with her husband in a villainous plot to become rich, which involved draining water from a small town near the Nile River into Zalquara, which resulted in success for Chantal's businesses there.
Qasl used his hypnotism to create zombie slaves in order to divert intruders, and when Mystery Inc. infiltrated Chantal's restaurant (with Velma. Daphne, and even Scooby posing as belly dancers), the evil Chantal turned on a set of strobe lights to turn the customers into zombies, figuring that the gang was getting too close to figuring out the couple's scheme.
The couple's reveal came after Scooby freed adventurer Melbourne O'Reilly from his trance, as he was hypnotized by Qasl into dressing as Pharoah Scamses as a diversion. Chantal was assumingly arrested (off-screen), along with her husband (also off-screen).
Trivia
Mademoiselle Chantal was voiced by Grey DeLisle, who also voices Daphne Blake. She voiced villainess Verona Dempsey in the series' third season opener.