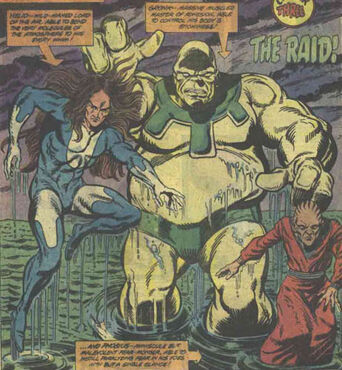 Maelstrom's Minions are a trio of supervillains in the Marvel Comics universe that work for Maelstrom. They are Gronk, Helio, and Phobius.
Members
Gronk
Gronk serves as a bodyguard. He is superhumanly strong thanks to a chemical enhancement of his genetic potential with the mutagenic Terrigen Mist. He can also secrete a highly adhesive chemical, enabling him to adhere to anything or make anything adhere to him.
Helio
Helio serves as a scout. He gained his superhuman powers from exposure to the mutagenic Terrigen Mist. He has superhuman agility and reflexes. He can manipulate air molecules for various effects, such as propulsion for flight at supersonic speeds, tornado-force explosions ("air-quakes"), and near-vacuums. His eyes, nose, and skin are especially adapted to resisting rigorous atmospheric conditions. Unless he is wearing weighted shoes, Helio's feet never touch the ground. Helio's hair is also lighter than air and consequently floats freely about him unless braided and weighted down. Helio has moderate experience at hand-to-hand combat utilizing his lighter-than-air body and air manipulating attributes. He possesses various laboratory technician skills.
Phobius
Phobius serves as an interrogator. He has the ability to mentally project any kind of fear into anyone.
Community content is available under
CC-BY-SA
unless otherwise noted.