This article's content is marked as Mature
The page Mature contains mature content that may include coarse language, sexual references, and/or graphic violent images which may be disturbing to some. Mature pages are recommended for those who are 18 years of age and older.


If you are 18 years or older or are comfortable with graphic material, you are free to view this page. Otherwise, you should close this page and view another page.
| | | |
| --- | --- | --- |
| " | Wekapipo! I thought I'd find you eventually if I kept on tracking Steel... I purposefully didn't hit you right in the vitals! Since you're older, I'll be more respectful! I'll rip your limbs apart first, one by one... for you, I'll make sure to let you have a taste of the worst kind of living hell and kill you slowly, Mr. "High and Mighty"... | " |
| | ~ Magent Magent | |
| | | |
| --- | --- | --- |
| " | That's for treating people like me like shit! Looks like I'm gonna have to teach you that people who don't have anything to lose are the scariest types, Mr. Smartass! | " |
| | ~ Magent Magent | |
Magent Magent is a minor antagonist in JoJo's Bizarre Adventure: Steel Ball Run.
One of Funny Valentine's henchmen, he was an assassin sent to murder Johnny Joestar and Gyro Zeppeli along with Wekapipo. He uses the stand 20th Century Boy.
Biography
Magent Magent is first seen along with Wekapipo on a frozen point above Lake Michigan and Lake Superior, planning to ambush the heroes. Here, he attempts to socialize with his ally, but ultimately fails to bring out Wekapipo's friendly side, much to his annoyance. Waiting on Johnny, Gyro, and a stray wolf to bring them one of the Corpe Parts, Magent Magent lies in wait as the battle between the Steel Ball users begins. Once Weakapipo's Wreaking Balls take their effect of left side ataxia upon the two heroes, Magent Magent Magent slides to their disabled side and attempts to shoot them down, only being forced to block Johnny's own bullet with his Stand once he turns to face him, with Gyro's attack also failing to budge Magent Magent. As the heroes fight off Wekapipo's attacks, Magent Magent manages to fire at the Corpse Part-wielding wolf before slipping back into stealthy tactics once Wekapipo's left side ataxia kicks in again. However, Gyro manages to use one of the Steel Balls to damage Magent Magent's shoulder, before Gyro uses one of the bullets Magent Magent fires to purposefully reflect a bullet upwards. This trick worked, as Magent Magent drops his guard (much against his partner's warnings) and gets delivered a blow powerful enough to cause a large scar and blinding Magent Magent in one eye, causing him to remain defeated during the fight. After Wekapipo is defeated and eventually redeemed, all three leave Magent Magent to die in the snow, although he eventually crawls back to civilization.
Magent Magent eventually returns in Philadelphia now hunting for Lucy Steel, managing to use a ruler-based trick to make up for his lost eye, shooting Steven Steel before attempting to ambush Wekapipo, although he is eventually found out and attacks Magent Magent with his Wrecking Ball, who simply uses his Stand to ignore this and further attacks (such as ones delivered by a knife and a basic skull-clubbing strike) and before heading up to the roof of the carriage Steven was riding and being attacked by the later two attacks, lights up some hidden explosives strapped to him. Wekapipo hardens himself before using his Steel Balls to inflict their effect on the horses driving the carriage, causing them to throw both him and Magent Magent into the Delaware river. Magent Magent attempts one last time to shoot down Wekapipo, but stray cables tied to one of the carriage's axles manage to bind Magent Magent, forcing him to equip his Stand as he's dragged into the water. As he lies at the bottom of the river, Magent Magent is left to wait for the rescue from Diego Brando that would never arrive, to which he eventually stops thinking altogether as he realizes nobody will come and save him.
Personality
Magent Magent is originally seen as friendly and welcoming, with him is presented as an affable and genial henchman to Funny Valentine, trying to bond with his new partner Wekapipo through idle chat or questionable jokes. However, Magent Magent is unprofessional, has several bad habits, and his voice is said to be obnoxious. He at first likes Wekapipo and tries to start a friendship, but Magent Magnet finds his partner too gloomy for friendship and later hates him for leaving him behind. Magent Magent also likes airplanes.
Powers and Abilities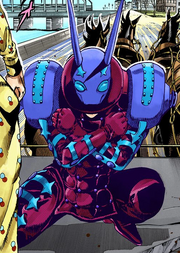 | | | |
| --- | --- | --- |
| " | Once you take your defensive stance there is not a single soul who could defeat you... | " |
| | ~ Wekapipo on 20th Century Boy to Magent Magent. | |
Magent Magent's stand, 20th Century Boy, lacks any offensive capabilities and requires the user to stay still to activate. However, it still is a powerful stand, granting the user complete immunity to all damage by reflecting any attack into the area around them.