Jurassic World: Dominion Dominates Fandom Wikis - The Loop
Play Sound
This article's content is marked as Mature
The page Mature contains mature content that may include coarse language, sexual references, and/or graphic violent images which may be disturbing to some. Mature pages are recommended for those who are 18 years of age and older.


If you are 18 years or older or are comfortable with graphic material, you are free to view this page. Otherwise, you should close this page and view another page.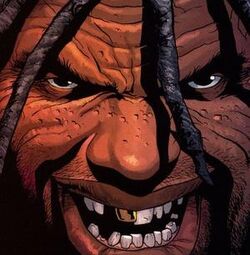 Maginty was originally born in Dublin and moved to the United States when he was a child. He grew up in Hell's Kitchen when he was a child under the watch of the cruel Irish Gangster Nesbitt who would repeatedly use racist slurs when Maginty was around. Later on Maginty formed his own gang trying to gain control of Hell's Kitchen. After old man Nesbitt died he mailed a letter to Maginty, the River Rats, Cooley, and the Westies of where he stashed 10 million dollars with each of them getting partial coordinates where the money was at. In the note it said he wanted them to work together to get the money.
Kitchen Irish
Maginty was one of the major players in the Punisher MAX story arc "Kitchen Irish." Maginty and his gang were trying to get Nesbitt's stashed 10 million dollars. Maginty kidnapped Tommy Toner who was the leader of the Westies and forced Napper French to cut his body into different pieces which he mailed to Tommy Toner's wife Brenda who was now in charge of the Westies. Maginty hoped mailing Tommy's body parts would unnerve Brenda and the Westies making it easier for him to destroy the gang and take the 10 million dollars Nesbitt had hidden. While Maginty did unnerve the members of the Westies Brenda was not scared at all of Maginty.
Later the Punisher and Yorkie Mitchell deceive all four groups into a meeting where they laid a trap. Punisher and Yorkie completely dismantled the Westies and Maginty lost most of his gang in the fight as well. After barely escaping with his life Maginty returns home and gets attacked by Napper French for kidnapping his grandson and forcing him to cut up Tommy Toner and showing his grandson what he did. Maginty was saved by his men who happened to stop by his home. After the near death experience Maginty goes to see the other groups to settle their differences and just split the money.
Maginty and the groups agree to settle their differences and using their combined letters were able to locate where the money was hidden. They then leave together to go to the location of the money, however the Punisher and Yorkie Mitchell followed them as well. The location given to them was a docked boat that had been falling apart for years. Maginty and the others boarded the boat and noticed that they had been followed. Maginty and the others were able to push the Punisher and Yorkie back during a gun fight. They then found a case they thought had Nesbitt's money and opened it. What they found was a bomb instead which killed Maginty and the others left by old man Nesbitt before he died.
Movie History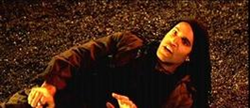 Maginty worked for Jigsaw moving drugs around the city for him. Maginty was a free runner with two others who he committed crimes with when they weren't moving drugs for Jigsaw. The Punisher hunting Jigsaw caught up to the group after they just killed the owner of a convenience store and robbed him. The Punisher proceeded to kill one of his friends with a rocket launcher and shot the other in the head with a rifle. The Punisher than shoots Maginty in the legs with the rifle and begins to interrogate him. Maginty tells the Punisher everything he knows and then Frank kills him.

Villains

Villains
Animated Features
Preminger | Madame Carp | Midas | Nick and Nack | Laverna | Fungus | Firebird | Wenlock | Wenlock's Griffin | Ollie | Fungus Maximus | Raquelle | Todd | Frieda | General Hemmer | Yegor | Lady Vain | President Stone | General Heckler | Cora | Hamegg | Tony | Rogues (King) | Cecil Clayton | Tublat | Edwin Carbunkle | PATBOT 3000 | Wilf | Anthony Trumper | Pigs | Bull | Mr. Greene | Mel & May | Linnux | Riff | Skozz | Storm King's army (Storm King, Tempest Shadow, Grubber & Storm Creatures) | Lord Nooth | Agent Red | Mugg-1N5 | The Hazmats | M.A.D.
Live-Action Films
Boy | Snik | Lady Van Tassel | Headless Horseman | Reverend Steenwyck | Patrick Bateman | The Alchemist | Rachel Newman | Leprechaun | John Kramer | Amanda Young | Zep Hindle | Punisher | Howard Saint | Quentin Glass | Livia Saint | John Saint | The Russian | Harry Heck | Mickey Duka | Georges Rutaganda | Gregoire | Yuri Orlov | Andre Baptiste Sr. | Andre Baptiste Jr. | Tony Shepard | Lawrence Gordon | Madea | Mark Hoffman | Karen Crowder | Tatmadaw (Major Tint, Lieutenant Aye) | River Pirates | Jigsaw | James Russoti | Carmine Gazzera | Ink | Maginty | Schist Petroleum Company (Frederick Schist & Jake Schist) | Rodney Thibadeaux | Wayne Thibadeaux | Linda Davis | Anton Poldark | Glaze | Tatiana Creel | Larry | Abalam | James Munroe | General Garza | Dan Paine | Lawrence Sparks | Jonah King | Animal Masked Assailants, (Fox Mask, Tiger Mask, Lamb Mask) | Felix Davison | Crispian Davison | Zee | President Coriolanus Snow | Gamemakers (Seneca Crane) | Peacekeepers (Romulus Thread) | Erudite (Jeanine Matthews, Caleb Prior) | Dauntless (Eric Coulter, Max, Peter Hayes) | Factionless (Evelyn Johnson, Edgar) | The Bureau of Genetic Welfare (David, Romit) | Jean Vilain | Hector | The Sangs | Arthur Tressler | Willard Hobbes | Lester Clark | Drake | Senator Quintas Corvus | Marcus Proculus | President Alma Coin | Cootie Kids (Shelley Linker, Patriot, Dink, Angela, Tricycle Girl, & Racer Dopkins) | Conrad Stonebanks | Krug | Goran Vata | High Table | Viggo Tarasov | Iosef Tarasov | Avi | Ms. Perkins | Kirill | Bel and Genesis | Vladimir Malevich | Adrian Yates | Crane | Laughter | Fausto Alarcón | Walter Mabry | Tsarnaev Brothers | Santino D'Antonio | Ares | Gianna D'Antonio | Cassian | Dukhovich's Soldiers (Vladislav Dukhovich, Jean Foucher) | General Milić | Leatherface | Burt Hartman | Jonathan | Logan Nelson | Hal Hartman | Joanna | Orian Franklin | Crosby Franklin | Acapulco | Pinhead | Sean Carter | Jophiel | The Stygian Inquisition | Vivienne Nimue | Gruagach | Camazotz | Baba Yaga | Demons | The Adjudicator | Zero | Winston | The Elder | The Shinobi | Olga | Ransom Drysdale | Fran | Hugo Martinez | Victor Martinez | El Flaco | Aristotle Papadopoulos | Michael Bryce Sr. | Nanobot Swarm
See Also
Aardman Villains | Agatha Christie Villains | Barbie Villains | Blumhouse Productions Villains | Castle Rock Entertainment Villains | Cooties Villains | Escape Plan Villains | EuropaCorp Villains | Hellboy Villains | Hellraiser Villains | John Wick Villains | Lantern Entertainment Villains | Luc Besson Villains | Man-Thing Villains | My Little Pony Villains | Netflix Villains | Punisher Villains | Rambo Villains | Ridley Scott Villains | Saw Villains | Sleepy Hollow Villains | Studiocanal Villains | The Expendables Villains | The Hunger Games Villains | Tim Burton Villains | Texas Chainsaw Massacre Villains | Warner Bros. Villains