House of the Dragon Trailer - The Loop
Play Sound
NOTE: This article is about the incarnation of Magneto from the X-Men film series. The mainstream version can be found here: Magneto.
| | | |
| --- | --- | --- |
| " | There is no land of tolerance. There is no peace, not here or anywhere else. Women and children, whole families destroyed simply because they were born different from those in power. Well, after tonight, the world's powerful will be just like us. They will return home as brothers. As mutants. Our cause will be theirs. Your sacrifice will mean our survival. | " |
| | ~ Magneto to Rogue, explaining why he's going to kill her at Liberty Island. | |
| | | |
| --- | --- | --- |
| " | You built these weapons to destroy us. Why? Because you are afraid of our gifts. Because we are different. Humanity has always feared that which is different, but I am here to tell you, to tell the world, you're right to fear us. We are the future. We are the ones who inherit this earth and anyone who stands in our way, will suffer the same fate as these men you see before you. Today was meant to be a display of your power. Instead I give you a glimpse of the devastation my race can unleash upon yours. Let this be a warning to the world and to my mutant brothers and sisters out there, I say this. No more hiding. No more suffering. You have lived in the shadows and shame and fear for too long. Come out. Join me. Fight together in a brotherhood of our kind, a new tomorrow that starts today. | " |
| | ~ Magneto unleashes the older Sentinels and convincing mutants to come out of hiding. | |
Erik Lehnsherr, also known as Magneto, is the main antagonist of the X-Men film series. He is an extremely powerful and ruthless mutant with the ability to manipulate all forms of magnetism and is the former archenemy of the X-Men.
He was portrayed by Ian McKellen (who also played Kurt Dussander in Apt Pupil, The Toad in Flushed Away, Sir Leigh Teabing in The Da Vinci Code, Horatio P. Huntington in Animal Crackers, and King Richard III in the 1995 film adaptation of William Shakespeare's Richard III in the first three films and other films) in the original timeline.
In 2011 prequel and the revised timeline, he was portrayed by Michael Fassbender, who also played Burke in Jonah Hex, David 8 in the Alien prequels, Edwin Epps in 12 Years a Slave and the title character in Macbeth.
Roles
He serves as the main antagonist of the first X-Men and X-Men: The Last Stand, an anti-hero in X2, the main protagonist of X-Men: First Class, a cameo character in The Wolverine, the central antagonist of X-Men: Days of Future Past, a major antagonist of X-Men: Apocalypse, and a major character in X-Men: Dark Phoenix.
Appearance
Magneto is a tall and slender light-skinned Jewish man with brown eyes whose intensity was accentuated by furrows appearing around them in old age. He often wears a leather suit with a black cape and numerous red accents.
Personality
| | | |
| --- | --- | --- |
| " | Nobody ever talks about it. They just... do it. And you go on with your lives, ignoring the signs all around you. And then one day when the air is still, and the night has fallen, they come. There's only one question you must answer: who will you stand with? | " |
| | ~ Magneto, to the Mutants at the church, regarding how humanity will utilize the cure against them | |
Through his own righteous nature, Magneto is a justifiable, passionate, and virtuous crusader of mutant rights and justice, dispersing both to anyone, human and mutant alike that may threaten his species and is willing to kill or sacrifice members of his own Brotherhood of Mutants for the survival of mutants in general. Having felt the prejudice and cruelty of humanity as a mutant and a Jew and firmly believing that co-existence is unobtainable between the two species, Magneto decreed that humanity must either evolve to match mutantkind's standards or be exterminated altogether. Similar to how the Nazis ripped the Jews from their homes and into the concentration camps, Magneto believes that humanity will attack without warning and that it is essential for mutants to strike first lest they be put through a similar Holocaust.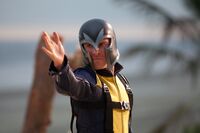 However, it should be noted that Magneto has at least had a relationship with a human which caused the birth of his son, Peter Maximoff. This also implies that he does not hate humanity but rather what humankind is capable of and this is not without reason in itself. With all mutants, Magneto is completely accepting regardless of their past actions or powers. Though he displayed a willingness to kill his own species if it was beneficial to the survival of his species in a whole, such as Rogue, Jimmy and even Mystique, he displays deep remorse over doing such brutal acts, with the exclusion being Sebastian Shaw of course.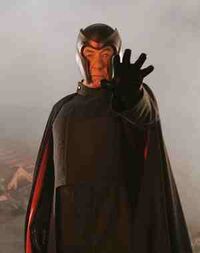 A significant driving force of Magneto, that is the primary motivation to most of his actions is how the prejudice of modern society and the people within it also enforces other mutants that their powers are a curse and that they should be ashamed of who they are. His romantic feelings for Mystique also solidified these belifies, seeing her having to hide her natural blue form and her brother figure, Charles Xavier encouraging this due to the hatred she would undoubtedly face, Magneto was the only one who told her to embrace who she truly was. Thinking it unfair that mutants had to hide on the basis that humanity would only fear what they could not understand, Magneto's beliefs of an idyllic society was a solely mutant one without human influence on how mutantkind should behave.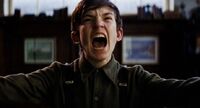 For a large portion of his young adult life, though Magneto was not completely driven out of pure righteousness and devotion to his species, he was once greatly motivated by revenge and this was what led him to be a skilled Nazi-killer, hunting down anyone who participated in the capture and torture of Jews during the Holocaust. He hunted down and tortured former Nazis with connection to Klaus Schmidt, such as removing the golden tooth implants of a bank manager for information and brutally murders three others. His vicious determination over revenge led him to be almost suicidal as he continued his magnetic hold over Shaw's submarine, ignoring the fact that he would drown. Magneto's opinions seemed to change after he encountered Charles Xavier and opened his eyes to a world of mutants. For a while, he seemed to have quenched his initial driving point and now assisted with building Cerebro and locating other mutants. Ultimately, however, Magneto's desire of revenge proved to great and he painfully, slowly killed the man who murdered his mother before his eyes despite Xavier's protests which could be considered the turning point for Magneto's dark future.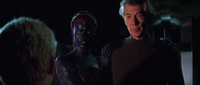 The relationship between Magneto and Professor Charles Xavier is also convoluted to an extreme, as their morals, approaches and opinions of one another often obstruct their goals and actions throughout the series. Magneto is highly skeptical of Xavier's unshakable love and admiration for the human race, whom he views as simply an evolution behind mutantkind. He is willing to hurt, threaten or even kill Charles in pursuit of his goals - he was willing to poison Charles in order to prevent him from interfering. That being said, Magneto was visibly traumatized by the man's apparent death, which means that his mutual respect for Charles was more broad than expected. He could have only poisoned Charles in the knowledge that he would soon recover, but simply wanted to remove him from the battlefield long enough to achieve his goals. This also implies that Magneto is so respectful of Charles that he acknowledges Charles to be one of few powerful enough to defeat him. Magneto, also, is rendered furious when Charles is insulted by Pyro, stating that Charles did more for Mutantkind than can ever be measured and that it was only a regret that Charles had to die so that Mutantkind could flourish. Another interesting aspect of their relationship is how they both refer to each other affably as "old friend". Their friendship is so tactile that (to this day) the two can play a friendly game of chess with one another however their ideals of humanity will always put them on edge - Magneto recognizes that a war between humans and mutants will erupt very soon and Magneto will be there to fight it, to which Charles wittily returns that, in contrast, Professor Charles Xavier will always be there to stand in his way.
By his own confession (albeit in an alternate reality), Magneto considered the idea of fearing God to be peculiar, as he had always viewed him as a teacher and nurturer who could provide enlightenment no matter how evil the world became.
Trivia
At the original Marvel continuity of X-Men, Magneto was born as Max Eisenhardt and not as Erik Lensherr, even if he adopted this name as an alias.
At the time of the first installment's creation process, the name Erik Lensherr was used to give the character a Gypsy heritage to avoid "demonizing" the Jewish Holocaust survivor community.
Several fans and critics have pointed out numerous continuity issues between Magneto's backstory in the prequels and the original X-Men movies:

Professor X claims that he met Magneto when he was 17 years old, even though they were clearly in their 30s during First Class.
Professor X also claims that Magneto helped him build Cerebro, even though Beast built it-unless he helped him build the new one during their time training at Charles' mansion, which seems unlikely given the amount of time they had to train to take down Shaw and his men.
While Magneto and Professor X parted ways at the end of First Class, they regrouped together during the 80s, according to The Last Stand, to meet with Jean Grey-what makes even less sense is the fact that Magneto would have faced prison time for life due to his supposed assassination of John F Kennedy.
Professor X seems oblivious to Magneto's helmet and it's abilities to block his powers in the original X-Men film, even though Magneto first donned it while they were together in First Class.

Some fans think Magneto is the central antagonist of X2. It's false because he is one of the two deuteragonists of the film (alongside Professor X).
The number tattooed on Erik's hand is 214782.
The tattooed number was first shown on Uncanny X-Men #150, written by Chris Claremont in 1981.
Following the announcement of the production beginning of X-Men Origins: Wolverine that was released on 2009, there was many other plans for a solo film focused on the character titled X-Men Origins: Magneto. This film was planned to be focused on a young Erik being liberated from the Nazi camps by his best friend; Charles Xavier, an allied American soldier. However, due to the extreme poor critical reaction to Origins Wolverine despite its box office success ($373 million), copuled with the Writer's Guild of America strike, the project of Magneto was pitted on indefinite hiatus and eventually was ultimately cancelled and the most of the working script had been amalgamated into Matthew Vaughn's prequel X-Men film from 2011; X-Men: First Class.
Both actors received global critical acclaim for their performances.
In X-Men Days of Future Past, Magneto's prison identification number is 0001.
External Links

Movie Villains
Movies
X-Men: Brotherhood of Mutants (Magneto, Mystique, Sabretooth & Toad) | Pyro
X2: William Stryker Jr. | Lady Deathstrike | Jason Stryker | Brotherhood of Mutants (Magneto, Mystique, Pyro, and Ronny Drake)
X-Men: The Last Stand: Brotherhood of Mutants (Magneto, Dark Phoenix, Pyro, Juggernaut, Multiple Man & Mystique) | Omega Gang (Callisto, Psylocke, Quill, Arclight, Avalanche, Spike, Glob Herman & Phat) | Archangel
X-Men Origins: Wolverine: William Stryker Jr. | Sabretooth | Deadpool | Agent Zero | Blob
X-Men: First Class: Hellfire Club (Sebastian Shaw, Emma Frost, Azazel, Angel Salvadore & Riptide) | William Stryker Sr. | Magneto | Mystique
The Wolverine: Silver Samurai | Madam Viper | Shingen Yashida | Noburo Mori | Magneto
X-Men: Days of Future Past: Trask Industries (Bolivar Trask, William Stryker Jr. & Sentinels) | Magneto | Mystique | Toad | Horsemen of Apocalypse (Apocalypse)
Deadpool: Deadpool | Dopinder | Ajax | Angel Dust | Agent Smith
X-Men: Apocalypse: Ashir En Sabah Nur/Horsemen of Apocalypse (Apocalypse, Magneto, Psylocke & Archangel) | Dark Phoenix | Mystique | William Stryker Jr.
Logan: Essex Corp (Zander Rice, Donald Pierce, X-24 & Reavers)
Deadpool 2: Deadpool | Cable | Dopinder | Firefist | Juggernaut | Essex Corp (Headmaster) | Black Tom Cassidy | Sergei Valishnikov | Omega Red
X-Men: Dark Phoenix: Dark Phoenix | D'Bari (Vuk & Jones) | Brotherhood of Mutants (Magneto & Selene Gallio) | Mystique
The New Mutants: Essex Corp (Cecilia Reyes) | Demon Bear | Reverend Craig | Smiley Men
See Also
20th Century Studios Villains | Deadpool Villains | Wolverine Villains | X-Men Villains

Villains

Villains