Major Burrows
is a boss in the games
Super Mario Galaxy
and
Super Mario Galaxy 2
. He lives on one of the planets in the Gusty Garden Galaxy and is the leader of the Undergrunts that wreck havoc there. When he is first encountered, he is trying to catch and possibly eat a Star Bunny, and he acts as a returning boss in
Super Mario Galaxy 2
, in the Boss Blitz Galaxy.
Major Burrows' vocalizations are provided by Koichi Hayashida.
Appearance
Burrows is an abnormally large and pudgy, maroon-coloured Undergrunt. He wears a blue spiny shell as a helmet and has light blue eyes that are often dilated when his expression changes. He has long bushy eyebrows (similar to Bowser's) that are white, and has large rounded cheeks. He has a large tannish-coloured belly, and a fleshy coloured tail. When angry, Major Burrows's helmet turns red and his eyes are golden yellow, with no visible pupils.
Super Mario Galaxy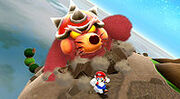 He appears in the level "The Dirty Tricks of Major Burrows" where he is attempting to eat a Star Bunny. Mario has to Ground Pound to send him out of the ground, then Mario Star Spins him and Burrows loses a life point. After being Ground Pounded and Star Spun again, Burrows gets angry and forgets about the Star Bunny, and tries to kill Mario. This part is harder as in a rage, Burrows moves faster. After a final Ground Pound and Star Spin, Burrows is thrown into the air and defeated. Mario is rewarded with a Power Star.
If a Daredevil Comet lands in the Gusty Garden Galaxy, Mario must battle Major Burrows while having only one life point. Defeating him under this condition will reward Mario with another Power Star.
Super Mario Galaxy 2
He is the third boss Mario fights in the Boss Blitz Galaxy, after King Kaliente and before Bouldergeist. The battle is exactly the same, but there is no Star Bunny on the planet, so Burrows is after Mario from the start.
Videos
Community content is available under
CC-BY-SA
unless otherwise noted.