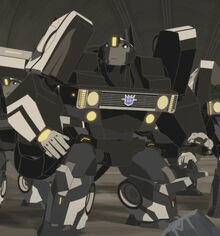 Malodor is the leader of the skunk-like Skunkticon gang of Decepticons in Transformers: Robots in Disguise.
History
Malodor and his gang inject a substance that recession the bot's perceiving, the way they depressants officers must remain on while the rest of the gang ransacked the place and plundered them. When they were at large on Earth they hided on Steeljaw's former hide-out and they tried to outdo the Bee Team. But they were defeated and then the Bee Team brought them back to stasis pods. Malodor's stasis pod was later brought back to Cybertron by Optimus Prime, Windblade, and Ratchet.
Gallery
Community content is available under
CC-BY-SA
unless otherwise noted.