Jurassic World: Dominion Dominates Fandom Wikis - The Loop
Play Sound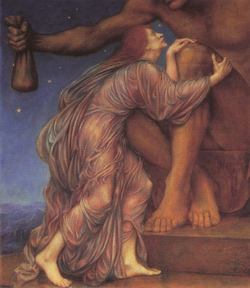 Mammon is a symbolic figure within some branches of theology who is envisioned as a false "god" of money, he is considered to be the living embodiment of the sin of greed and is part of the ancient warnings of the love of money being the root of all evil.
Mammon was seen as a gigantic humanoid who gave material wealth but demanded his own tax, in the form of worship and devotion - this was a way to show how certain people seemed to obsess over material things to the point that money often seemed to be worshiped much like an idol.
While Mammon was largely a creation of the medieval church to enforce its rules (much like Baphomet) there have been fertility and fortune gods in many ancient cultures, some of these were likely taken as demons by missionaries and thus became an evil presence - much as Baal and Moloch had.
One of the most prominent mentions of Mammon in the scriptures came from Jesus himself when he spoke in one of his sermons and warned : "ye cannot serve two masters, God and Mammon" - it is likely Jesus was referring to Mammon as a concept rather than a literal creature but nevertheless it remains a strong warning against the love of material things (especially money).
Trivia
In John Milton's epic poem Paradise Lost, Mammon was a fallen angel, described as being "more interested in heaven's pavements" than the leader. He tells the other fallen angels to be content in Hell.
The Phantom of the Opera worships Mammon in Frederick Forsyth's The Phantom of Manhattan.
Mammon appears as a major antagonist in the supernatural horor comic series, Spawn.