She-Hulk Trailer Dropped - The Loop
Play Sound
| | | |
| --- | --- | --- |
| " | Dear God. Is this what I have become? More animal than man. When will the surrender be complete? | " |
| | ~ Man-Bat as Kirk Langstrom. | |
Kirk Langstrom, also known as Man-Bat, is a former supervillain and an anti-hero in DC Comics.
He is a bat/human hybrid created through genetic splicing who most commonly serves as both an ally and enemy to Batman.
Biography
Past
| | | |
| --- | --- | --- |
| " | My life hasn't exactly gone the way I planned. I Have a lot more to offer the world than losing my mind and trying to eat Batman... I was a respected scientist once... I thought, perhaps, if I could make some sense of this strangeness, they'd respect me again? | " |
| | ~ Man-Bat as Kirk Langstrom. | |
Dr. Kirk Langstrom was a biologist specializing in bats. He had hoped to extract bat DNA to give human beings sonar as a cure for deafness. When he tested the serum on himself it did cure his deafness but it also turned him into a human/bat hybrid in Chicago.
Losing his basic human senses he went on a rampage in Gotham until stopped by Batman. Coming to like the power of his Man-Bat form. He took the serum again and gave some to his wife Francine Langstrom, turning her into She-Bat.
They attack Gotham together but were again stopped by Batman. However he does not seem to do intentional evil, because on occasion when he maintains his intelligence in his Man-Bat form he has done good.
Examples include helping detective Jason Bard, and once helped Superman overcome kryptonite poisoning. Kirk and Francine had two children named Becky and Aaron. Aaron was born in a Man-Bat form due to lasting effects on Kirk and Francine's DNA.
New 52
Kirk's origin and history was altered for the New 52. In this continuity, his wife Francine never truly loved Kirk and only married him to get her hands on the Man-Bat formula for her employer.
After she finally obtained it, Francine used the formula on herself and went on a murderous crime spreed as She-Bat before Kirk confronted Francine about her deception. They both transformed and fought each other viciously before breaking off their relationship.
DC Rebirth
During DC Rebirth, Man-Bat made a cameo appearance as one of the many trials that Batman's apprentice Duke Thomas has faced in his training.
He later appeared in the Watchmen sequel Watchmen: Doomsday Clock, where Man-Bat is featured on the news as an example of the "Superman Theory" where the government has been experimenting on humans to give them superpowers.
Justice League Dark
In the Justice League Dark comics, Man-Bat is ecstatic to have become the newest member of the team. Diana explains to Detective Chimp that her old friend, Etta, suggested that they take Langstrom aboard to help study the horribly mutated bodies from A.R.G.U.S..
Langstrom wishes to redeem himself for his past misdeeds by using his scientific know-how to do good for other people, despite currently having the body of a man and the head of a bat.
Langstrom uses various formulas he's developed over the years to augment his abilities as Man-Bat to assist the team in battle. the effects of the formula range from a bat-headed scientist to a feral creature.
Man-Bat been enchantment by Klarion the Witch Boy Langstrom develops a new formula that turns him into a multi-headed beast. eventually Kirk return to normal (except current Bat head) then sent hospital and later return.
Infinite Frontier
Death of Kirk Langstrom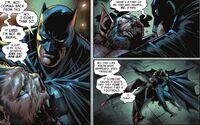 In Detective comic 1040# Man-bat fly Gotham city to find Francine when Batman Follower him and caught up with him. Kirk explain Batman with shocked to discover that a demonic force had followed Man-Bat from the Tower of Fate. Unseen by the Dark Knight, Man-Bat is tormented by the demonic force.
He does his best to contain it within himself, but it feeds on his fears and stews in his chest. Finally, it breaks his resolve and suddenly bursts out of his chest into the material world. The demon boasts about how it will feed on the fears of Gotham and spread its children across the world.
But Man -Bat fatally wounded by the demon bursting out of him refuses to fear the creature and himself any longer. Man-Bat is finally able to contain the creature within himself again and stops it from spreading out across the world and killing others. His wounds, leaving a smoldering hole in his chest that quickly drains him of what life he has left.
With his dying words, Man-Bat asks Batman to never tell the truth of what happened to him, as the knowledge of the demon would allow it to return. Only Batman, unafraid of such terrors, can truly know the fate that befell him. As he tells Batman this, the Man-Bat dies in his arms. It isn't long before Kirk Langstrom is buried, with his wife Francine coming to visit his unremarkable grave.

Task Force Z
Task Force Z first mission to capture Crazy Quilt Man Tracking him down he begging to Man-bat let him go before that he use blast through Langstrom out the roof. Before try to escape he get hit crowbar by Red hood telling him step from ledge and asks questions but he said not going back to prison then he behind form Bane grab him about break him in half until he will tell everything then Man-Bat come back about killing Jason tell Bane to make him stay down.
They Next mission is Mr Freeze location to get his supplies that been halt by Mr Freeze fighting him and his minions. Bane get frozen by him Jason ask working as team Kirk start go after him but his head frozen use it break Bane into piece.
Jason tell Ahrakm Knight go get Mr Freeze but her legs got frozen Red Hood take that chance use a crowbar hit Mr Freeze helmet with better luck Victor was defeat. Before taking him Victor told him that his cooling suit is gas can no longer be concatenated that cause explosion of wasteland on ice.
Amelia Shelley checking vitals are normal before leaving right she step out Mr Bloom show up use needle Lazarus turning him in Kirk from. He been confuse what happen to him he explain to him been held prison underground med lab been experimented forced against will by Task Force by suicide mission shock that he didn't won't like test animal Mr Bloom that he dead but everything thing get better soon.
Krik ask him that going help me for something unfortunate not reason to helping him before Bloom what reason to Krik someone coming but only Deadshot but got nothing what business here and walk off. Mr Bloom make a deal Kirk that he little concoction to remember the talk when time come he help but he going helping Mr bloom first before Kirk say something Bloom use Lazarus on him before one of lady come back turning back Man-Bat from.
Other Media
Batman the Animated Series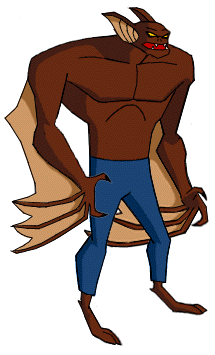 Man-Bat appears in Batman the Animated Series as a zoologist at Gotham City Zoo. Dr. Langstrom had hoped to mix human and animal DNA to create a new species. However he could not control himself in this form and he went on a rampage, (which Batman was blamed for due to a similar appearance). Man-Bat was stopped and eventually cured.
However, his wife Francine was unwillingly exposed to the formula in another episode and transformed into She-bat. Dr. Langstrom and Batman worked together to return her to normal.
Professor Milo later used Dr. Langstrom's research for his work at Project Cadmus.
The Batman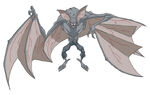 Man-Bat appears in The Batman as a more villainous character. In this version, Dr. Langstrom worked for Wayne Enterprises and had an obsession with Batman. Disguising his research as a cure for deafness, he was actually preparing a serum to give him bat powers. Batman managed to defeat him and he was sent to Arkham.
Later in the series Penguin used a sonar device to mentally control Langstrom in his Man-Bat form to commit robberies for him. Batman managed to stop them both. Eventually Langstrom renounced his criminal ways and helped Batman defeat the Terrible Trio who had stolen mutagen from Langstrom to get powers of their own.
Batman: The Brave and the Bold
Man-Bats appear in Batman: The Brave and the Bold in the episode "Last Bat on Earth!". In the episode, Batman travels to the future to stop Gorilla Grodd now leading the apes. When Batman goes into the Batcave with Kamandi and Dr. Canus, humanoid "Man-Bats" are encountered that can talk like the rest of the humanoid animals.
Batman and Kamandi manage to drive the Man-Bats out after defeating their leader. The Man-Bats later assist Batman in an all-out war against the apes, having gained respect for the Dark Knight.
Beware The Batman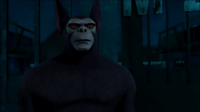 In Beware The Batman, Man-Bat appears in the episode "Doppelganger", where Kirk Langstrom is working on a cure for diseases using bat DNA. However, Professor Pyg and Mr. Toad use the DNA on him which turns him into Man-Bat. They then use a drugged collar to control him and he goes on a rampage throughout Gotham. Batman subdues him and removes them collar which frees him. Langstrom then tells Batman and Katana how Pyg and Toad plan to use his work to create an army of hybrid creatures.
The three of them head to Pyg's hideout and free their hostages. While Batman fought Pyg, Katana and Man-Bat fought Toad who was able to reattach the collar to Man-Bat. Toad uses him to capture Katana and attack Batman. He and Batman fight each other until Batman is able to pry off the collar and the two of them catch Pyg and Toad who are later arrested. Batman then convinces Langstrom to continue his research to help him and other people. Langstrom accepts and leaves Batman before he could be seen by the police.
In this show, he is voiced by Robin Atkin Downes.
Smallville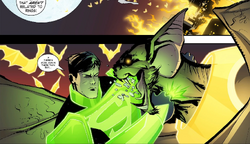 Dr. Kirk Langstrom appears in the Eleventh Season of Smallville as a criminal and a patient at Arkham Asylum. When Parallax released his yellow rings into Gotham City, they headed to Arkham Asylum where Man-Bat was transformed into a Yellow Lantern. Batman and Nightwing try to contain the outbreak but are nearly overpowered when Superman arrives to aid assistance.
Superman fought with Man-Bat and before taking him down, he says to Man-Bat that if there is more man than a bat inside of him then he takes no joy in this. Emil Hamilton succeeds into finding a way to reboot the rings so when he does all the Yellow Lanterns, including Man-Bat, are released from the influence of fear and lose their powers with the rings turning black.
Harley Quinn
Man-Bat appears in Harley Quinn.
Gotham
Main article: Tweaker
A character loosely based on Man-Bat, credited as Tweaker, appears in the DC television series Gotham. He made his first appearance in the third season premiere "Better to Reign in Hell...", as a member of Fish Mooney's monster gang. He later reappears in a brief cameo in the fourth season finale "No Man's Land".
Films
In Batman Forver, in a deleted scene when Bruce enters the batcave, an overgrown bat appears, which may have been a reference to Man-Bat.
Kirk Langstrom make a cameo appearance in Batman V Superman: Dawn of Justice. He was a scientist that was turned in a bat-like creature after one of his experiments, being known as Man-Bat.
A Crime Syndicate of America version named She-Bat briefly appears in Justice League: Crisis on Two Earths as one of Superwoman's henchmen. This version is a amalgamation of Man-Bat, Catwoman and Francine Langstrom.
Kirk Langstrom and the Man-Bat Commandos appear in Son of Batman. At the beginning, Langstrom works for Ra's al Ghul in an attempt to create a Man-Bat army to strengthen the League of Assassins. Kirk was also behind the mutagen that Killer Croc empowered himself with where he had sprouted a tail. After the death, Deathstroke recruits him to continue his work, taking his wife Francine Langstrom and their daughter Rebecca (voiced by Kari Wahlgren) as hostages to create the Man-Bat formulas. When Batman finds a lead in Langstrom's lab, a mutated ape that was living there attacked. All three are later rescued by Batman and Damian Wayne. While the mutagen is complete by then, Langstrom creates enough antidote to stop the Man-Bats.
Kirk Langstrom/Man-Bat appears in Batman Unlimited: Animal Instincts. This version was working on a serum to help the deaf and blind, but accidentally turned himself into Man-Bat. The Penguin used this new form to his advantage, giving Langstrom cures in exchange for the Man-Bat's help with crimes and Langstrom creating robotic animals. He appears as part of the Penguin's animalitia. Red Robin manages to get Langstrom's mind to surface in Man-Bat, allowing him to help with defeating the Penguin and defending Gotham against the Midas meteor. By flying into the beam powering the shield, Man-Bat was able to burn out the formula's remains, turning him back into his human form.
A parallel world version appears as "Batman" in Justice League: Gods and Monsters. This version of Kirk Langstrom developed vampire-like abilities upon consuming a serum to cure his cancer, with Doctor Will Magnus carrying out additional research to develop a further cure for his transformation after providing Kirk with nanites to help perfect Kirk's cure without waiting to carry out additional tests. Kirk was also in love with his friend's wife Tina Magnus, which resulted in Magnus accidentally beating Tina to death in a fit of rage once realizing Tina loved Kirk. Batman works together with the other Justice League members Superman (Hernan Guerra) and Wonder Woman (Bekka of New Genesis) when Magnus attempted to frame the three in order to fulfill plans of injecting everyone in the world with nanites to make humanity work as a collective. When the fight is over and the regretful and remorseful Magnus destroyed himself, he and Superman use Kryptonian data to help humanity while mourning over the loss of his best friend and love interest.
Man-Bat appears in direct-to-video animated film Lego DC Comics Super Heroes: Justice League: Attack of the Legion of Doom, with vocal effects provided by Dee Bradley Baker. He is among the villains that audition for a spot on the Legion of Doom. Man-Bat, the Penguin and the Joker are eliminated because of Lex Luthor's claims that the Legion of Doom doesn't have any extra parking spots at their headquarters.
Kirk Langstrom appears in Batman Unlimited: Mechs vs. Mutants.
Man-Bat makes an appearance in The Lego Batman Movie.
Video games
The Super NES video game version of The Adventures of Batman & Robin features Man-Bat as an enemy character. He spoke in this game.
Man-Bat is a boss and playable character in Lego Batman. He is an enemy of Batman, a follower of the Penguin and the fourth boss of Chapter 2 "Power-Crazed Penguin". In the game, he possesses super strength and the ability to glide using his wings. In the Nintendo DS version, Man-Bat is an unlockable character through the "Villain Hunt" minigame. He appears with the Penguin and Catwoman on a riverboat when he sees Batman and Robin. He hides inside when they look for the Penguin. He drops from the roof behind Robin and covers himself with his wings like a vampire then unfolds them to reveal himself, starting the boss fight. He glides from one end of the room to the other dropping bombs. The player needs to build a phonograph to play loud music that stuns him. When he is defeated, Batman and Robin shake him up and spin him around, causing him to get wrapped up in his wings, unable to free himself. At the end of the game, he is seen in Arkham Asylum reading the newspaper upside-down. He is one of two villain bosses that has to be purchased from the Batcomputer after he's defeated in order to be playable—the other being the Mad Hatter.
Man-Bat appears in Lego Batman 2: DC Super Heroes. He appears as a boss fight at Gotham Cathedral and an unlockable character. He is now capable of actual flight rather than just gliding and he now has sonar.
Man-Bat appears as a playable character in Lego Batman 3: Beyond Gotham. He has his own side-quest where the player has to help him get an ingredient he needs to complete a formula.
Man-Bat appears as a playable character in Lego DC Super-Villains, via the "Batman: The Animated Series Level Pack" DLC.
Arkhamverse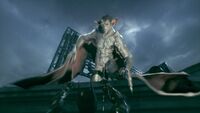 Main article: Man-Bat (Arkhamverse)
The Man-Bat is a minor antagonist in the Batman: Arkham Knight side mission, "Creature of the Night". Genetic physicist, Dr. Kirk Langstrom, was working on a cure for deafness by mixing his DNA with a vampire bat. Unfortunately, he was transformed into Man-Bat and killed his wife, Francine, in the process. Batman got a sample of Langstrom's blood and synthesized a cure in his lab. After two attempts to get the Man-Bat to get cured, Batman finally turned Langstrom back to normal and took him to GCPD to get locked up in an isolated cell for protection. Langstrom asked about his wife, and Batman told him that she died from the Man-Bat's rampage, which left Langstrom devastated over his wife's death.
Powers and Abilities
Shapeshifting: Upon injection of the Man-Bat Serum, Langstrom can transform himself into a half-human/half-bat creature. Once the serum wears off, the Man-Bat returns back to human form. After years of exposure to the serum, Langstrom is able to transform at will

Flight: Man-Bat can fly by way of artificially generated leather wings.
Sharp claws: The Man-Bat has sharpened claws which are strong enough to easily tear through flesh and muscle.
Echolocation: Man-Bat can navigate through the air by way of echolocation, similar in function to a bat's radar.
Echokinesis: Man-Bat is able to create sonic waves that stun people nearby him.
Animal Empathy: Man-Bat was able to emphatically reach out to local bats and ask them for their help, after which they organized and swarmed his targets.
Enhanced Strength: Man-Bat has an enhanced level of physical strength.
Quotes
| | | |
| --- | --- | --- |
| " | I did this, Batman. This is my fault. I created the Man-Bat Serum. And It's my responsibility to fix it. | " |
| | ~ Man-Bat | |
| | | |
| --- | --- | --- |
| " | This is my formula. I can control it. And I will. | " |
| | ~ Man-Bat | |
| | | |
| --- | --- | --- |
| " | Each of these drawers contains mysteries with no answers, and secrets beyond comprehension. Hmmm... you'd like to hear one, wouldn't you? One of the encounters with the Otherkind. If I were in your shoes, I know I'd be deadly curious. | " |
| | ~ Man-Bat | |
| | | |
| --- | --- | --- |
| " | This time.. ... he has chosen the wrong target! I am ... Man-Bat! | " |
| | ~ Man-Bat | |
| | | |
| --- | --- | --- |
| " | Can't bother Doctor Fate with "small matters". Let's bring along Kirk "the useless freak" Langstrom. Madame Xanadu's gotta work on her team-building skills-- | " |
| | ~ Man-Bat | |
| | | |
| --- | --- | --- |
| " | ''She will regret this. Gotham City... respects bats... trusts them to protect her. Not like Francine. Noise... deafening... coming from Robbins' facility... Francine doesn't know what real bad people do. They hurt for real... like these fools. | " |
| | ~ Man-Bat | |
| | | |
| --- | --- | --- |
| " | It should the night NO longer belongs... ..To you! | " |
| | ~ Man-Bat | |
| | | |
| --- | --- | --- |
| " | Scarecrow is an, ugly hate hateful man, but he was right about one thing.. ..I.m no hero. | " |
| | ~ Man-Bat | |
| | | |
| --- | --- | --- |
| " | I want you to be happy. I want be happy too. But after all I've done I understand we can't be happy together. | " |
| | ~ Man-Bat | |
| | | |
| --- | --- | --- |
| " | Okay. I'm ready to tell truth. | " |
| | ~ Man-Bat to Wonder Woman. | |
Villains
Comics
2-Face-2 | Abraham Langstrom | Alfred Protocol | Alfred Stryker | Alice | Amanda Waller | Amygdala | Anarky | An Innocent Guy | Ares | Arkham Knight | Arnold John Flass | Azrael | Baby Doll | Bane | Barbatos | Bat-Mite | The Batman Who Laughs | Black Glove | Black Mask | Blockbuster I | Blockbuster II | Brain | Broker | Brother EYE | Calculator | Calendar Man | Castle Bat | Captain Fear | Captain Boomerang | Carmine Falcone | Catman | Catwoman | Cheetah | Cheshire | Circus of Strange | Clayface | Clayface (Matt Hagen) | Claything | Clock King | Clownface | Club of Villains | Cluemaster | Composite Superman | Condiment King | Copperhead | Cornelius Stirk | Court of Owls | Crazy Quilt | Crime Doctor | Curtis Base | Dark Archer | David Cain | David Li | Dark Knights | Deacon Blackfire | Deadshot | Dealer | Deathstroke | Dick Grayson (Frank Miller) | The Dawnbreaker | The Devastator | Dr. Crane | Doctor Death | Doctor Double X | Doctor Phosphorus | Doctor Randolph Porter | Donna Troy | Dr. Silversmith | The Drowned | Electrocutioner | Emperor Penguin | Enigma | Ernie Chubb | Faceless | Falcone Crime Family | Film Freak | Firebug | Firefly | Flamingo | Floronic Man | Gearhead | General Ulysses Armstrong | Gilda Dent | Gorilla Boss | Gotham City Police Department | Gillian B. Loeb | Great White Shark | The Grim Knight | Harley Quinn | Holiday | Holly Robinson | Humpty Dumpty | Hugo Strange | Hush | Instigator | Jack the Ripper | James Gordon, Jr. | Jason Todd | Jeremiah Arkham | Joe Chill | Joker | Judge of Owls | Joker's Daughter | Key | KGBeast | King of Cats | King Snake | King Tut | Killer Croc | Killer Moth | Kite Man | Lady Shiva | League of Assassins | Leviathan | Lex Luthor | Lock-Up | Lord Death Man | Mad Hatter | Mad Monk | Magpie | Malochia | Man-Bat | Mary Keeny | Maxie Zeus | Maxwell Lord | The Merciless | Merrymaker | Micheal Atkins | Monk | Mr. Bloom | Mr. Freeze | Mrs. Freeze | Mayor Oswald Cobblepot | Mr. Toad | Mr. Whisper | Mutants | Neo Joker | Neron | Nightslayer | Nocturna | Omega | Onomatopoeia | Orca | Outsider | Owlman | Phantasm | Penguin | Penny Plunderer | Phosphorus Rex | Planet Master | Poison Ivy | Polka Dot Man | Professor Arnold Hugo | Professor Pyg | Prometheus | Punchline | Ra's al Ghul | Ragdoll | Ratcatcher | Reaper | Red Death | Reverse-Flash | Riddler | Robin King | Roland Daggett | Roxy Rocket | Royal Flush Gang | Rupert Thorne | Saint Batman | Sal Maroni | Scarecrow | Sensei | Sewer King | Signalman | Simon Hurt | Sinestro | Snowman | Solomon Grundy | Spellbinder | Squid | Steeljacket | Suicide Squad | Talia al Ghul | Talon | Tally Man | Ten Eyed Man | Terrible Trio | Thomas Wayne | Tiger Shark | Timecode | Tony Zucco | Tweedledum and Tweedledee | Two-Face | Ubu | Vandal Savage | Ventriloquist | Ventriloquist II | Ventriloquist III | Vertigo | Victor Zsasz | Whisper A'Daire | White Rabbit | Wrath | The Wonderland Gang | Zebra-Man
Theatrical Movies
Batman (1966): Joker | Catwoman | Penguin | Riddler
Batman (1989): Joker | Joker Goons (Bob Hawkins) | Alicia Hunt | Carl Grissom | Max Eckhardt | Vinnie Ricorso | Joe Chill
Batman Returns: Penguin | Red Triangle Circus Gang (Organ Grinder, Poodle Lady, Tattooed Strongman, Stungun Clown, Thin Clown, Fat Clown, Sword Swallower, Knifethrower Dame & Fire Breather) | Max Shreck | Catwoman
Batman: Mask of the Phantasm: Phantasm | Joker | Salvatore Valestra | Arthur Reeves | Chuckie Sol | Buzz Bronski
Batman Forever: Riddler | Two-Face | Sugar | Spice | NygmaTech (Frogmen) | Neon Gang (Neon Gang Leader) | Salvatore Maroni
Batman & Robin: Poison Ivy | Mr. Freeze | Bane | Snowy Cones Thugs | Golums | Jason Woodrue
Batman Begins: Ra's al Ghul | League of Shadows (Ra's Decoy) | Scarecrow | Falcone Crime Family (Carmine Falcone, Victor Zsasz, & Arnold Flass) | Joe Chill
The Dark Knight: Joker | Joker's Thugs (Thomas Schiff, Chuckles, Kilson, Happy, Dopey, Grumpy & Bus Driver) | Two-Face | Sal Maroni | The Chechen | Gambol | Lau | Bank Manager | Michael Wuertz | Burmese Bandit
The Dark Knight Rises: League of Shadows (Bane, Talia al Ghul & Barsad) | Catwoman | John Daggett | Ra's al Ghul | Scarecrow
Batman v Superman: Dawn of Justice: Lex Luthor | Doomsday | Anatoli Knyazev | Mercy Graves | Cesar Santos | Amajagh | Joe Chill | Zod | Joker | Steppenwolf
Suicide Squad: Eyes of the Adversary (Enchantress & Incubus) | Suicide Squad (Deadshot, Harley Quinn, Captain Boomerang, El Diablo, Killer Croc, Slipknot & Amanda Waller) | Joker's Gang (Joker, Jonny Frost, Panda Man & Monster T) | Griggs
The Lego Batman Movie: Joker | Harley Quinn | Phantom Zone Criminals (Zod, Sauron, Kraken, Lord Voldemort, Agent Smith, Jaws, Gremlins, Medusa, Lord Vampyre, Wicked Witch of the West, & Daleks) | Catwoman | Poison Ivy | Two-Face | Bane | Riddler
Joker: Clowns (Joker, Clown & Ambulance Clown) | Penny Fleck | Wall Street Three | Penny Fleck's Boyfriend
The Batman (2022): Riddler | Falcone Crime Syndicate (Carmine Falcone, Penguin, William Kenzie, Vinnie, & The Twins) | Catwoman | Salvatore Maroni | Riddler's Cult | Pete Savage | Gil Colson | Don Mitchell Jr. | Train Gang | Joker
Direct-to-video Movies
Batman & Mr. Freeze: SubZero: Mr. Freeze | Dr. Gregory Belson
Batman Beyond: Return of the Joker: Joker | The Jokerz (Chucko, Dee-Dee, Ghoul, Bonk, & Woof) | Harley Quinn
Batman: Mystery of the Batwoman: Penguin | Bane | Rupert Thorne | Carlton Duquesne
The Batman vs. Dracula: Dracula | Penguin | Joker
Superman/Batman: Public Enemies: Lex Luthor | Major Force | Metallo | Amanda Waller | Toyman | Solomon Grundy | Gorilla Grodd | Killer Frost | Lady Shiva | Giganta | Mongul | Captain Cold
Batman: Under the Red Hood: Jason Todd | Joker | Black Mask | Ra's al Ghul | Riddler | Ms. Li
Superman/Batman: Apocalypse: Darkseid | Female Furies (Granny Goodness, Gilotina, Mad Harriet, Lashina & Stompa) | Doomsday
Batman: Year One: Batman | Gotham City Police Department (Commissioner Loeb, Arnold John Flass, & Howard Branden) | Falcone Crime Family (Carmine Falcone & Johnny Viti) | Catwoman | Joker
Batman: The Dark Knight Returns: Batman | Joker | Mutant Leader | Ellen Yindel | Harvey Dent | Selina Kyle
Son of Batman: Deathstroke | League of Assassins (Ra's al Ghul & Talia al Ghul) | Ubu | Killer Croc | Man-Bats
Batman: Assault on Arkham: Suicide Squad (Amanda Waller, Deadshot, Harley Quinn, Captain Boomerang, Killer Frost, King Shark, Black Spider, KGBeast) | Joker | Riddler | Penguin | Scarecrow | Victor Zsasz | Bane | Two-Face | Poison Ivy
Lego DC Comics: Batman Be-Leaguered: Bat-Mite | Lex Luthor | Joker | Penguin | Man-Bat | Captain Cold | Black Manta
Batman vs. Robin: Court of Owls (Samantha Vanaver, Talon, Owls Lieutenant, & Talon Warriors) | Dollmaker
Batman Unlimited: Animal Instincts: Animalitia (Penguin, Killer Croc, Man-Bat, Cheetah & Silverback)
Batman Unlimited: Monster Mayhem: Joker | Scarecrow | Clayface | Silver Banshee | Solomon Grundy
Batman: Bad Blood: League of Assassins (Talia al Ghul, The Heretic, Onyx, Firefly, Tusk, Mad Hatter, Electrocutioner, Hellhound, Calculator, & Killer Moth) | Black Mask
Batman: The Killing Joke: Joker | Vinnie & Joe | Paris Franz
Batman Unlimited: Mechs vs. Mutants: Penguin | Mr. Freeze | Cheetah | Hush | Mad Hatter | Two-Face | Bane | Chemo | Killer Croc | Clayface | Joker | Dr. Kirk Langstrom
Batman: Return of the Caped Crusaders: Joker | Penguin | Riddler | Catwoman | Archer | Black Widow | Bookworm | Clock King | Egghead | False Face | King Tut | Louie the Lilac | Mad Hatter | Minstrel | Mr. Freeze | Sandman | Shame | Siren
Batman and Harley Quinn: Harley Quinn | Poison Ivy | Floronic Man
Batman vs. Two-Face: Two-Face | Hugo Strange | Catwoman | King Tut | Bookworm | Joker | Penguin | Riddler | Clock King | Egghead | Mr. Freeze | Shame | Harley Quinn
Scooby-Doo! & Batman: The Brave and the Bold: Riddler | Clayface | Joker | Mr. Freeze | Catwoman | Penguin | Harley Quinn | Poison Ivy
Batman: Gotham by Gaslight: Jack the Ripper | Barbara-Eileen Gordon | Selina Kyle | Harvey Dent | Hugo Strange
Batman Ninja: Joker | Harley Quinn | Catwoman | Gorilla Grodd | Bane | Penguin | Poison Ivy | Deathstroke | Two-Face
Batman vs. Teenage Mutant Ninja Turtles: Foot Clan (Shredder & Baxter Stockman) | League of Assassins (Ra's al Ghul & Ubu) | Joker | Penguin | Harley Quinn | Mr. Freeze | Scarecrow | Two-Face | Poison Ivy | Bane
Batman: Hush: Riddler/Hush | Catwoman | Poison Ivy | Bane | Joker | Harley Quinn | Clayface | Scarecrow | Lex Luthor | Lady Shiva | Two-Face | Penguin | Mr. Freeze | Thomas Elliot
Batman: Death in the Family: Jason Todd | Joker | Black Mask | Ra's al Ghul | Riddler | Talia al Ghul | Cheetah | Two-Face
Batman: Soul of the Dragon: Nāga | Kobra (Jeffery Burr, Schlangenfaust, Lady Eve, King Snake & Rip Jagger) | Ben Turner | Shiva | Richard Dragon | Jade
Batman: The Long Halloween: Holiday | Falcone Crime Family (Carmine Falcone, Milos Grapa, Alberto Falcone, Johnny Viti, & Sofia Falcone) | Two-Face | Joker | Solomon Grundy | Salvatore Maroni | Poison Ivy | Penguin | Scarecrow | Mad Hatter | San Ho Hui (Mickey Chen) | Calendar Man | Catwoman

Television
Batman 60s show
Joker | Penguin | Catwoman | Riddler | Mr. Freeze | The Archer | Black Widow | Bookworm | Egghead | Clock King | Queenie Goldstein | Sandman | Dr. Cassandra Spellcraft | Cabala | Minstrel | Shame | False Face | The Siren | Undine | Chandell & Harry | King Tut | Louie the Lilac | Mad Hatter | Cornelia | Baby Jane Towser | Lydia Limpet | Zelda the Great | The Puzzler | Olga, Queen of Cossacks | Marsha, Queen of Diamonds | Lord Marmaduke Ffogg | Lady Penelope Peasoup | Ma Parker | Freddy the Fence | Lola Lasagne | Nora Clavicle | Colonel Gumm | Minerva | Killer Moth | Calamity Jan
1970s Filmation series
Joker | Catwoman | Penguin | Riddler | Clayface | Mr Freese | Sweet Tooth
Batman: The Animated Series
Joker | Two-Face | Harley Quinn | Penguin | Catwoman | Rupert Thorne | Riddler | Poison Ivy | Scarecrow | Mad Hatter | Killer Croc | Clayface | Ra's al Ghul | Mr. Freeze | Man-Bat | Ventriloquist and Scarface | Roland Daggett | Clock King | Bane | Hugo Strange | Lloyd Ventrix | Kyodai Ken | Baby Doll | Emile Dorian | Red Claw | Boss Biggis | Sewer King | Talia al Ghul | Maxie Zeus | Lock-Up | Professor Milo | Count Vertigo | Daniel Mockridge | Grant Walker | Gil Mason | Arkady Duvall | Ferris Boyle | Arnold Stromwell | Tony Zucco | H.A.R.D.A.C. | Randa Duane | Batman Clone | Calendar Girl
The Batman (2004)
Joker | Penguin | Bane | Catwoman | Mr. Freeze | Ethan Bennett | Killer Croc | Man-Bat | Firefly | Riddler | Punch & Judy | Kabuki Twins | Hugo Strange | Cluemaster | Ragdoll | Temblor | Poison Ivy | Tony Zucco | Count Vertigo | Harley Quinn | Maxie Zeus | Clayface | Gearhead | Francis Grey | Killer Moth | D.A.V.E. | Dracula | Rumor | Toyman | Mirror Master | Lex Luthor | Black Mask | Sinestro | Joker 2.0 | Prank | Killgore Steed | Team Penguin | Julie | Spellbinder | Blaze | The Joining | Cosmo Krank | Marty Slacker | Scorn | Wrath | Metallo | Shadow-Thief
Batman: The Brave and The Bold
Joker | Music Meister | Catwoman | Penguin | Mr. Freeze | Clayface | Riddler | Poison Ivy | Lex Luthor | Flower Children | Harley Quinn | Morgaine Le Fey | Sweet Tooth | Queenie Goldstein | Bane | Kite Man | Black Manta | Gentleman Ghost | Major Force | Mirror Master | Metallo | Brainiac | Flamingo | Mxyzptlk | Toyman | Thinker | Doctor Sivana | Mister Mind | Black Adam
Beware the Batman
Anarky | Ra's al Ghul | Deathstroke | Harvey Dent | Killer Croc | Simon Stagg | Professor Pyg and Mr. Toad | Man-Bat | Cypher | Magpie | Lady Shiva | Tobias Whale | Phosphorus Rex | Lunkhead | Humpty Dumpty | Silver Monkey | Key | Bethany Ravencroft | Daedalus Boch | Junkyard Dog | Sapphire Stagg | Matatoa | Anatol Mykros
Harley Quinn
Harley Quinn | Poison Ivy | Joker | Scarecrow | Queen of Fables | Darkseid | Parademons | Penguin | Mr. Freeze | Bane | Lex Luthor | Killer Croc | Man-Bat | Riddler | Deadshot | Calendar Man | Condiment King | Solomon Grundy | Kite Man | Doctor Psycho | Clayface | King Shark | Nora Fries | Sy Borgman | Doctor Trap | Frank the Plant | Felix Faust | Toyman | Metallo | Livewire | Parasite | Black Adam | Captain Cold | Gorilla Grodd | Black Manta | Cheetah | Giganta | Sinestro | Maxie Zeus | Eris | KGBeast | Two-Face | Catwoman | Nick Quinzel | Sharon Quinzel
Video Games
LEGO Batman
Joker | Penguin | Riddler | Harley Quinn | Catwoman | Two-Face | Bane | Clayface | Killer Croc | Killer Moth | Mad Hatter | Man-Bat | Mr. Freeze | Poison Ivy | Scarecrow | Ra's al Ghul | Hush
Lego Batman 2: DC Super Heroes
Joker | Lex Luthor | Harley Quinn | Riddler | Two-Face | Catwoman | Bane | Penguin | Poison Ivy | Scarecrow | Captain Boomerang | Clayface | Mad Hatter | Ra's al Ghul | Killer Croc | Bane | Killer Moth | Mr. Freeze | Man-Bat | Hush | Zod | Sinestro | Brainiac | Gorilla Grodd | Captain Cold | Black Manta | Black Adam | Bizarro
Lego Batman 3: Beyond Gotham
Brainiac | Joker | Lex Luthor | Cheetah | Solomon Grundy | Firefly | Killer Croc | Sinestro | Atrocitus | Larfleeze | Star Sapphire | Composite Superman | Bane | Arkillo | Condiment King | Music Meister | Captain Cold | Black Adam | Black Manta | Black Hand | Bronze Tiger Cyborg Superman | Deadshot | Deathstroke | Lobo | Dex-Starr | Doomsday | Gorilla Grodd | Harley Quinn | Hush | Kalibak | Killer Moth | Man-Bat | Mad Hatter | Manchester Black | Metallo | Mr. Freeze | Mr. Mxyzptlk | Parasite | Penguin | Poison Ivy | Polka Dot Man | Red Hood | Riddler | Toyman | The Trickster | Ultra-Humanite | Catwoman | Bizarro | Amanda Waller | Captain Boomerang | El Diablo | King Shark | Killer Frost | Plastique | Terra | Zod | Faora | Joker | Two-Face | Ra's al Ghul | Bane | Catwoman | Scarecrow | Blight | Joker | Mr. Freeze | Arrow Deathstroke | Malcolm Merlyn | Darkseid
Injustice
Superman | Wonder Woman | Yellow Lantern | The Flash | Aquaman | Nightwing | Cyborg | Raven | Solomon Grundy | Catwoman | Bane | Black Adam | Deadshot | Poison Ivy | Scarecrow | Joker | Deathstroke
See Also
Arkhamverse Villains | Batgirl Villains | Batman Beyond Villains | Batwoman Villains | Birds of Prey Villains | Catwoman Villains | Gotham Villains | Harley Quinn Villains | Nightwing Villains | Outsiders Villains | Red Hood Villains | Robin Villains | Telltalle Batman Villains
Villains
Comics
Amanda Waller | Basilisk | Black Mask | Bud and Lou | Catwoman | Calendar Man | Clock King | Dark Knights | Deadshot | Egg Fu | The Enchantress | Female Furies | Floronic Man | Gotham Sirens | Granny Goodness | Harley Quinn | Hugo Strange | James Gordon, Jr. | Joker | Joker's Daughter | King Shark | Lord Death Man | Mercy Graves | Penguin | Poison Ivy | Punchline | Riddler | Scarecrow | Sportsmaster | Suicide Squad | Two-Face | Zod
Movies
Suicide Squad: Eyes of the Adversary (Enchantress & Incubus) | Suicide Squad (Deadshot, Harley Quinn, Captain Boomerang, El Diablo, Killer Croc, Slipknot & Amanda Waller) | Joker's Gang (Joker, Jonny Frost, Panda Man & Monster T) | Griggs
Batman and Harley Quinn: Harley Quinn | Poison Ivy | Floronic Man
Suicide Squad: Hell To Pay: Professor Zoom | Suicide Squad (Amanda Waller, Deadshot, Harley Quinn, Captain Boomerang, Bronze Tiger, Copperhead, Punch, Jewelee, & Count Vertigo) | Killer Frost | Blockbuster | Silver Banshee | Vandal Savage | Scandal Savage | Professor Pyg | Tobias Whale | League of Assassins (Deathstroke) | Two-Face
Birds of Prey (and the Fantabulous Emancipation of One Harley Quinn): Harley Quinn | Huntress | Black Mask | Victor Zsasz | Stefano Galante | Carlo Rossi | Happy | Joker
The Suicide Squad: The Thinker | Starro | Silvio Luna | Corto Maltese Armed Forces (Mateo Suarez & Vera) | Suicide Squad (Bloodsport, Ratcatcher 2, Harley Quinn, Peacemaker, King Shark, Polka Dot Man, Captain Boomerang, Blackguard, Mongal, Javelin, The Detachable Kid, Weasel, Savant & Amanda Waller) | Kaleidoscope | Calendar Man | Double Down | Karma | Ratcatcher | Polka Dot Man's Mother | Bloodsport's Father
Television
Harley Quinn | Poison Ivy | Clayface | King Shark | Joker | Scarecrow | Queen of Fables | Penguin | Killer Croc | Man-Bat | Doctor Psycho | Riddler | Two-Face | Catwoman | Bane | Mr. Freeze | Deadshot | Solomon Grundy | Calendar Man | Condiment King | Felix Faust | Lex Luthor | Toyman | Metallo | Livewire | Parasite | Black Adam | Captain Cold | Gorilla Grodd | Black Manta | Cheetah | Giganta | Sinestro | Maxie Zeus | Eris | KGBeast | Bud and Lou | Nora Fries | Sy Borgman | Doctor Trap | Frank the Plant | Kite Man | Nick Quinzel | Sharon Quinzel | Darkseid | Parademons
Video Games
Batman: Arkham Knight: Harley Quinn: Harley Quinn | Poison Ivy | Penguin
Injustice: Superman | Poison Ivy | Deadshot | Scarecrow | Wonder Woman | Joker

Villains
Comics
Amanda Waller | Bane | Basilisk | Black Adam | Black Manta | Black Mask | Black Spider | Blackguard | Bloodsport | Brainiac | Bronze Tiger | Captain Boomerang | Captain Cold | Cheetah | Chemo | Chronos | Clock King | Copperhead | Count Vertigo | Crime Syndicate of America | Darkseid | Deadshot | Deathstroke | Doomsday | Doctor Light | Eclipso | The Enchantress | Electrocutioner | Female Furies | Gentleman Ghost | Giganta | Harley Quinn | Heat Wave | James Gordon, Jr. | Javelin | Joker | Joker's Daughter | KGBeast | Killer Croc | Killer Frost | King Shark | Klarion | Kobra Cult | Lobo | Magpie | Major Disaster | Major Force | Man-Bat | Manchester Black | Manhunters | Master Jailer | Match | Mindboggler | Nocturna | Owlman | Parademons | Parasite | Plasmus | Plastique | Poison Ivy | Professor Zoom | Punch and Jewelee | Shrapnel | Solomon Grundy | Starro | Suicide Squad | Talon | Tattooed Man | Thinker | Ultraman | Vandal Savage | Weasel | Zebra-Man | Zod
Movies
Suicide Squad: Eyes of the Adversary (Enchantress & Incubus) | Suicide Squad (Deadshot, Harley Quinn, Captain Boomerang, El Diablo, Killer Croc, Slipknot & Amanda Waller) | Joker's Gang (Joker, Jonny Frost, Panda Man & Monster T) | Griggs
Suicide Squad: Hell To Pay: Professor Zoom | Suicide Squad (Amanda Waller, Deadshot, Harley Quinn, Captain Boomerang, Bronze Tiger, Copperhead, Punch, Jewelee, & Count Vertigo) | Killer Frost | Blockbuster | Silver Banshee | Vandal Savage | Scandal Savage | Professor Pyg | Tobias Whale | League of Assassins (Deathstroke) | Two-Face
The Suicide Squad: The Thinker | Starro | Silvio Luna | Corto Maltese Armed Forces (Mateo Suarez & Vera) | Suicide Squad (Bloodsport, Ratcatcher 2, Harley Quinn, Peacemaker, King Shark, Polka Dot Man, Captain Boomerang, Blackguard, Mongal, Javelin, The Detachable Kid, Weasel, Savant & Amanda Waller) | Kaleidoscope | Calendar Man | Double Down | Karma | Ratcatcher | Polka Dot Man's Mother | Bloodsport's Father
See Also
Harley Quinn Villains | Peacemaker Villains

Villains
Protagonists