Doctor Strange in The Multiverse o Madness - The Loop
Play Sound
Jafar says: Read my lips and come to grips with the reality!


This article is a stub and is in need of expansion. You can help Villains Wiki by expanding it.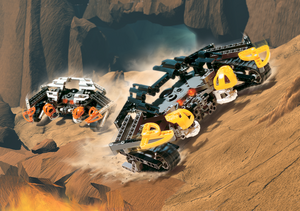 The Manas are powerful crab-like Rahi that appeared in the BIONICLE series. They are also known to be both strong and intelligent as they cannot be defeated by a single Toa. The Manas can be also seen working for various villains such as; Makuta Teridax and the Brotherhood of Makuta, as well as Karzahni.
History
The Manas were once created by the members of the Brotherhood of Makuta using Viruses and Liquid Protodermis to be one of the Rahi to inhabit the Matoran Universe. Then, some of them were molded into the army of the Brotherhood and served as soldiers to serve Makuta Miserix.
At some point after the raid in the island of Artakha, Makuta Icarax lost faith in Teridax's master plan and gained the motivation to attempt and conquer the universe on his own with an army of Manas crabs. He managed to attack several islands until Teridax challenged him in the battle. After several hours of the battle between the two Makuta, Icarax had exhausted his energies due to Teridax's attack, allowing the latter to turn the Manas against his fellow Makuta.
Gallery
Trivia
"Manas" is a Matoran word for "monster" due to their savage, vicious, and monstrous characteristics. Turaga Nokama thought it was a fitting name for the creatures she and her fellow Turaga saw during their trip in Mata Nui.
Whenua believed that the Manas were somehow related to the Ussal Crab, though Matau though this unlikely.