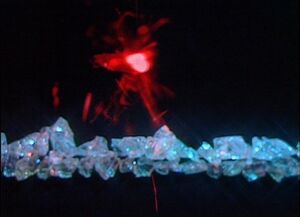 The Mandragora Helix is the main antagonist of the Doctor Who story "The Masque of Mandragora". It has made a handful of appearances in other media.
It was voiced by the late Peter Tuddenham.
Biography
The Mandragora Helix was a mysterious cosmic phenomenon, sentient and with an unknown relationship with the stars. It sought to curtail humanity's development to prevent them developing space travel. After drawing the Fourth Doctor and Sarah into itself, Mandragora managed to get a ball of Helix energy into the TARDIS which transported it to 15th century Italy. There, it co-opted the bloodthirsty Cult of Demnos to act as its servants, eventually turning all of them into walking balls of Helix energy. Its plan was to wipe out a group of scholars and scientists attending a gathering, thereby preventing humanity's scientific progression. The Doctor deduced that it could be drained off and set up wire around the Cult's altar. When more Mandragora energy arrived, it was all drained away, short-circuiting the portion of Mandragora on Earth. However, the Doctor predicted it would be able to try again at the end of the 20th century.
In the comic strip "The Mark of Mandragora", the Seventh Doctor and Ace encounter UNIT in the late 20th century, investigating a new drug, Mandrake. They discover a portion of Mandragora remained in the TARDIS, which is now being used as a bridgehead for the Helix. Anyone who has used Mandrake will be susceptible to the Helix's influence and allow it to come through and reshape the universe. The Helix was defeated when the TARDIS shifted back into real space at the crucial moment, cutting off its route.
In the novel Beautiful Chaos, the Tenth Doctor and Donna encountered Mandragora in the early 21st century, attempting to use the computer revolution to gain control of the human race. Mandragora was tricked into entering the mind of Wilfred Mott's friend Netty, who suffered from Alzheimer's, and its attempts to repair her mind caused it to exhaust.