✔



Click To Help Dr. Wily!

Dr. Wily has declared that this article is still under construction.
Please don't delete or edit this article yet, it may contrast with the original author's edits.
After I finish this article, the world will be mine! MWAHAHAHAHA!

✔



Click To Help DIO!

DIO has declared that this article has stopped in time, and any and all information on it may be outdated.
Help improve this article by checking and updating it's info wherever necessary
And now time resumes!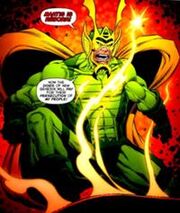 Mantis a super-villain from DC Comics. He is part of an alien race from New Genesis called the Bugs. He lead a colony of his people to Apokolips and swore their fealty to Darkseid in exchange for great power.
Biography
Justice League Unlimited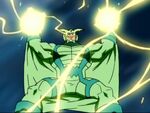 Mantis first appears in the episode "Question Authority" where he fights Superman and Captain Atom before being returned to Apokolips his home planet. "He later makes a cameo in the episode "Alive" where he takes part in Apokolips' civil war but in the end bows to Darkseid when he returns.
Batman: The Brave and the Bold

Mantis first appeared in the episode "Cry Freedom Fighters" where he attacks a small suburb and fought Stargirl. He manages to fend her off until Blue Beetle comes to help her. They defeat him in the end having him overload his energy. He later makes a cameo in the episode "Darkseid Descending" as part of Darkseid's invasion of Earth.
Young Justice
?
Gallery
Community content is available under
CC-BY-SA
unless otherwise noted.