Doctor Strange in The Multiverse o Madness - The Loop
Play Sound
This article's content is marked as Mature
The page Mature contains mature content that may include coarse language, sexual references, and/or graphic violent images which may be disturbing to some. Mature pages are recommended for those who are 18 years of age and older.


If you are 18 years or older or are comfortable with graphic material, you are free to view this page. Otherwise, you should close this page and view another page.
| | | |
| --- | --- | --- |
| " | They're all gonna laugh at you! | " |
| | ~ Margaret White's most famous quote. | |
| | | |
| --- | --- | --- |
| " | Sin never dies. | " |
| | ~ Margaret White | |
| | | |
| --- | --- | --- |
| " | This isn't your fault Carrie. It's mine. You know the Devil never dies. He keeps comin' back. You've got to keep killin' him over and over again. | " |
| | ~ Margaret White preparing to kill her daughter Carrie in Carrie (2013). | |
Margaret White (née Brigham) is the main antagonist of Stephen King's novel Carrie and all of its adaptations.
She is the abusive, fanatically religious mother of Carrie White, and is obsessed with instilling Carrie with her Puritanical version of Christian principles of modesty and chastity.
She was portrayed by Piper Laurie (in 1976), who also portrayed Adriana Petrescu in Trauma, Patricia Clarkson (in 2002), who also portrayed Ava Paige in the Maze Runner series and Tammy 1 in Parks & Recreation, Julianne Moore (in 2013), who also portrayed President Alma Coin in The Hunger Games: Mockingjay Parts 1 & 2, Mother Malkin in The Seventh Son and Poppy Adams in Kingsman: The Golden Circle.
History
The wife of the late Ralph White and the mother of Carrie, Margaret lived with her parents, John and Judith Brigman, in Motton, Maine until 1960, when she moved to Chamberlain Center with Ralph White. 2 years later, he two married on March 23, 1962; shortly after, on April 3, 1962, Margaret was admitted to Westover Doctors Hospital for a suspected miscarriage. 5 months later on August 19, 1962, she last wrote to her mother, and later became pregnant in December that year, though she was convinced that she was afflicted with "cancer of the womanly parts".
Her husband died in February 1963 in a grisly construction accident, and she gave birth to her daughter alone on September 21, 1963. 3 years later on August 17, 1966, her house was deluged with stones from the sky brought on by her daughter's telekinesis after she punished the girl particularly hard.
Margaret White was very emotionally unstable and suffered from untreated mental illness. She was an extremely abusive and religious zealot who punished her daughter continually for any and all "sins", viewing her as a demonic child and showing no remorse over severe emotional and physical abuse. She also heavily believed herself to be continually under assault from evil forces.
In the novel's climax, Margaret was killed by Carrie, ending her reign of terror, sadly before this occurs, the abusive Margaret is able to stab her daughter - this would later prove to be fatal and Carrie died a short time later in the arms of one of her few friends, Sue Snell. In the movie, Carrie died along with her mother as their home crumbled on top of them due to Carrie's telekinetic powers gone away.
Media Portrayals
In the original 1976 film adaptation, she died after having been stabbed and crucified by the kitchen knifes unleashed by the stabbed Carrie's telekinetic powers.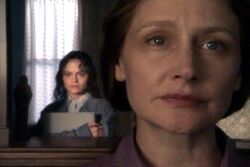 In the 2002 TV film, she died because of a massive heart attack brought on by Carrie's power (according to the novel Carrie) when she tried to drown her daughter in a filled bathtub while reciting the "bedtime prayer".
In the 2013 remake, this version of Margaret was similar to her 1976 counterpart but was less attractive and harmed herself more severely, cutting her arm and scratching the wounds until they bled. She also banged her head against a wall and a door. She was just as mentally unstable and just as abusive and domineering towards Carrie as her 1976 counterpart, but was portrayed as slightly more sympathetic (hardly much more, though). Margaret was killed in the same way as her 1976 counterpart.
The Broadway musical portrays Margaret to be a much more complex and sympathetic character who genuinely loves and wants to "save" her daughter. She shows remorse after beating and locking Carrie in the cellar following the shower incident. In the first act finale, "I Remember How Those Boys Could Dance", Margaret reveals that Ralph had sweet-talked and raped her, then left her while she was pregnant with Carrie.
According to the 1976 film's sequel, The Rage: Carrie 2, Margaret's ex-husband Ralph, long before his death, had another wife, Barbara Lang, who had in the same way, given birth to her daughter Rachel, Carrie's half-sister.
Quotes
2013 film
| | | |
| --- | --- | --- |
| " | Help. Help me! Help me, Lord. I'm dying. What is this? Cancer? Mother Mary, full of grace, protect me and guide me in my hour of death. It's a test. Cut it down. Cut it down. Shh. | " |
| | ~ Margaret Brigham giving birth to Carrie. | |
| | | |
| --- | --- | --- |
| " | Oh, Lord, help my child. She's lost. (Carrie: Mama, stop it. Mama! I don't want to upset you.) So, you're a woman now. And God made Eve from the rib of Adam. And what, Carrie? Say it. (Carrie: No, Mama.) Say it. (Carrie: Talk to me. Please just talk to me.) And Eve was weak. (Carrie: I just want you to talk to me.) And the first sin was the sin of intercourse. (Carrie: And the first sin was the sin of intercourse. Why didn't you tell me, Mama?) And God visited Eve with a curse. And the curse was a curse of blood. (Carrie: I'm not gonna say that. That's not even in the Bible. It doesn't say that anywhere.) Oh, Lord. Help this little girl see the sin of her days and ways. Show her if she had remained innocent, the curse of blood would not have come upon her as it did on Eve. (Carrie: I'm not Eve, Mama. I didn't sin.) You showered with those other girls. You had lust-filled thoughts. (Carrie: Everyone has to shower, Mama. Everyone. That's just the rules.) You must be different, because He can see you. (Carrie: I don't want to be different, Mama. I want to be like them.) He can smell the sin on you. And He will punish you. I will not let that come down upon you. I will not. Lord have mercy. (Carrie: No. "The Lord is good. His unfailing love endures forever, and his faithfulness continues through all generations". Psalms 100, verse 5.) I'm going to keep you away from that school. (Carrie: You can't.) We'll pray. We'll pray together. To save our women-weak, wicked, sinning souls. (Carrie: You didn't tell me and they laughed. I didn't sin. You sinned.) I did not. I did not sin. Go to your closet. (Carrie: No, Mama.) Go to your closet and pray. You pray. (Carrie: No. No! No! Get off me! Mama! Stop it!) Go to your closet and pray for forgiveness. (Carrie: No!) You pray. (Carrie: Mama! Help! No, Mommy!) Come on. (Carrie: Please! Help!) You pray, little girl. Pray for forgiveness. (Carrie: Mommy, let me go! Let me out! Mom! God, you suck!) Help me. Help me. | " |
| | ~ Margaret scolding Carrie for showering at school (believing menstruation is a sin) and demanding she enter her closet and pray for forgiveness. | |
Gallery
Trivia
Piper Laurie's portrayal of Margaret earned her nominations for the Academy Award for Best Supporting Actress and the Golden Globe Award for Best Supporting Actress - Motion Picture.
Margaret's religion is suggested to be of her own making -- consisting mostly of elements from fundamentalism, but takes some Catholic and Orthodox concepts, like sainthood; this is made clearer in the 2013 film when Carrie suggests that her recount of the Fall of Man is non-Biblical, and in fact overemphasize sexual immorality with which Margaret is fixated on.
In the novel, Margaret has hallucinations of a mysterious "Black Man" and a burning "three-lobed eye"; both are references to the horrid deity Nyarlathotep from the Cthulhu Mythos by the late author H.P. Lovecraft or simply the demonic wizard Randall Flagg under one of his many known aliases.
Margaret was likely inspired by Augusta Gein (The mother of serial killer Ed Gein).

Villains

Villains
Animated Features
Loc-Nar | The Girl | The Queen | Captain Lincoln F. Sternn | Dark Heart | Tyler | The Beast | Constance Nebbercracker | Shaw | Tank Evans | Mayor Shelbourne | General Grawl | Professor Kipple | Fifi | Doug | Ivan Ivanovitch Sakharine | Allan | Tom | Pedro | Falcon | Aristides Silk | Red Rackham | Queen Victoria | Black Bellamy | Quasimodo Wilson | Esmeralda | Chester V | Live Corp (Chester V's Holograms & Barb) | Bela | Bat Cronies | Ed and Edna | King Leonard Mudbeard | Green Pigs | Douche | Darren | Gargamel (2017) | Azrael (2017) | Monty | Smiler | Anti-Virus Bots | Hunter | King Herod | Thaddeus and Rufus | Abraham Van Helsing | Ericka Van Helsing | Kingpin | Doctor Octopus | Prowler | Green Goblin | Scorpion | Tombstone | Vanessa Fisk | Richard Fisk | Zeta | PAL Labs (PAL, PAL Max, Glaxxon 5000 & PAL Max Prime) | Pockets | Lutador
Live-Action Films
Wilhelm Tanz | Colonel Sandauer | French Taunter | Bridge Keeper | Rabbit of Caerbannog | Knights Who Say Ni | Three-Headed Giant | Black Beast of Argh | Black Knight | The Animator | Unidentified Knight | Travis Bickle | John Neville | Judge Fleming | Miss Hannigan | Rooster and Lily St. Regis | Reginald Dyer | Nathuram Godse | Christine | John Kreese | Cobra Kai (Johnny Lawrence, Dutch, Bobby Brown, Tommy & Jimmy) | Gozer | Stay Puft Marshmallow Man | Terror Dogs (Zuul & Vinz Clortho) | Library Ghost | Murray Plotsky | Central Park Thief | Lieutenant Colonel Podovsky | Marshall Murdock | Sergeant Yushin | Captain Vinh | Lieutenant Tay | River Pirates (Trong Kinh) | Lifer | Ericson | Jerry Dandridge | Billy Cole | Evil Ed | John Ryder | Jareth | Goblin Army | Chozen Toguchi | Sato Toguchi | Toshio & Taro | Christopher Meddows | Regine Dandrige | Colonel Zaysen | Sergeant Kourov | Tomask | Shop Assistant | Terry Silver | Mike Barnes | Snake | Dennis | Vigo | Janosz Poha | Scoleri Brothers | Jack Merridew | Roger | Vilos Cohaagen (1990) | Mars Colony Security Force (Carl Hauser, Richter, Lori, Helm, Everett, Benny & Harry) | Dr. Edgemar | Raymond Zhang | Nigel Griffith | Moon | Kara | Luis Cali | Jack Thrope | Carlos | Ruiz | Jorge | T-1000 | Douglas | Skynet | James Hook (1991) | Mr. Smee (1991) | Catherine Tramell | Luc Deveraux | Andrew Scott | Eric Qualen | Richard Travers | Kynette | Delmar | Kristel | Ryan | Heldon | Mike | Ray | Koga | Ishikawa | Glam | Vinnie | Slam | Darren | Gerald Thomas | Stewart Swinton | Colonel Dugan | Ned Randall | Charlie | Gabe | Morgan | Bogs Diamond | Byron Hadley | Elmo Blatch | Samuel Norton | Sisters | Jack Harding | J.J. | Jimmy | Eddy | Fouchet | Casper | Ferguson | Prince Malagant | Ralf | Van Pelt | Mark Cordell | Agatha Trunchbull | Harry Wormwood | Cable Guy | Edgar the Bug | Egor Korshunov | Andrei Kolchak | Vladimir Krasin | Agent Gibbs | Boris Bazylev | Sergei Lenski | Igor Nevsky | Ivan Radek | Arachnids | Mary Ann Rogers | Lothar Zogg | C.J. | Carl | Buelow | Zed | Klaus | Lars | Eric | Zilla | Baby Zilla | Don Rafael Montero | Harrison Love | K. Edgar Singer | Huxley | Bill the Bug | Pesties | Alley Cats (Smokey, Monty, Lucky, Red & Unnamed Gray Cat) | Snowbell | S.E.T.H. | Deacon | William Tavington | Eric Knox | Vivian Wood | Altaaf Khan | Hilal Kohistani | Genus | Russell Woodman | Green Goblin | Dennis Carradine | Bank Robbers | Harry Osborn | J. Jonah Jameson | Falcon | Chuck Cedar | Mac McGrath | Serleena | Scrad & Charlie | Jarra | Dog Poop | Corn Face | Pineal Eye | Mosh Tendrils | Flesh Balls | Jeff | Creepy | Kylothians | Devlin Bowman | Rachel Wright | Arnold Gundars | Zhu Tam | Colonel Idris Sadick | Commander Terwaze | Fulani Rebels | Gwyneth Harridan | Jenny | Bruce | T-X | T-1 | Johnny Tapia | James Hook (2003) | Mr. Smee (2003) | Don Price | Grigori Rasputin | Karl Ruprecht Kroenen | Ilsa Von Haupstein | Sammael | Ogdru-Jahad (Behemoth) | Punisher | Howard Saint | Quentin Glass | Livia Saint | John Saint | The Russian | Harry Heck | Mickey Duka | Warren Vandergeld | Vandergeld Sisters | Heath and Russ | Doctor Octopus | Brother Sum | The Beast | The Axe Gang | The Harpists | Big Al | Boogeyman | Warden Hazen | Mr. Electric | Minus | Count Armand | Jacob McGivens | Zorgons | Robot | Jerry McDowell | Calvin Sims | Mr. Walken | Rosco | Bruno | Concussion | Venom | Sandman | Jigsaw | James Russoti | Carmine Gazzera | Ink | Maginty | Lance Warner | Camp Canola (Robert Jeffrey Warner) | Fatoush | Grant Walbridge | Salim Yousfobdal | Derek Huff | Ted Jones | Budlofsky | Matheson | Carol Brazier | Carl Anheuser | Veck Simms | James Kent | The Tornado | T-RIP | Serena Kogan | Koobus Venter | Ted Winter | Master Li | Cheng | Liang | Roger Wesley | David Ershon | Benjamin Chudnofsky | Frank Scanlon | Shane | Stephanie | Gargamel (2011) | Azrael (2011) | Boris the Animal | Weasel | Lilly | Obadiah Price | Mr. Wu | Boglodites | Martin Vanger | Gottfried Vanger | Vilos Cohaagen (2012) | United Federation of Britain (Carl Hauser, Lori, Harry & Police Synthetics) | Lizard | Gustav Fiers | Cash Register Thief | Norman Osborn | Satan | Danny McBride | Jonah Hill | Demons | Ursa | Skrel | Eli Raphelson | Martin Walker | Emil Stenz | Skip Tyler | Muriel Walker | Frat boy Andy | Vexy and Hackus | Electro | Green Goblin | Donald Menken | Rhino | Ashley Kafka | Felicia Hardy | Vladimir Pushkin | Nicolai Itchenko | Slavi | Agent Kruger | Jessica Delacourt | John Carlyle | Guy Danlily | Miss Hannigan | Annie's Fake Parents | Jungler | Vincent Moore | Hippo | Amerika | Ninja | Yolandi | Vincent Sofel | Donkey Kong | Pac-Man | Eddie Plant | Lady Lisa | Slappy the Dummy | Monsters (Giant Praying Mantis, Will Blake, Lawn Gnomes, Madame Doom, Brent Green, Count Nightwing & The Haunted Mask) | Norman Nordstrom | Rowan North | Mayhem | Electrocuted Ghost | Gertrude Aldridge | Francis Begbie | Sick Boy | Bestman Salvage (Vulture, Tinkerer, Shocker #1, Shocker #2 & Randy Vale) | Mac Gargan | Aaron Davis | Jason Van Horn | Doc | Darling | Bats | Eddie No-Nose | Griff | Niander Wallace | Luv | Russel Van Pelt | Tommy Madigan | Dave York | Thomas McGregor | Mr. McGregor | Mrs. McGregor | James Tod | Slender Man | Eddie Brock/Venom | Carlton Drake/Riot | Life Foundation (Roland Treece) | Cletus Kasady | High-T | The Twins | Riza Stavros | Luca Brasi | The Hive | Mysterio's Crew (Mysterio, William Ginter Riva, Victoria Snow, Gutes Guterman, Janice Lincoln, & Doug) | Elementals (Molten Man, Hydro-Man, Sandman, Cyclone & Elemental Fusion) | John Bosley | Hodak | Alexander Brock | Jurgen the Brutal | Fiona Landers | Melinda Landers | Sam Landers | Kayako Saeki | Isabel Aretas | Armando Armas | Melanie Cole | Dr. Emil Harting | Jimmy Dalton | Marcus Tibbs | Barnabas | Samuel Whiskers | Tom Kitten | Mitten | Raylan | Carnage | Shriek | Kasady Family | Ivo Shandor | Braddock | Santiago Moncada | Michael Morbius | Milo Morbius
See Also
007 Villains | Aardman Villains | Amblin Entertainment Villains | Angry Birds Villains | Bad Boys Villains | Blumhouse Productions Villains | Cloudy with a Chance of Meatballs Villains | Community Villains | Final Fantasy Villains | Fright Night Villains | Ghostbusters Villains | Ghost Rider Villains | Godzilla Villains | Goosebumps Villains | Hellboy Villains | Hotel Transylvania Villains | Jackie Chan Adventures Villains | Jerry Bruckheimer Villains | Jumanji Villains | Karate Kid Villains | Marvel Cinematic Universe Villains | Men in Black Villains | Morbius: The Living Vampire Villains | Muppet Villains | Netflix Villains | Punisher Villains | Rambo Villains | Resident Evil Villains | Robocop Villains | Sony's Spider-Man Universe Villains | Spider-Man Villains | Stuart Little Villains | Syfy Villains | Stephen King Villains | Terminator Villains | The Boondocks Villains | The Boys Villains | The Dark Crystal Villains | The Grudge Villains | Total Recall Villains | Trainspotting Villains | Tim Burton Villains | Underworld Villains | Universal Soldier Villains | Venom Villlains | XXX Villains