Jurassic World: Dominion Dominates Fandom Wikis - The Loop
Play Sound
Jafar says: Read my lips and come to grips with the reality!


This article is a stub and is in need of expansion. You can help Villains Wiki by expanding it.                       
The Maricoxi is a general term for several large ape-like creatures that have been reported in many parts of the jungle regions of South America. These may be cryptids or merely an undiscovered tribe.
Percy Fawcett reported encountering a group of them in 1914. They were extremely hairy, lived in villages, and used bows and arrows. They spoke in grunts and lived to the northeast of a tribe called the Maxubi.
Maricoxi is reported as being aggressive to humans. In many encounters, they attack humans on sight. They are said to be scared of the noise of guns.
They are generally described as being between 2 to 6 feet tall with occasional reports of giant hominids reaching incredible sizes of 12 feet tall.
History
TBA
Appearance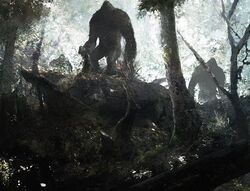 TBA
Powers and Abilities
Maricoxi was described as physically large, powerful bipeds who had skills in guerrilla warfare and skirmishing, often ambushing people and attacking with spears, bow and arrows, sticks or stones - they often attacked in groups and had knowledge of their surroundings, meaning that despite their large size and power they could easily hide or disappear into the forest without a trace.