Doctor Strange in The Multiverse o Madness - The Loop
Play Sound
Marilyn was a woman hired by Lana Lang to keep Lionel Luthor imprisoned and recurring antagonist in the WB/CW Television series Smallville.
She appeared as the secondary antagonist in the Season Seven episode "Action".
She was portrayed by Nancy Sivak.
Biography
Bizarro
After Lionel Luthor had been severely injured following the breach at Reeves Dam by Bizarro, a trench coat-wearing Marilyn found him outside lying unconscious on the riverbed.
Marilyn saved his life after taking him to her cabin in the woods.
Action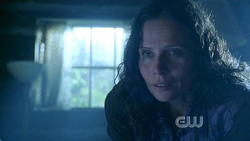 She placed Lionel on a bed trapping him with a bear trap while she nursed him back to health.
Lionel awoke inside the cabin, finding an animal trap enclosed on his hand. The woman approached him and introduced herself as Marilyn. As he asked for water, Marilyn went into the other room and made a call to someone saying that he was "awake."
Although she seemed caring and compassionate, Marilyn was really insane who was paid to keep Lionel captive and tortured him when he got out of line.
With Marilyn in the other room tending her plants, Lionel managed to free himself by painfully pulling the bear trap off his hand. He then threw a glass on the ground breaking it that summoned Marilyn. He apologies for being rude earlier and when she picked up the glass, he knocked her out and ran out the door.
Marilyn chased Lionel through the woods when he was hit in the head by a shovel before he could escape. It was revealed that Lana Lang was paying Marilyn to keep him captive.
She was furious and berates Marilyn for letting Lionel escape but she is interrupted when Clark called, asking her to pick up Rachel, and she sweetly agrees.
Lana kept Lionel hostage out of revenge for threatening to kill Clark and forcing her to marry his son Lex.
The following night, Lex arrived at the cabin to rescue his father. He saw various plants some appearing to be over 10,000 dollars worth of marijuana and other weeds and saw his father tied to a bed.
He went over to free him, but Marilyn pointed a gun at him, urging him to move away. As Lex moved, Lionel took advantage of the moment and lunged out of bed and attacked Marilyn.
Lionel knocks her out cold again and starts to hit her in the head with the bear trap many times. Lex is horrified and calls out to him to stop.
Lionel later confronted Lana in the loft and tells her he knows it was her that hired Marilyn to hold him in that cabin and warns her about this dangerous game she is playing.

Villains
Protagonists