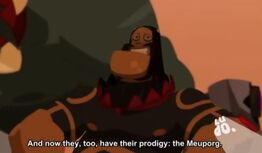 The Meuporg (real name Marilyne) is a rude and fearless player in Gowbol in Brakmar city. He is one-time villain of second season from TV french series Wakfu. In order not to spoil the show, the jury decides to release from prison a terrible player, known by the sweet name of Mmmmmmmmmporg. This player has the reputation of being particularly dangerous. 
Story
While the Mmmmmmmmmporg is killing one by one the different members of the Kriss team, Ruel is absorbed by something else. He is convinced that he has already seen the Mmmmmmmmmporg, but under a different name. After intense reflection, while the Mmmmmmmmmporg was about to score, Ruel finally remember that his real name is Marilyne. Since Ruel is not a discreet guy, he screams him all over the stadium. On hearing its old name, the Mmmmmmmmmporg comes to a standstill. Spectators start laughing and even the Mmmmmmmmmporg team can not help but make fun of him.
The anger of the Meuporg is such that he forgets the match and beats the players of his own team. In his rage, he even manages to break the stadium in two. Taking advantage of this unexpected turnaround, Yugo recovers the Boufball and fled with it. Seeing that the Meuporg's anger does not seem to subside, Yugo is forced to leave the stadium to try to sow him in the alleys of the city. The idea is disastrous, the Meuporg ransacked the city by destroying all the buildings he meets. To try to stop him Kriss will finally succeed in assimilating the technique of the Dazzling Boufbowlette and carry a very violent blow to his opponent. Despite the power deployed he can not knock him out.
Gallery
Community content is available under
CC-BY-SA
unless otherwise noted.