Doctor Strange in The Multiverse o Madness - The Loop
Play Sound
Mario (or Jumpman) is the main protagonist of the 1981 Nintendo game Donkey Kong and the main antagonist of the 1982 Nintendo game Donkey Kong Jr. and 1984 Game & Watch game Donkey Kong Circus.
While Mario is usually depicted as a hero throughout most of his history, saving the Mushroom Kingdom from Bowser and the Koopa Troop, he has been enemies with Donkey Kong and Donkey Kong Jr. These are his villainous actions.
Coincidentally, in the prequel Game & Watch game "Donkey Kong Circus", Mario heckled Donkey Kong when he performed a pineapple juggling act at the circus by laughing at him whenever he either gets hit by a fireball or drops a pineapple.
His role just worsened in the sequel, Donkey Kong Jr. as he is actually the villain in that game.
Biography
Donkey Kong Circus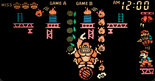 Mario appears as the main antagonist in Donkey Kong Circus. Mario is an audience member who laughs at Donkey Kong, the new attraction of the circus, whenever he drops a pineapple or gets hit by fire. In the end of the game, Mario is shown in the construction site where the first game begins.
It is commonly theorized that Mario forced Donkey Kong to perform in the circus, but this is never proven.
Donkey Kong Jr. (game)
After rescuing Pauline from Donkey Kong, the vengeful Mario went on to imprison Donkey Kong in a cage. Donkey Kong Jr. went on to try and rescue his father. Mario attempted to stop the young ape and released various types of traps mainly consisting of robots and animals such as Snapjaws and Nitpickers.
Junior eventually did make it to his father and the two returned to their jungle home(presumably Donkey Kong Island) just after Donkey Kong made a shot at Stanley the Bugman's greenhouse.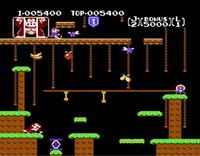 He also whipped the animals that worked for him, eventually known as Mario's slave labor. This makes him extremely evil and cruel, as he also let unnecessarily made them know who was in charge (him).
In the arcade ending, he falls down, gets up and tries to catch the escaping Donkey Kong and DK Jr. while swinging his whip, but gets kicked by DK and runs away. In the NES ending, he falls down and a halo exists over his head similar to his losing animation in the original Donkey Kong game.
Donkey Kong II
Since Donkey Kong II serves as a semi-sequel to Donkey Kong Jr., Mario reprises his role as the antagonist. Essentially, it contains the same story as Donkey Kong Jr.—Donkey Kong is trapped by the tricky Mario, and now the ape's son must save him.
Donkey Kong is chained to the floor in the top of the upper screen by several locks. Donkey Kong Jr. must hit a key up to the top screen and then progress through the bottom screen, jumping over Snapjaws and sparks much as Mario jumped over barrels in Donkey Kong. Every time Donkey Kong Jr. jumps over a Snapjaw or spark, he receives a point.
Donkey Kong Hockey
Some time after the events of Donkey Kong II, Donkey Kong and Mario took their rivalry to the Hockey pitch, battling it out in a match referred by Stanley the bugman in the game, Donkey Kong Hockey.
Gallery
Trivia