Mario (or Jumpman) is the main protagonist of the 1981 Nintendo game Donkey Kong and the main antagonist of the 1982 Nintendo game Donkey Kong Jr. and 1984 Game & Watch game Donkey Kong Circus.
While Mario is depicted as a hero throughout most of his history, saving the Mushroom Kingdom from Bowser and the Koopa Troop, he has been enemies with Donkey Kong and Donkey Kong Jr. These are his villainous actions.
Coincidentally, Mario in his first game (the original Donkey Kong) was depicted as a naughty carpenter who abused his own pet, Donkey Kong. In the prequel Game & Watch game, Donkey Kong Circus, Mario forces poor Donkey Kong to perform at the circus by juggling pineapples and dodging fireball, and even laughs at him whenever he either gets hit by a fireball or drops a pineapple.
His role just worsened in the sequel, Donkey Kong Jr. as he is actually the villain in that game.
History
Donkey Kong Circus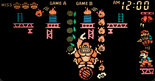 Mario appears as the main antagonist in Donkey Kong Circus. Mario is an audience member who laughs at Donkey Kong, the new attraction of the circus, whenever he drops a pineapple or gets hit by fire. In the end of the game, Mario is shown in the construction site where the first game begins.
Donkey Kong Jr. (game)
Mario went on to imprison Donkey Kong in a cage. Donkey Kong Jr. went on to try and rescue his father. Mario attempted to stop the young ape and released various types of traps mainly consisting of animals. Junior eventually did make it to his father and the two returned to Donkey Kong Island just after Donkey Kong made a shot at Stanley the Bugman's greenhouse.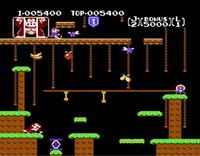 He also whipped the animals that worked for him, eventually known as Mario's slave labor. This makes him extremely evil and cruel, as he also let unnecessarily made them know who was in charge (him) his role was not better before as he abused DK before the events of Donkey Kong. Jr.
In the arcade ending, he falls down, gets up and tries to catch Donkey Kong and DK Jr. while swinging his whip, but gets kicked by DK and goes back, runs away. In the NES ending, he falls down and a halo exists over his head. He won't get up and tries to catch them.
Donkey Kong II
Since Donkey Kong II serves as a semi-sequel to Donkey Kong Jr., Mario reprises his role as the antagonist. Essentially, it contains the same story as Donkey Kong Jr.—Donkey Kong is trapped by the tricky Mario, and now the ape's son must save him.
Donkey Kong is chained to the floor in the top of the upper screen by several locks. Donkey Kong Jr. must hit a key up to the top screen and then progress through the bottom screen, jumping over Snapjaws and sparks much as Mario jumped over barrels in Donkey Kong. Every time Donkey Kong Jr. jumps over a Snapjaw or spark, he receives a point.
Gallery
Villains
Koopa Troop
Universal
Bowser | Baby Bowser | Count Koopula | Bowser Jr. | Captain Goomba | Chain Chomps | Koopalings: (Larry Koopa | Morton Koopa Jr. | Wendy O. Koopa | Iggy Koopa | Roy Koopa | Lemmy Koopa | Ludwig Von Koopa) | Kamek | Toadies | Kammy Koopa | King Boo | Goombas | Boom Boom | Pom Pom | Boos | Koopa Troopas | Hammer Bros | Reznor | Bloopers | Bob-ombs | Piranha Plants | Wigglers | Burt the Bashful | Salvo the Slime | Roger the Potted Ghost | Red & Blue Goomba | Tutankoopa | Tubba Blubba | Shy Guys | Lava Piranha | Huff N. Puff | Crystal King | Koopa Kids | Hoo | Blizzaurus | Army Hammer Bro
Super Mario 64
King Bob-omb | Whomp King | Goomba King
Galaxy armada
King Kaliente | Bugaboom | MegaBug | Peewee Piranha | Topmaniac | Bouldergeist | Dino Piranha | Major Burrows | Prince Pikante | Rollodillo | Glamdozer | Giga Lakitu | Petey Piranha | Gobblegut
Super Mario 3D World
Hisstocrat
Super Mario Odyssey
Mechawiggler | Broodals: (Topper | Harriet | Spewart | Rango) |Madame Broode | Ruined Dragon | Cookatiel | Torkdrift |
8 Bit Club
Wart | Mouser | Tryclyde | Birdo | Shy Guys
Paperverse
Koopa Troop(Paperverse)
Paper Bowser | Paper Bowser Jr. | Koopa Bros | General Guy | The Thousand Year Door
Secret Society of X-Nauts: Sir Grodus |Lord Crump |Shadow Sirens |Doopliss |Shadow Queen
Other
Hooktail |Gloomtail |
Super Paper Mario
Count Bleck's Minions: Count Bleck |Nastasia |O'Chunks |Mimi |Dimentio |Mr. LBrobot |
Other
King Croacus | Shadoo | Wracktail | Skellobits: Bonechill | Count Bleck's Father | Francis
Folded Soldiers
King Olly | Handaconda | Paper Macho Soldiers
Legion of Stationery: Colored Pencils | Rubber Band | Hole Punch | Tape | Scissors | Stapler
Other: Lamp Scam Snifit |

Smithy Gang
Smithy | Exor | Mack | Bowyer | Yaridovich | Axem Rangers | Blade | Count Down | Domino |
Mario & Luigi
Elite Trio
Beanbean Kingdom
Popple | Rookie | Beanies | Mechawful | Sharpea | Troopea | Beanerang Bro | Clumphs | Lakipea
Cackletta and Fawful's faction
Cackletta | Fawful & Dark Star (Midbus, Fawful Express, Fawful Mountain, Super Peach's Castle of Fury, Crawful, Snawful, Chain Chawful, Fawflant, Fawful Guy, Fawfulcopter, Fawflopper, Mawful Mole, Mechawful) Shroobs
Elder Princess Shroob | Princess Shroob | Sunnycide
Other
Antasma | Belome | Best Fitness Friends | Big Guy the Stilted | Black Jewel | Booster | Chuckolator | Cortez | Count Cannoli | Croco | Culex | Dodo | Donkey Kong | Donkey Kong (Mario VS Donkey Kong) | Draggadon | Foreman Spike || Gooper Blooper | Grouchy Possessor | Grubba | Harsh Possessor | Jojora | Jr. Troopa | Kaptain Skurvy | Kent C. Koopa | King K. Rool | Kritters | Lena | Lucien | Metal Mario | Mario | Mizzter Blizzard | Mollusque-Lancuer | Nabbit | Overset Possessor | Peps | Phantamanta | Portrait Ghosts: (Neville | Chauncey | Bogmire | Biff Atlas | Boolossus | Sir Weston | Vincent Van Gore) | President Koopa | Rabbids: (Phantom of the Bwahpera | Rabbid Kong) | Rawk Hawk | Ricky | Rudy the Clown | Sabasa | Shake King | Shrewd Possessor | Smorg | Squizzard | Tatanga | Three Little Pigheads | Tolstar | Tough Possessor | Tower Power Pokey | Valentina | Viruses | Waluigi | Wario | Watinga | Wingo | Yellow Belly/Helio
Comics
Bowser
Cartoon
Big Bad Wolf | "Crime Wave" Clyde | King Koopa | Robot Princess | Wizardheimer
See Also
Donkey Kong Villains | Luigi's Mansion Villains | Wario Villains