Jafar says: Read my lips and come to grips with the reality!


This article is a stub and is in need of expansion. You can help Villains Wiki by expanding it.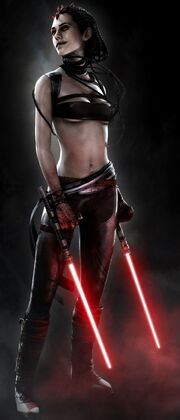 "
I've seen her kind before. A young Jedi who turned to the dark side, corrupted and evil, murderous… You shouldn't have let her go free."

"You really think she's free? She'll carry the memory of what she's done here forever.

"
~ Bail Organa and Galen Marek.
Maris Brood is a minor villain in the video game Star Wars: The Force Unleashed. She is Master Shaak Ti's apprentice when Starkiller first arrives on Felucia to kill her. When Galen Marek visited the planet for the first time, Ti denied Brood to confront him, sending her ito the rancor graveyard, despite Brood's protestations. A year later, she is still on Felucia, but has fallen to the Dark Side and is holding Senator Bail Organa hostage. After confronting Starkiller, she sets her "pet" bull rancor on him, then duels him in a ferocious lightsaber duel. Before Starkiller is about to kill her, Maris apparently shows remorse and begs Starkiller to spare her life. Starkiller relents and lets Maris go free.
Maris is the boss battle during the mission to Felucia in Chapter Two of The Force Unleashed. She wielded a red guard during her time in Felucia, and used them against Galen when he confronted her.
Community content is available under
CC-BY-SA
unless otherwise noted.