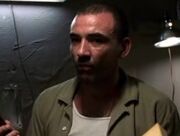 | | | |
| --- | --- | --- |
| " | You can't take your eyes off me. Truth is, without me, you wouldn't exist. I'm the Un-You. | " |
| | ~ Bruner taunting Jack McCoy | |
Mark Bruner is the main antagonist in the Law & Order episode "Bodies". He is a serial killer of teenage girls who puts his own lawyer in legal jeopardy by showing him the location of his victims.
He is portrayed by Ritchie Coster, who also portrayed Dietrich Banning in The Tuxedo, The Chechen in The Dark Knight, and Pope in The Walking Dead.
Biography
Bruner is a cab driver who, over the span of a few years, brutally raped and murdered over a dozen teenage girls, and kept their bodies in a secure location where he would go to admire them as he left them out to rot. He took sadistic amusement in the suffering his victims' families, as well as in ruining his lawyer's career. He is so sadistic and cruel that even his first legal aid attorney, who has spent her career defending violent criminals, is afraid of him.
He believes that killing gives him Godlike power, and that he is the reason for the very existence of those who seek to bring him to justice. He is so obsessed with keeping his secret that he won't even reveal it when DA Jack McCoy threatens him with the death penalty.
At the end of the episode, he is found guilty of the murders, and is presumably sentenced to death.
External links