We're Getting Mutants in the MCU - The Loop
Play Sound
This article's content is marked as Mature
The page Mature contains mature content that may include coarse language, sexual references, and/or graphic violent images which may be disturbing to some. Mature pages are recommended for those who are 18 years of age and older.


If you are 18 years or older or are comfortable with graphic material, you are free to view this page. Otherwise, you should close this page and view another page.



Click to help Cruella!

This scum Mark Purayah II is driving Cruella insane!
IT MUST BE REWRITTEN OR ADDED TO!!
So sayeth the great Lord of Darkness Sauron, or he will send Darth Vader to terminate you.

Help improve this article by rewriting, expanding, updating the poorly written text of the article. ✓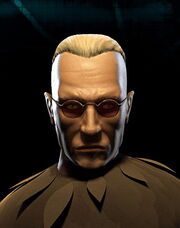 Mark Purayah II is a major antagonist in Hitman: Blood Money. He is the second Albino clone, superceding an unseen Mark I, and superceded by Mark Parchezzi III. He works for The Franchise, which is an rival agency to ICA (Ineternational Contract Agency). He is one of the villains in Hitman Blood Money. Mark Purayah have white hair, red eyes and needs to use special sunglasses, due to his albinsm. However he seems to look like a healthy human being.
Special abilities
He is hypersensitive, adaptive, determined, focused and better equipped both physically and mentally compared to a normal human. Beside that he is strong and fast and lets nothing stand in his way to make a perfect kill.
Weakness
The only weakness that he suffers, is that he can only live in 2 years after his creation. The Alpha Zero's cloning program was not as good as Ort-Meyer's. Their clones would grow to mature within 2 months, but would then only live 18 months befor dying.
Hitman Blood Money
Mark Purayah is only shown once, he was present in the level The Murder of Crows, leading the group named The Crows. He worked with two other assassins ready to get the payment, and give the order to assassinate the Secretary of the Interior and a major supporter of US President. To cover up the assassination attempt, they are all diguised as birds, during the Mardi Grass parade in New Orleans. He eventually got killed by Agent 47, along with his fellow assassins.
Trivia
As a clone, Mark Purayah was only a year old when 47 killed him.
He is less skilled than his successor, Mark Parchezzi III.
He holds no particular interest in killing Agent 47, and doesn't seem to recognize him.
He and Mark Parchezzi III, are probably inspired by Silas, the albino assassin from Da Vinci Code.