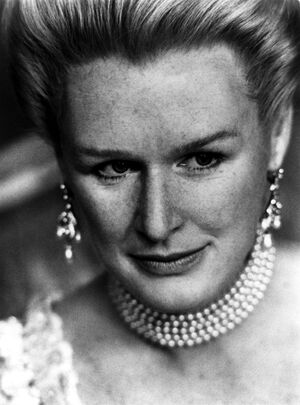 | | | |
| --- | --- | --- |
| " | When I came out into society, I was fifteen. I already knew that the role I was condemned to, namely to keep quiet and do what I was told, gave me the perfect opportunity to listen and observe. Not to what people told me, which naturally was of no interest, but to whatever it was they were trying to hide. I practiced detachment. I learned how to look cheerful while, under the table, I stuck a fork into the back of my hand. I became a virtuoso of deceit. It wasn't pleasure I was after, it was knowledge. I consulted the strictest moralists to learn how to appear, philosophers to find out what to think, and novelists to see what I could get away with. And in the end, I distilled everything to one wonderfully simple principle: win or die. | " |
| | ~ The Marquise explaining her philosophy | |
Marquise Isabelle de Merteuil is the main antagonist of the 1782 French epistolary novel Les Liaisons dangereuses by the late Pierre Choderlos de Laclos, and its 1988 film adaptation Dangerous Liaisons. She is a married noblewoman who seeks revenge against her lover, who left her to marry 15-year-old Cecile de Volanges. To that end, she hatches a plan with the equally amoral Vicomte de Valmont; he will seduce Cecile and ruin her reputation, thus punishing the Marquise's former lover and destroying her competition. 
In the 1988 film adaptation, she was portrayed by Glenn Close, who also played Alex Forrest in Fatal Attraction, Cruella De Vil in the 1996 live action film adaptation of 101 Dalmatians, and Dr. Caroline Caldwell in The Girl With All the Gifts.
Biography
She and Valmont, a notorious womanizer, were once lovers. She enlists Valmont to sleep with Cecile, and he agrees, on two conditions: the marquise must sleep with him as well, and arrange for him to sleep with her house guest, the chaste Madame de Tourvel. When de Tourvel rebuffs his advances, Valmont rapes Cecile. She naively confides in the Marquise, who manipulates her further by advising her to accept Valmont as a lover in order to take what she can get from a society that hates women. Cecile takes her advice and becomes Valmont's lover, even though she is in love with her music teacher, Danceny. The Marquise furthers her scheme by seducing Danceny, as well. 
Eventually, Valmont seduces Madame de Tourvel - and, much to his own surprise, develops genuine feelings for her. Angry and jealous, the Marquise refuses to honor her end of the deal. Meanwhile, Cecile tells Valmont that she is pregnant with his child, but soon has a miscarriage. When Madame de Tourvel learns what has happened, she rejects Valmont and flees to a monastery, where she falls deathly ill. When Danceny learns that Valmont and Cecile were lovers, he challenges him to a duel and mortally wounds him. With his dying breath, Valmont pledges his love to Madame de Tourvel, who is herself dying, and gives Danceny his correspondence with the Marquise, revealing her plot. The Marquise is humiliated and ostracized by her former friends in high society, forcing her to flee Paris in disgrace.
Gallery
Trivia
The character Kathryn Mertueli of the 1999 film Cruel Intentions is based on the Marquise.
Community content is available under
CC-BY-SA
unless otherwise noted.