| | | |
| --- | --- | --- |
| " | No one would have believed, in the last years of the nineteenth century, that human affairs were being watched from the timeless worlds of space. No one could have dreamed we were being scrutinized, as someone with a microscope studies creatures that swarm and multiply in a drop of water. Few men even considered the possibility of life on other planets and yet, across the gulf of space, minds immeasurably superior to ours regarded this Earth with envious eyes, and slowly and surely, they drew their plans against us. | " |
| | ~ H. G. Wells, The War of the Worlds. | |
The Martians are the primary antagonists of H. G. Wells' classic 1898 science fiction novel The War of the Worlds and its various adaptations, including the 1953 film by the late Byron Haskin, the 2005 film by Steven Speilberg, Jeff Wayne's musical version, the radio drama narrated by the late Orson Welles, and numerous other works.
They were a race of extraterrestrials from the planet Mars armed with a vast intellect and advanced weaponry far beyond that of humanity. They had the goal of invading and taking over the planet Earth and exterminating the human race. They very nearly succeeded, but were famously defeated by the common cold, a virus that while relatively harmless to humans seems to be fatal to the Martians.
They were all portrayed by the late Charles Gemora in the 1953 film, and Joe Duffy (with Dee Bradley Baker providing their vocal sound effects) in the 2005 film.
Origins
The Martians originate from the planet Mars, a planet long rumored to host life but dismissed by scientists - as they said "the chances of anything coming from Mars are a million to one", but the scientists were wrong and Mars was indeed populated - by alien beings that looked upon their closest neighbor (Earth) with envy and began to plot against the creatures that inhabited it.
Personality
Ruthless and beyond reason, the Martians were depicted as much a force of nature as alien invaders and had obviously been preparing their assault for years as they easily decimated the nations of the world and were virtually unstoppable until they became ill- the Martians hid most of the time inside their fearsome war-machines and did not communicate with humanity outside of merciless killing and thus they were probably xenophobic or simply so advanced they viewed humans as unworthy of communicating with.
However, they were extremely intelligent masters of war and seemed to have a master plan on a greater scale than they ultimately achieved - it is possible that (had they not caught the common cold) they could have wiped humanity out and begun a search for other worlds to take over.
Motivations
Although it is never specifically stated why the Martians attacked Earth in the story, it is suggested that they were envious of humanity and the Earth itself, which was full of life - in stark contrast to the barren wasteland that is Mars. Also, due to their highly-advanced intelligence and warlike nature, it is possible the Martians deemed humanity unworthy of the planet and decided to take it over for themselves.
Another reason for the invasion, which is explored more in the book than the original film, is that the Martians were also vampiric in nature and were harvesting humans for their blood (this theme was somewhat explored in the most recent version of the movie).
A third possible reason for their invasion is speculated that Mars was becoming no longer habitable to Martians so they had to migrate to the nearby planet very fast.
Tripods
The fighting-machine, also referred to as a tripod, is the main war machine employed by the Martians in their attempt to conquer Earth.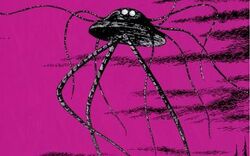 The fighting-machines are assembled in the Martian pits by handling-machines before activation and each tripod possesses an unspecified number of tentacles, one of which can retract into the tripod when its primary weapon, the Heat-Ray, is not in use. The tentacles are also able to hold a Magnetic Acceleration Cannon. Tentacles were also used in the novel to pick up people, throw them at objects, and even rip up small trees, indicating a high degree of strength and precision.
The head is described as a "brazen" hood that holds the Martian pilot. Whether "brazen" here refers to the hood being made of a brass-like substance, or its attitude is uncertain. The head can turn in any direction. The tripod as a whole appears as if it is made from a substance similar to aluminum.
The martian tripod is also composed of a segment known as the "body", for which there are few details. The body apparently contains a jet, which can fire pressurized steam in order to dissipate black smoke. This steam is capable of breaking glass, and would surely cause a nasty burn, but is not shown in use as a weapon. There are also three legs. The novel never shows tripod legs being used to injure anyone directly, although this is a common occurrence in later works.

Villains
Animated Features
Beavis and Butt-head | Dallas Grimes | Muddy Grimes | Principal McVicker | Angelica Pickles | Eric Cartman | Saddam Hussein | Sheila Broflovski | Satan | Mr. Garrison | Chef | Randy Marsh | Shelly Marsh | Gerald Broflovski | Angelica Pickles | Coco LaBouche | Jean-Claude | King Goobot | Ooblar | Poultra | Alphonse Perrier du von Scheck | Nick Vermicelli | Big Bob Pataki | Sloan Blackburn | Bree Blackburn | Poachers | Siri | Sheldon Plankton | Karen Plankton | Mr. Krabs | Dennis | Cyclops | Victor | Boat Jacker | The Thug Tug Gang | Film Actor's Guild (Alec Baldwin | Kim Jong-il) | Dag | Nora Beady | Coyotes | Tortoise John | Rattlesnake Jake | Bad Bill | Hawk | Balthazar Douglas Peterson | Maybelle | Ivan Ivanovitch Sakharine | Sakharine's Pirates (Allan | Tom | Pedro) | Falcon | Aristides Silk | Red Rackham | Burger-Beard | Chimpanzombies | Ed Bighead | King Poseidon | El Diablo
Live Action Films
Emilio Barzini | Michael Corleone | Vito Corleone | Sonny Corleone | Fredo Corleone | Mr. Firat | Assassins (Moras) | Jason Voorhees | Bluto | Vermithrax Pejorative | Tyrian | Adolf Hitler | René Belloq | Major Arnold Ernst Toht | Herman Dietrich | Gobler | German Mechanic | Otto | Satipo | Barranca | Mola Ram | Chief Guard | Chattar Lal | Lao Che | Victor Maitland | Curly Shepard | Tim Shepard | Texan Thugs | Maxwell Dent | Karla Fry | Walter Donovan | Elsa Schneider | Ernst Vogel | Panama Hat | Garth | Mr. Curran | Ellis De Wald | Orrin Sanderson | Steve Fulbright | Marion Hawthorne | Agatha K. Plummer | Jim Phelps | Franz Krieger | Max Mitsopolis | Claire Phelps | Matthias | Kurt Bozwell | Troy and Griffin | Roxanne | Cal Hockley | Spicer Lovejoy | Ruth DeWitt Bukater | Christof | Lady Van Tassel | Headless Horseman | Harold Attinger | James Savoy | Lockdown | Commander Santos | Quintessa | Reverend Steenwyck | Sean Ambrose | Hugh Stamp | John C. McCloy | Wallis | Ulrich | Michael | Simon | Henry Gates | Richard and Jay | Count Olaf | Hook-Handed Man | Henchperson of Indeterminate Gender | Bald Man | White-Faced Women | Martians | Owen Davian | John Musgrave | Brownway | Kimbrough | Ramses | Brooks & Elwyn | Grendel | Grendel's Mother | Dragon | Clover | Parasites | Irina Spalko | Antonin Dovchenko | Mulgarath | Red Cap | Goblins | Mole Troll | Jason Voorhees | Jake | Max | Cobra Commander | Destro | Storm Shadow | Baroness | Zartan | General Zhao | Fire Nation (Fire Lord Ozai, Zuko & Azula) | Kurt Hendricks | Marius Wistrom | Megatron | Decepticons (Starscream, Barricade, Frenzy, Blackout, Scorponok, Bonecrusher, Brawl & Dispensor) | The Fallen | Decepticons (Soundwave, Sideways, Grindor, Ravage, Alice & Scalpel) | Constructicons/Devastator (Demolishor, Rampage, Long Haul, Mixmaster, Scrapper & Scavenger) | Theodore Galloway | Sentinel Prime | Sabine Moreau | Brij Nath | Bogdan Anasenko | Firefly (G.I. Joe Film Series)\Firefly | Shredder | Foot Clan (Eric Sacks, Karai) | The Syndicate (Solomon Lane, Janik Vinter, Kagan, Saif, Richter & Atlee) | Krang | Baxter Stockman | Bebop and Rocksteady | Reece Tenneson | Burke | Monsters | August Walker | White Widow | Zola Mitsopolis | Nils Debruuk | Alejandro Gutierrez | Swiper | Powell | Viper | Christina X | Dr. Robotnik | Agent Stone | Pachacamac | Echidna Tribe
See Also
Avatar Villains | Beavis and Butt-Head Villains | Beverly Hills Cop Villains | Clone High Villains | Danny Phantom Villains | DreamWorks Villains | G.I Joe Villains | Henry Danger Villains | Indiana Jones Villains | Invader Zim Villains | Jimmy Neurton Villains | Lemony Snicket Villains | Mission Impossible Villains | Nickelodeon Villains | Nickelodeon Movies Villains | Sonic Villains | South Park Villains | SpongeBob Squarepants Villains | Star Trek Villains | The Fairly OddParents Villains | The Godfather Villains | TMNT Villains | Transformers Villains | Transformers Cinematic Universe Villains | XXX Villains

Villains
Community content is available under
CC-BY-SA
unless otherwise noted.