| | | |
| --- | --- | --- |
| " | No one would have believed, in the last years of the nineteenth century, that human affairs were being watched from the timeless worlds of space. No one could have dreamed we were being scrutinized, as someone with a microscope studies creatures that swarm and multiply in a drop of water. Few men even considered the possibility of life on other planets and yet, across the gulf of space, minds immeasurably superior to ours regarded this Earth with envious eyes, and slowly and surely, they drew their plans against us. | " |
| | ~ H. G. Wells, The War of the Worlds. | |
The Martians are the primary antagonists of H. G. Wells' classic 1898 science fiction novel The War of the Worlds and its various adaptations, including the 1953 film by the late Byron Haskin, the 2005 film by Steven Speilberg, Jeff Wayne's musical version, the radio drama narrated by the late Orson Welles, and numerous other works.
They were a race of extraterrestrials from the planet Mars armed with a vast intellect and advanced weaponry far beyond that of humanity. They had the goal of invading and taking over the planet Earth and exterminating the human race. They very nearly succeeded, but were famously defeated by the common cold, a virus that while relatively harmless to humans seems to be fatal to the Martians.
They were all portrayed by the late Charles Gemora in the 1953 film, and Joe Duffy (with Dee Bradley Baker providing their vocal sound effects) in the 2005 film.
Origins
The Martians originate from the planet Mars, a planet long rumored to host life but dismissed by scientists - as they said "the chances of anything coming from Mars are a million to one", but the scientists were wrong and Mars was indeed populated - by alien beings that looked upon their closest neighbor (Earth) with envy and began to plot against the creatures that inhabited it.
Personality
Ruthless and beyond reason, the Martians were depicted as much a force of nature as alien invaders and had obviously been preparing their assault for years as they easily decimated the nations of the world and were virtually unstoppable until they became ill- the Martians hid most of the time inside their fearsome war-machines and did not communicate with humanity outside of merciless killing and thus they were probably xenophobic or simply so advanced they viewed humans as unworthy of communicating with.
However, they were extremely intelligent masters of war and seemed to have a master plan on a greater scale than they ultimately achieved - it is possible that (had they not caught the common cold) they could have wiped humanity out and begun a search for other worlds to take over.
Motivations
Although it is never specifically stated why the Martians attacked Earth in the story, it is suggested that they were envious of humanity and the Earth itself, which was full of life - in stark contrast to the barren wasteland that is Mars. Also, due to their highly-advanced intelligence and warlike nature, it is possible the Martians deemed humanity unworthy of the planet and decided to take it over for themselves.
Another reason for the invasion, which is explored more in the book than the original film, is that the Martians were also vampiric in nature and were harvesting humans for their blood (this theme was somewhat explored in the most recent version of the movie).
A third possible reason for their invasion is speculated that Mars was becoming no longer habitable to Martians so they had to migrate to the nearby planet very fast.
Tripods
The fighting-machine, also referred to as a tripod, is the main war machine employed by the Martians in their attempt to conquer Earth.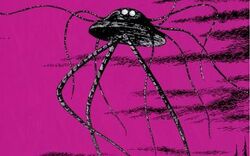 The fighting-machines are assembled in the Martian pits by handling-machines before activation and each tripod possesses an unspecified number of tentacles, one of which can retract into the tripod when its primary weapon, the Heat-Ray, is not in use. The tentacles are also able to hold a Magnetic Acceleration Cannon. Tentacles were also used in the novel to pick up people, throw them at objects, and even rip up small trees, indicating a high degree of strength and precision.
The head is described as a "brazen" hood that holds the Martian pilot. Whether "brazen" here refers to the hood being made of a brass-like substance, or its attitude is uncertain. The head can turn in any direction. The tripod as a whole appears as if it is made from a substance similar to aluminum.
The martian tripod is also composed of a segment known as the "body", for which there are few details. The body apparently contains a jet, which can fire pressurized steam in order to dissipate black smoke. This steam is capable of breaking glass, and would surely cause a nasty burn, but is not shown in use as a weapon. There are also three legs. The novel never shows tripod legs being used to injure anyone directly, although this is a common occurrence in later works.

Villains
Animated Features
General Mandible | Colonel Cutter | Pharaoh Rameses | Hotep and Huy | Pharaoh Seti I | Egyptian Guard | Tzekel-Kan | Hernán Cortés | Melisha Tweedy | Willard Tweedy | Lord Farquaad | Thelonious | George Armstrong Custer | Roy, Bill, Jake, Pete and Joe | Eris | Cetus | Roc | Fairy Godmother | Prince Charming | Trees | Don Lino | Lola | Sharks (Frankie) | Luca | Fossas | Nana | Victor Quartermaine | Philip | Vincent | Gladys Sharp | Dwayne LaFontant | The Toad | Le Frog | Spike & Whitey | Thimblenose Ted | Fat Barry | Ladykiller | Henchfrogs | Rapunzel | James Hook | Evil Queen | Headless Horseman | Layton T. Montgomery | Ken | Tai Lung | Makunga | Teetsi | Tour Guide | Poachers | Gallaxhar | Robot Probes | Red Death | Rumpelstiltskin | Fifi | Pied Piper | Megamind | Minion | Tighten | Lord Shen | Lord Shen's Wolf Army (Boss Wolf) | Jack & Jill | Humpty Alexander Dumpty | Chantel DuBois | DuBois' Men | Pitch Black | Nightmares | Guy Gagné | Ms. Grunion | Ay | Drago Bludvist | Drago's Army (Drago's Bewilderbeast & Eret) | Dave | Octopi | Captain Smek | The Boov (Officer Kyle) | Kai the Collector | Chef | Creek | King Gristle Sr. | Francis E. Francis | Eugene Francis | Professor Poopypants | Benjamin Krupp | Melvin Sneedly | Turbo Toilet 2000 | Tara Ribble | Talking Toilets | Bank Robbers | Grimmel the Grisly | Deathgrippers | Warlords | Dr. Zara | Burnish | Goon Leader | Queen Barb | Rock Trolls | The K-Pop Gang | Reggaeton Trolls | Spiny Mandrilla | Punch Monkeys
Live-Action Movies
The Mouse | Major Chip Hazard | Commando Elite (Butch Meathook, Nick Nitro, Brick Bazooka, Vasquez & Gwendy Dolls) | Gil Mars | General Roth'h'ar Sarris | Commodus | Genus | Lamar Burgess | Connor Rooney | Harlen Maguire | Dietrich Banning | Sadako Yamamura | Ocean Entity | Dean Gordon Pritchard | Larry Quinn | Donny | Dr. Bernard Merrick | Jackson Rippner | Norbit's Parents | Rasputia Latimore | Big Black Jack Latimore | Blue Latimore | Earl Latimore | Deion Hughes | Buster Perkin | Robert Turner | Assef | Megatron | Decepticons (Starscream, Barricade, Frenzy, Blackout, Scorponok, Bonecrusher, Brawl & Dispensor) | Sweeney Todd | Nellie Lovett | Judge Turpin | Beadle Bamford | Jonas Fogg | Adolfo Pirelli | ARIIA | The Fallen | Decepticons (Soundwave, Sideways, Grindor, Ravage, Alice & Scalpel) | Constructicons/Devastator (Demolishor, Rampage, Long Haul, Mixmaster, Scrapper & Scavenger) | Theodore Galloway | Hilly Holbrook | Julian Assange | Dino Brewster
Shorts, Television and Video Games
Mr. Chew | Tour Guide | King Fossa | Boneknapper | Wu Sisters | Le Chuchoteur | Fearless Leader | Boris Badenov | Natasha Fatale | Arachne | Snidely Whiplash | Doom Syndicate (Psycho Delic) | Dr. Blowhole | Coverton | Sta'abi | D-Structs | Skrap-It | Splitter | Blayde | Pounder | D-Stroy | Goldtrux | Emperor Zarkon | Galra Empire (Prince Lotor, Haggar, Sendak & Lotor's Generals) | Bloodwolf | The Splotch | Socktopus | Theodore Murdsly | Smartsy Fartsy | Melvinborg | Teachertrons | Croco-bats | Butt-erflies | Dr. Disgruntled | Odlulu | Hordak | The Horde (Catra, Shadow Weaver, Scorpia & Double Trouble) | Horde Prime | Galactic Horde | Light Hope | First Ones | Scarlemagne | Mod Frogs (Jamack, Mrs. Satori | Newton Wolves (Bad Billions and Good Billions) | Scooter Skunks | Humming Bombers | Tad Mulholand | Fun Gus | Human Resistance (Dr. Emilia, Greta, Zane) | Toro | Indominus rex | Henry Wu | Eddie | Mantah Corp | Mitch & Tiff
See Also
Aardman Villains | How to Train Your Dragon Villains | Jurassic Park Villains | Kung Fu Panda Villains | Madagascar Villains | Shrek Villains | Sweeney Todd Villains | Tales of Arcadia Villains | Transformers Cinematic Universe Villains | Wallace and Gromit Villains
Community content is available under
CC-BY-SA
unless otherwise noted.