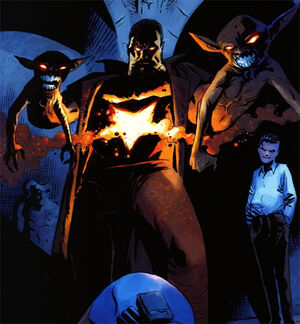 Master Pandemonium is a supervillain in the Marvel comics.
History
He was originally an actor who lost an arm in a car crash, and made a pact with Mephisto to regain his limb. Mephisto instead took the man's other three limbs, then replaced them all with demonic grafts.
He was also given a hole in his chest in the shape of an inverted five-pointed star, and the ability to survive despite this hole in his chest.
He was also given the ability to command the demons inside him.

vengers Villains
Comics
Abomination | Abominatrix | Absorbing Man | Adolf Hitler | Agony | A.I.M. | Air-Walker | Alkhema | Aleksander Lukin | Alistair Smythe | Amatsu-Mikaboshi | Amora | Annihilus | Ani-Men | Answer | Apocalypse | Arcade | Ares | Arkon | Arnim Zola | Atlas | Attuma | Avalanche | Awesome Android | Badoon | Barracuda | Baron Blood | Baron Mordo | Baron Wolfgang Von Strucker | Baron Zemo | Baron Zemo II | Basilisk | Batroc | Beetle | Beyonder | Black Knight | Blackout | Black Order | Black Cat | Black Talon | Black Widow | Blackie Drago | Blastaar | Blitzkrieg | Blizzard | Blob | Blood Brothers | Bombshell | Boomerang | Brothers Grimm | Brotherhood of Evil Mutants | Bullseye | Burglar | Bushmaster | Bushwacker | Cache | Carnage | Carrion | Calypso | Celestials | Centurion | Chameleon | Chance | Chemistro | Chester Goudal | Chitauri | Circus of Crime | Collector | Colonel Ross Whittaker | Commander Kraken | Constrictor | Corruptor | Count Nefaria | Cowled Commander | Crime-Master | Crimson Dynamo | Cristu Bulat | Crossbones | Crossfire | Cutthroat | Daken | Damage | Dark Avengers | Dark Elves | Deadpool | Deathbird | Deathurge | Death Adder | Deke Wainscroft | Demogoblin | Diablo | Doctor Doom | Doctor Faustus | Doctor Octopus | Doctor Spectrum | Dormammu | Dracula | Dreadknight | Eddie Brock | Eel | Egghead | Ego the Living Planet | Electro | Elementals | Elements of Doom | Enclave | Enforcers | Equinox | Exodus | Ezekiel Stane | Fabian Cortez | Famine | Fin Fang Foom | Finn Cooley | Firelord | Fixer | Frost | Frost Giants | Frightful Four | Galactus | Gargantus | Garthan Saal | Ghost | Goliath | Gog | Gladiator | Godzilla | Grand Director | Grandmaster | Grant Ward | Graviton | Green Goblin | Harry Osborn | Grey Goblin | Griffin | Grim Reaper | Grizzly | Growing Man | Grotesk | Hammerhead | Hand | Hazmat | Hela | Hera | Herr Kleiser | Heinz Kruger | High Evolutionary | Hitman | Horsemen of Apocalypse | Hobgoblin | Hydro-Man | HYDRA | Immortus | Ironclad | Jackal | Jack O' Lantern | Jester | Jigsaw | Johnny Ohm | Jonas Hambleton | Juggernaut | Justin Hammer | Kaine | Kangaroo | Kang the Conqueror | Killer Shrike | King Cobra | Kingpin | Klaw | Knull | Korvac | Kraven the Hunter | Kree | Lady Deathstrike | Leader | Lightmaster | Living Brain | Living Laser | Living Monolith | Lizard | Loki Laufeyson | Lucia Von Bardas | Ma Gnucci | Machinesmith | Mad Pharaoh | Madame Masque | Madame Viper | Madcap | Madelyne Pryor | Maelstrom | Maginty | Magneto | Magus | Malekith the Accursed | Man-Ape | Mandarin | Mandrill | Man-Spider | Man-Wolf | Master Man | Master Pandemonium | Masters of Evil | Masked Marauder | Maximus the Mad | Melter | Menace | Mentallo | Mercurio the 4-D Man | Mesmero | Mephisto | Mister Fear | Mister Hyde | Mister Negative | Mister Payback | Mister Sinister | M.O.D.A.M. | M.O.D.O.K. | Mojo | Molecule Man | Mole Man | Molten Man | Moonstone | Morbius the Living Vampire | Morgan Le Fay | Moses Magnum | Mystique | Mysterio | Namor | Nebula | Nekra | Nicky Cavella | Nightmare | Nightshade | Niles Van Roekel | Nicky Cavella | Obadiah Stane | Omega Red | Onslaught | Overdrive | Owl | Paladin | Phalanx | Phil Urich | Piledriver | Pluto | Presence | Princess Python | Proctor | Psycho-Man | Puppet Master | Puma | Purple Man | Quasimodo | Quicksand | Radioactive Man | Ragnarok | Ramrod | Reavers | Red Ghost | Red Skull | Reverend Samuel Smith | Rhino | Rhino II | The Rose | Ringer | Ringmaster | Riot | Ronan the Accuser | Roxxon | Sabretooth | Sandman | Säurespritze | Sauron | Savage Land Mutates | Scarecrow | Scarlet Witch | Scorcher | Scorpion | Screaming Mimi | Sebastian Shaw | Secret Empire | Selene Gallio | Sentinels | Sentry 459 | Serpent Society | Shriek | Shocker | Shockwave | Sidewinder | Silver Sable | Sin | Sinister Six | Skaar | Skeleton Crew | Skrulls | Slug | Space Phantom | Speed Demon | Spidercide | Spider-Man Revenge Squad | Spider-Slayers | Spot | Squadron Sinister | Stilt-Man | Stranger | Street | Superia | Super-Adaptoid | Super-Apes | Super Patriot | Super-Skrull | Supreme Intelligence | Superia | Surtur | Swarm | Swordsman | Symbiotes | Tarantula | Taskmaster | Technovore | Temugin | Ten Rings | Terminus | Thanos | Thunderball | Thunderbolts | Thunderbolt Ross | Thundersword | Tiger Shark | Tinkerer | Titania | Titanium Man | Toad | Tombstone | Trapster | Trick Shot | Terrax the Tamer | Typhoid Mary | Tyrannus | U-Foes | Ulik | Ultron | Unicorn | Universal Church of Truth | Vapor | Vector | Venom | Vermin | Vulture | Walrus | Warlord Krang | Whiplash | Whirlwind | White Rabbit | Will-O'-The-Wisp | Winter Soldier | Wizard | Wonder Man | Wrecker | Worthy | X-Ray | Yellow Claw | Ymir | Yon-Rogg | Zahnmörder | Zodiac | Zzzax
Movies
The Avengers: Loki Laufeyson | Chitauri (The Other & Leviathans) | HYDRA (Gideon Malick & Jasper Sitwell) | Georgi Luchkov | Thanos
Avengers: Age of Ultron: Ultron | Ultron Sentinels | HYDRA (Wolfgang von Strucker, List, Scarlet Witch & Quicksilver) | Ulysses Klaue | Madame B | Chitauri (Leviathans) | Thanos
Avengers: Infinity War: Thanos | Black Order (Ebony Maw, Proxima Midnight, Corvus Glaive, Cull Obsidian & Nebula) | Outriders | Chitauri (Leviathans) | Red Skull | The Collector | Loki Laufeyson | Winter Soldier | Scarlet Witch | Thunderbolt Ross
Avengers: Endgame: Thanos | Black Order (Ebony Maw, Proxima Midnight, Corvus Glaive, Cull Obsidian & Nebula) | Outriders | Sakaaran Mercenaries | Chitauri (Leviathans) | HYDRA/STRIKE (Red Skull, Alexander Pierce, Crossbones, Jasper Sitwell & Jack Rollins) | Loki Laufeyson | Winter Soldier | Scarlet Witch | Dark Elves | Thunderbolt Ross | Akihiko