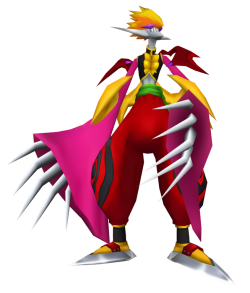 Matadormon is one of the villains and generals of the Bagra Army in Digimon Fusion. He is Tactimon's servant.
Biography
Digimon Fusion
Matadormon first appeared when Akari won a baking contest against WaruMonzaemon. Matadormon told his WaruMonzaemon, and most of army of Monzaemon to form into, GigaWaruMonzaemon. After his Monzaemon army is defeated, Matadormon sent the Xros Heart into an underground cave where Brakedramon the ultimate weapon awaits. He was ultimately killed along with Breakdramon by Shoutmon X5 and the Raremon reverted back to the Sweet Zone citizens.
Appearance
Matadormon is an Ultimate Level Digimon that looks like a sage with knives for a face, fingers, and shoes.
Attacks
Thousand Arrow
Burudoggu
Chouzetsu Rappashū
Members of Matadormon's Army
Gallery
Trivia
Matadormon can Digivolve into (with the help of Mummymon) Beelzemon.

He can also Digivolve into GranDracmon.

Matadormon's prievous Digimon form is Sangloupmon.
Community content is available under
CC-BY-SA
unless otherwise noted.