| | | |
| --- | --- | --- |
| " | What did curiosity do to the cat? | " |
| | ~ Max Shreck's most famous quote to Selina Kyle after she discovered his true intentions. | |
| | | |
| --- | --- | --- |
| " | I'm the light of the city. I'm its mean, twisted soul. Does it matter who's Mayor? | " |
| | ~ Max Shreck (about being Gotham City's 2-faced spirit), to Bruce Wayne. | |
Maximillian "Max" Shreck is the secondary antagonist of Tim Burton's 1992 superhero film Batman Returns. He serves as Selina Kyle's ruthless boss and an unusual ally to the Penguin.
He was portrayed by the Academy Award winning actor Christopher Walken, who also played Max Zorin in A View to a Kill, Frank White in King of New York, Vincenzo Coccotti in True Romance, the Headless Horseman in Sleepy Hollow, Detective Vince Magnotta in Ripper, Cornelius Hatcher in The Rundown and King Louie in the 2016 version of Disney's The Jungle Book. 
History
Max Shreck is the richest, most powerful man in Gotham City, and presents himself as a philanthropist and friend of the poor. Beneath this facade, however, he is shown to be ruthless, greedy and power-hungry, and is secretly planning to construct a power plant that will act as a capacitor and put him in control of the city's power supply.
He is also a slumlord, deliberately making his buildings unsafe by cutting costs, and runs a chemical plant that pumps toxic waste in the city's water supply. He also murdered his business partner Fred Atkins, and bullies and terrorizes his timid secretary Selina Kyle.
When Selina discovers the true purpose of his power plant, he pushes her out of his office window; she survives. However, she reinvents herself as Catwoman, and dedicates herself to robbing Max's businesses and eventually killing him.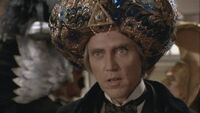 One night, he is kidnapped by the Red Triangle Circus Gang and brought before their leader, The Penguin, who uses proof of his many crimes to blackmail Max into helping him take over Gotham City. To that end, Max bankrolls the Penguin's mayoral campaign, planning to use him as a puppet to control Gotham himself. Their is also another wants to do a recall election mayoral election, if Penguin is the Mayor he can approve Max's plan to build his Power Plant, since the current Mayor turned it down. 
When Batman plays a recording of the Penguin's true plans for Gotham — to "play this stinking city like a harp from hell" — the citizens of Gotham turn against the crime lord (now seeing him for what he really is), and Max turns his back on his former ally.
That night, Max throws a charity costume ball for Gotham's wealthy elite. The Penguin, flanked by his goons, crash the party and announces that he is going to kill Gotham's first-born sons, starting with Shreck's son Chip. In a rare display of humanity, Max begs the Penguin to spare his son and take him instead.
The Penguin agrees, and takes Max hostage in his lair in Gotham's sewer. Max escapes, but Catwoman arrives and takes him prisoner, intent on killing him. Batman, having defeated the Penguin, stops her and pleads with her to turn Max in to the police. Catwoman refuses, however, and attacks Max, who shoots her several times, but doesn't kill her. Catwoman then puts a taser in her mouth and kisses Max, electrocuting him. After the smoke clears, Batman finds Max's charred corpse, but Catwoman is nowhere to be seen — implying that she survived.
Quotes
| | | |
| --- | --- | --- |
| " | I wish I could hand out world peace and unconditional love, wrapped in a big bow. | " |
| | ~ Max Shreck to the people of Gotham City. | |
| | | |
| --- | --- | --- |
| " | Power surplus? Bruce, shame on you. No such thing. One can never have too much power. If my life has a meaning, that's the meaning. | " |
| | ~ Max Shreck to Bruce. | |
| | | |
| --- | --- | --- |
| " | Mayors come and go. Blue bloods tire easy. You think you can go fifteen rounds with Muhammad Shreck? | " |
| | ~ Max Shreck, to Bruce Wayne. | |
| | | |
| --- | --- | --- |
| " | Crime boss? Shows what you know, Mr. To-the-Manor-Born-with-a-Silver-Spoon. Oswald is Gotham's new golden boy. If his parents hadn't eighty-sixed him, you two might've been bunkies at prep school! | " |
| | ~ Max Shreck to Bruce Wayne. | |
| | | |
| --- | --- | --- |
| " | Women. Nothing surprises me, Chip, except your late mother. Who woulda thought Selina had a brain to damage? Bottom line—she tries to blackmail me, I'll throw her out a higher window. Meantime, I got bigger fish to fry! | " |
| | ~ Max, to Chip, after Selina returns to work. | |
| | | |
| --- | --- | --- |
| " | Ingenious costume. Let me guess — trust fund goody-goody? | " |
| | ~ Max, to Bruce, at his costume party | |
| | | |
| --- | --- | --- |
| " | I'm the one you want. Ask yourself — isn't it Max Shreck who manipulated and betrayed you, eh? Isn't it Max, not Chip, who you wanna see immersed up to his eyeballs in raw sewage? | " |
| | ~ Max, to Penguin when he tries to take Chip prisoner | |
| | | |
| --- | --- | --- |
| " | I don't know what you want, but I know I can get it for you, with a minimum of fuss! [...] Money, jewels, a very big ball of string. | " |
| | ~ Max, trying to bargain with Catwoman | |
Trivia
According to some stories, Shreck's role in the film was originally intended for Harvey Dent, who would be played by Billy Dee Williams; he was only merely to be scarred at the climax of the film, making him his alter ego "Two-Face", which would follow into the next film, Tim Burton's Batman Forever.
Shreck is named after the late German silent film actor Max Schreck, who was famous for playing Count Orlok in F.W. Murnau's classic Nosferatu.

Villains
Comics
Amanda Waller | Amygdala | Anarky | Arkham Knight | Azrael | Baby Doll | Bane | Barbatos | The Batman Who Laughs | Black Glove | Black Mask | Blockbuster I | Blockbuster II | Brother EYE | Calculator | Calendar Man | Carmine Falcone | Catman | Catwoman | Circus of Strange | Clayface | Clock King | Club of Villains | Cluemaster | Composite Superman | Condiment King | Copperhead | Court of Owls | Crazy Quilt | Crime Doctor | Dark Archer | David Cain | Dark Knights | Deacon Blackfire | Deadshot | Deathstroke | The Dawnbreaker | The Devastator| Doctor Death | Doctor Dedalus | Doctor Double X | Doctor Hurt | Doctor Phosphorus | The Drowned| Electrocutioner | Emperor Blackgate | Firebug | Firefly | Floronic Man | Gearhead | General Ulysses Armstrong | Gorilla Boss | Gotham City Police Department | Grant Walker | Great White Shark | The Grim Knight | H.A.R.D.A.C. | Harley Quinn | Holiday | Holly Robinson | Humpty Dumpty | Hugo Strange | Hush | Jack the Ripper | James Gordon, Jr. | Jason Todd | Joe Chill | The Joker | Joker's Daughter | Key | KGBeast | King Snake | King Tut | Killer Croc | Killer Moth | Kite Man | Lady Shiva | League of Assassins | Leviathan | Lex Luthor | Lock-Up | Lloyd Ventrix | Mad Hatter | Mad Monk | Magpie | Man-Bat | Maxie Zeus | The Merciless | Monk | Mr. Freeze | Mr. Toad | Mutants | Nightslayer | Nocturna | Nyssa Raatko | Onomatopoeia | Orca | Outsider | Owlman | Penguin | Phosphorus Rex | Planet Master | Poison Ivy | Polka Dot Man | Professor Pyg | Prometheus | Ra's al Ghul | Rag Doll | Ratcatcher | Reaper | Red Claw | Red Death | Reverse-Flash | Riddler | Roland Daggett | Roxy Rocket | Royal Flush Gang | Rupert Thorne | Sal Maroni | Scarecrow | Sensei | Signalman | Sinestro | Snowman | Solomon Grundy | Spellbinder | Suicide Squad | Talia al Ghul | Tally Man | Ten-Eyed Man | Terrible Trio | Tiger Shark | Timecode | Tony Zucco | Tweedledum and Tweedledee | Two-Face | Ubu | Vandal Savage | Ventriloquist | Ventriloquist II | Ventriloquist III | Vertigo | Victim Syndicate | Victor Zsasz | Wrath | Zebra-Man
Movies
Batman (1989): Joker | Bob Hawkins | Alicia Hunt | Carl Grissom | Max Eckhardt | Vinnie Ricorso
Batman Returns: Penguin | Max Shreck | Catwoman | Charles "Chip" Shreck | Red Triangle Circus Gang (Organ Grinder, Poodle Lady, Tattooed Strongman, Stungun Clown, Thin Clown, Fat Clown, Sword Swallower & Knifethrower Dame)
Batman Forever: Riddler | Two-Face | Sugar & Spice | NygmaTech (Frogmen) | Neon Gang (Neon Gang Leader) | Salvatore Maroni
Batman & Robin: Poison Ivy | Mr. Freeze | Bane | Snowy Cones Thugs | Golums | Jason Woodrue
Batman Begins: Ra's al Ghul | League of Shadows (Scarecrow & Ra's Decoy) | Carmine Falcone | Victor Zsasz | Joe Chill
The Dark Knight: Joker | Two-Face | Sal Maroni | The Chechen | Gambol | Lau | Bank Manager | Michael Wuertz | Joker's Thugs (Thomas Schiff, Chuckles, Kilson, Bus Driver, Happy, Dopey & Grumpy & Truck Driver) | Burmese Bandit
The Dark Knight Rises: Bane | Talia al Ghul | League of Shadows (Barsad) | Catwoman | John Daggett
Batman v Superman: Dawn of Justice: Lex Luthor | Doomsday | Anatoli Knyazev