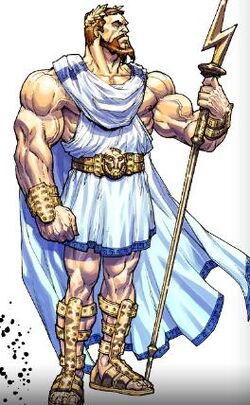 Maxie Zeus is a villain from the Batman series. He used to be a normal gang leader, but for some reason started believing himself to be a descendant or an avatar of the Greek God Zeus. He has developed a cult of followers that are willing to do everything he asks.
History
Batman: Arkham Asylum
Maxie Zeus doesn't appear in the game Batman: Arkham Asylum. One of the Riddler's riddles revolves around him. His cell is found in Intensive Treatment, filled with Greek symbols.
Backstory
A deranged gang leader, Maxie Zeus came to believe himself an avatar of the Olympian god Zeus. Creating a cult of gang members to do his bidding, Zeus became a power-player in the Gotham City underworld. His criminal activities are perpetrated by his army of followers, and – he believes – overseen by the Greek gods themselves.
Batman Arkham City
Although he does not appear his giant bight club does. Scanning it will result in answering a riddle.
Gallery
Trivia
Driven by complex religious delusions.
Charismatic leader who has developed a long-standing cult.
Determined to extend his powerful reach and recruit new followers.

Villains
Comics
Amanda Waller | Amygdala | Anarky | Arkham Knight | Azrael | Baby Doll | Bane | Barbatos | The Batman Who Laughs | Black Glove | Black Mask | Blockbuster I | Blockbuster II | Brother EYE | Calculator | Calendar Man | Carmine Falcone | Catman | Catwoman | Circus of Strange | Clayface | Clock King | Club of Villains | Cluemaster | Composite Superman | Condiment King | Copperhead | Court of Owls | Crazy Quilt | Crime Doctor | Dark Archer | David Cain | Dark Knights | Deacon Blackfire | Deadshot | Deathstroke | The Dawnbreaker | The Devastator| Doctor Death | Doctor Dedalus | Doctor Double X | Doctor Hurt | Doctor Phosphorus | The Drowned| Electrocutioner | Emperor Blackgate | Firebug | Firefly | Floronic Man | Gearhead | General Ulysses Armstrong | Gorilla Boss | Gotham City Police Department | Grant Walker | Great White Shark | The Grim Knight | H.A.R.D.A.C. | Harley Quinn | Holiday | Holly Robinson | Humpty Dumpty | Hugo Strange | Hush | Jack the Ripper | James Gordon, Jr. | Jason Todd | Joe Chill | The Joker | Joker's Daughter | Key | KGBeast | King Snake | King Tut | Killer Croc | Killer Moth | Kite Man | Lady Shiva | League of Assassins | Leviathan | Lex Luthor | Lock-Up | Lloyd Ventrix | Mad Hatter | Mad Monk | Magpie | Man-Bat | Maxie Zeus | The Merciless | Monk | Mr. Freeze | Mr. Toad | Mutants | Nightslayer | Nocturna | Nyssa Raatko | Onomatopoeia | Orca | Outsider | Owlman | Penguin | Phosphorus Rex | Planet Master | Poison Ivy | Polka Dot Man | Professor Pyg | Prometheus | Ra's al Ghul | Rag Doll | Ratcatcher | Reaper | Red Claw | Red Death | Reverse-Flash | Riddler | Roland Daggett | Roxy Rocket | Royal Flush Gang | Rupert Thorne | Sal Maroni | Scarecrow | Sensei | Signalman | Sinestro | Snowman | Solomon Grundy | Spellbinder | Suicide Squad | Talia al Ghul | Tally Man | Ten-Eyed Man | Terrible Trio | Tiger Shark | Timecode | Tony Zucco | Tweedledum and Tweedledee | Two-Face | Ubu | Vandal Savage | Ventriloquist | Ventriloquist II | Ventriloquist III | Vertigo | Victim Syndicate | Victor Zsasz | Wrath | Zebra-Man
Movies
Batman (1989): Joker | Bob Hawkins | Alicia Hunt | Carl Grissom | Max Eckhardt | Vinnie Ricorso
Batman Returns: Penguin | Max Shreck | Catwoman | Charles "Chip" Shreck | Red Triangle Circus Gang (Organ Grinder, Poodle Lady, Tattooed Strongman, Stungun Clown, Thin Clown, Fat Clown, Sword Swallower & Knifethrower Dame)
Batman Forever: Riddler | Two-Face | Sugar & Spice | NygmaTech (Frogmen) | Neon Gang (Neon Gang Leader) | Salvatore Maroni
Batman & Robin: Poison Ivy | Mr. Freeze | Bane | Snowy Cones Thugs | Golums | Jason Woodrue
Batman Begins: Ra's al Ghul | League of Shadows (Scarecrow & Ra's Decoy) | Carmine Falcone | Victor Zsasz | Joe Chill
The Dark Knight: Joker | Two-Face | Sal Maroni | The Chechen | Gambol | Lau | Bank Manager | Michael Wuertz | Joker's Thugs (Thomas Schiff, Chuckles, Kilson, Bus Driver, Happy, Dopey & Grumpy & Truck Driver) | Burmese Bandit
The Dark Knight Rises: Bane | Talia al Ghul | League of Shadows (Barsad) | Catwoman | John Daggett
Batman v Superman: Dawn of Justice: Lex Luthor | Doomsday | Anatoli Knyazev