We're Getting Mutants in the MCU - The Loop
Play Sound
| | | |
| --- | --- | --- |
| " | The curse begun, but soon they'll see, the buried truth will end with me! | " |
| | ~ The Freak of Crystal Cove. | |
| | | |
| --- | --- | --- |
| " | Two years after they left, Brad tried to return to Crystal Cove, by that time he and Judy had married and she'd given birth to a baby boy. I had to stop Brad, I took you in and told them you'd be safe, as long they never returned again. | " |
| | ~ Mayor Jones confessing the truth behind his adopted son. | |
Mayor Frederick Jones, Sr. is the central antagonist of the cartoon series Scooby-Doo! Mystery Incorporated, appearing as the main antagonist of season one and a minor character in the second season. He is the adoptive father of Fred Jones, Jr.
He was voiced by Gary Cole and his Freak of Crystal Cove disguise was voiced by Frank Welker.
Biography
Season 1
Introduced as the Mayor of the town Crystal Cove, Fred Jones Sr. is a greedy Mayor who takes opportunity of the paranormal events in the town for his own money. Because of this, along with the fact that he constantly forbids his son, Fred Jones Jr., to hang out with the Mystery Incorporated, their relationship slowly cracks worse and worse.
Though Mayor Jones does not do much for most of the Season, it is hinted that he knows about the true mystery of what happened to Crystal Cove in the past, as revealed in "A Haunt in Crystal Cove" where Professor Pericles reveals to the Mystery Incorporated that Jones had stole a piece of the Planispheric Disk from him years ago.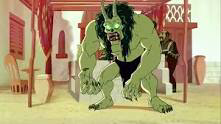 His true nature is revealed in the Season 1 finale, "All Fear the Freak", where he disguised as The Freak of Crystal Cove and attempts to attack the Mystery Gang, though they managed to unmask him and reveal his true identity. Mayor Jones is then arrested, and lost his tittle as the Mayor of Crystal Cove to Mayor Nettles.
Season 2
Fred Jones Sr. is a minor character in Season 2 as he is now under imprisonment. When those of Misterios S.A. They need to hide the disk Fred Jones, Sr. is willing to cooperate with them, hiding the authentic disk of Preciles and his accomplices. Attending to Fred's word at the end of the episode, it is implicit that Fred has forgiven his adoptive father a little, and that he believes that he was more of a father to him than his biological parents. Fred met his good side in the Waiting Room, and after a confession, Fred is finally able to forgive his adoptive father. Jones was finally eaten by the Evil Entity as Fred watched, the young man looked away, indicating signs of pain at having just lost the closest thing to a father he ever had in his life.
Post-Nibiru
In the alternative timeline created by destroying the Evil Entity he is simply the school's soccer team coach; here he is happy with his job and has a good relationship with Fred.
Personality
He was the mayor of Crystal Cove and the "surrogate" father of Fred Jr. Jones. On the surface, he seems to only care more about making money from the town's mysteries rather than solving them, which conflicts with his son, contributing to an already awkward relationship.
In reality this is a cover for a much darker and obsessed personality, one who has gone to great lengths to complete the Planispheric Disk. He forced the original Mystery Incorporated to leave Crystal Cove and bargained away the guardianship of the son of Brad Chiles and Judy Reeves.
Mayor Jones is shown to be a selfish and greedy opportunist. He will do almost anything to make Crystal Cove into a tourist hotspot. He takes any of the paranormal and bizarre events that happen in Crystal Cove as an opportunity to promote the town's popularity regardless of the consequences and thus, he will willingly turn a blind eye in favor of reaping the benefits that they bring until it is too late. In turn, his relationship with his son has become turbulent at best, with Fred Jr. slowly (but surely) realizing how selfish his father really is.
However, there is some good somewhere inside him. When Fred was chasing him while he was still disguised as the Freak of Crystal Cove, a cliff Fred Jr. was standing on crumbled and Fred was clinging. Fred Jones Sr. saved his adopted son's life helping him up, allowing Fred Jr. to capture the Freak revealing Fred Sr.'s true nature. In irony, him saving Freddie resulted in his outing and arrest.
Fred later met up with his good side trapped in Limbo, where he admitted he did love Fred, but had been corrupted by the influence of the entity and his own greed. He and Fred managed to make up, with Fred admitting that he may not have been the best father, but he still raised him and love him nonetheless.
External Links