Click to help Cruella!

This scum Mechaterpillar is driving Cruella insane!
IT MUST BE REWRITTEN OR ADDED TO!!
So sayeth the great Lord of Darkness Sauron, or he will send Darth Vader to terminate you.

Help improve this article by rewriting, expanding, updating the poorly written text of the article. ✓
Jafar says: Read my lips and come to grips with the reality!


This article is a stub and is in need of expansion. You can help Villains Wiki by expanding it.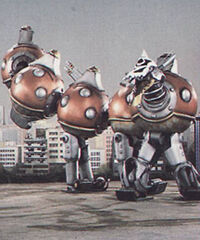 The Mechaterpillar is the primary antagonist in Power Rangers Zeo.
Biography
It is a caterpillar-like robotic monster created by Prince Gasket by using Jerome Stone's Mechaterpillar 3000, a fishing tool. During the giant battle against the Super Zeo Megazord, the monster separated segments of itself and each have their own method of attack on the Rangers, ultimately knocking them out of the Super Zeo Megazord. The Mechaterpillar caused mass havoc, attacking from all sides and devastating the zord. After the monster reassembled itself, Jason comes to the Rangers' aid in the nick of time and destroyed the monster with Pyramidas.