Doctor Strange in The Multiverse o Madness - The Loop
Play Sound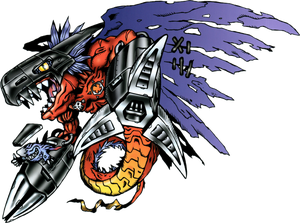 The Megadramon is a minor antagonist in the Digimon franchise.
Appearance
Megadramon is a Ultimate Level Digimon that looks like a legless Dragon. His wings a ripped and purple, and his arms and the top of his head is made of metal. His arms can also shoot missiles.
Biography
Digimon V-Tamer 01
Against conventional logic, Neo Saiba was able to bring out a Megadramon by jogressing a Kokatrimon with a Kuwagamon. The unexpected outcome of this jogress was able to catch several squads of Lord HolyAngemon's forces and city guards alike off guard as Neo's monsters slaughtered Lord Daemon's foes across the continent of Folder. However, Zeromaru was able to endure Megadramon's opening assault and Taichi Yagami was able to predict the monster's movements, which allowed Zeromaru to land a critical blow that defeated Megadramon.
Undaunted, Neo then jogressed Megadramon with a Cherrymon in Daemon's army, creating a Deathmon. Zeromaru, who had been intentionally putting off his own evolution, finally gave in when the ultimate level six Deathmon attempted to throw his tamer Taichi Yagami to his death and evolved to the perfect level five to save him. While Zero was still lower than the enemy by one level, Taichi could also still predict Deathmon's attacks and the perplexed Neo could not come up with effective counter tactics, leading to the death of Deathmon and all the monsters that jogressed to form it.
Megadramon has an alternate universe counterpart seen in the cold open of the final special chapter. This Megadramon picks a fight with the chosen childen. Takuya Kanbara decides to meet his challenge by spirit evolving into Agnimon, but efore the two engage Kouji Minamoto spirit evolves to Wolfmon and destroys Megadramon with a sneak attack.
Digimon Adventures 01
Megadramon is one of Machinedramon's servants that served as the air force along with Gigadramon. It is currently unknown what happened to him after Machinedramon was defeated.
Digimon Tamers
Megadramon reappeared in the Digimon Tamers episode, "Blame It On Ryo". When Rika fixed a clock that wasn't suppost to be fixed Megadramon was released from his prison. He put up a fight with Kyubimon and easily overwhelmed her, until Cyberdramon re-imprisoned him.
Digimon Fusion
An Army of Megadramon were members of the Bagra Army. They served one of the Dark Generals; Dorbickmon. All of them were destroyed during the fight between the first Death General.
Digimon Adventure:
While Yamato and Taichi were pursuing Velgemon with the captured Takeru, a Megadramon suddenly appears and attacks the Digidestined. Leomon intervenes and tells the Digidestined to go after Velgemon while he distracts Megadramon. Eventually, he was defeated by Leomon.
Powers and Abilities
Attacks
Dark Side Attack
Ultimate Slicer
Gallery
Trivia